In association with sister site, K-Pop Korner, lucky winners can attend a party in Berlin, Germany on 30th November!
Want to go to one of the hottest parties in Europe this year? You could be a lucky winner of tickets to the awards party where the best K-Pop singers/groups will be crown victorious after all the votes have been counted.
On 30th November, 2013, there will be an Awards Party. As in the previous years, not only will the winners of this year's voting be revealed, but there will also be a number of activities for all K-Pop fans.
**WHAT CAN I WIN?**
5 (FIVE) lucky winners will each receive 2 (TWO) tickets for the show, so you can bring a friend or loved one.
**HOW CAN I WIN TICKETS?**
Answer this simple question:
Which of these is NOT a Korean record label:
A.) YG
B.) SM
C.) A-Z
**WHERE DO I SEND MY ANSWER?**
Email: adam.riley@turquoiseradio.com with 1.) the answer, 2.) your name, 3.) address details.
**CLOSING DATE**
Saturday 16th November, 2013 at 6pm GMT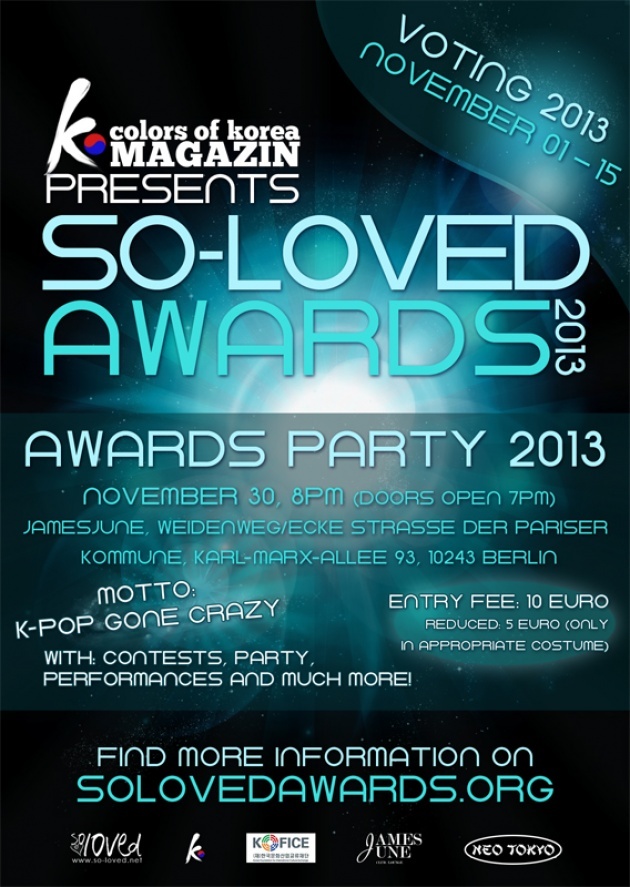 Please remember that this event takes place in Germany at the following location, so you need to make your own way there:
JAMES JUNE Event GmbH
Karl-Marx-Allee 93
D-10243 Berlin
Don't forget to also vote for your favourite artists here: http://solovedawards.org/ Voting closes on 15th November, so you need to hurry - and it's only open to European residents.