SEGA are set to leap into pole position with a new free-to-play Nintendo 3DS racer based on the Initial D franchise.
The popular manga/animé and arcade racer will be zipping onto the 3DS as a free title but with paid-for enhancements in a "legendary shop". There'll also be the ability to battle characters from the series like Akagi and Akina, plus highlights for shift changes at key points in each course for fans to build up to the perfect racing line.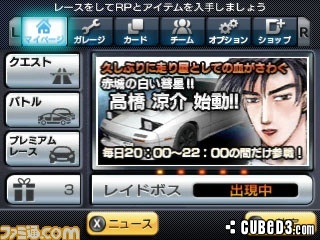 Are you a fan of Initial D - would it work as a free-to-play concept?