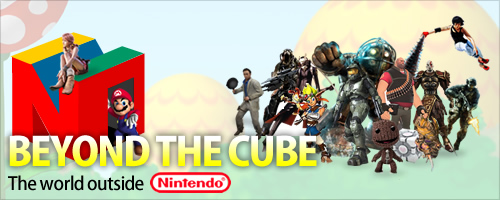 Was
2013 one of the best years
in the lifecycles of the PlayStation 3 and Xbox 360? With
Grand Theft Auto V
,
The Last of Us
,
BioShock Infinite
and
Tomb Raider
, to name but a few of the huge titles released over the course of that action-packed year, very few would argue otherwise. The new age is now well underway with the launch of the PlayStation 4 and Xbox One, and with them comes a multitude of titles vying for a spot in every owners' disc drives (and hard drives!) this year. Still not overlooking some big games yet to come to older consoles, though, Az picks out twenty games to definitely keep an eye out for in 2014.
[b]Dark Souls II (PlayStation 3, Xbox 360, PC)
One of the most looked forward to titles this year is one that is not releasing on the new systems. Dark Souls II sees a return of some of the most challenging combat in a medieval action role-playing game, which will now be made to be more accessible to new players, but is staying true to that difficulty that fans of the previous game and Demon's Souls have become so accustomed to. A new graphics engine is being utilised to create an even better looking world that will be twice the size of Dark Souls' own, and more advanced AI will mean enemies reacting in more diverse and realistic ways to players' actions.
Destiny (PlayStation 3, PlayStation 4, Xbox 360, Xbox One)
Bungie, the creator of Halo and now an independent company, has partnered with Activision in a ten-year publishing deal for its brand new project called Destiny. A kind of cross between first-person shooter and MMORPG, Destiny is played in an always-online open world in which events can happen during the game that are not controlled by developers, creating a dynamic experience for players. In a post-apocalyptic future after the Golden Age, which saw mankind make huge advancements in technology and colonise other planets in the solar System, there now exists only one human city on Earth, having just managed to survive extinction. As a Guardian of the City, it is players' roles to now investigate the previous human colonies, which have since been take over by hostile alien races.
inFamous: Second Son (PlayStation 4)

Seven years after the good ending of inFamous 2, graffiti artist Delsin Rowe has his special powers awakened after attempting to help survivors of a bus crash and coming into contact with another conduit. With his new abilities, Delsin vows to fight back against the Department of Unified Protection, which is seeking out conduits and labelling them as bio-terrorists. Like the open world of the previous games in the series, inFamous: Second Son lets players roam the City of Seattle, with parkour again being a major element of gameplay to quickly scour buildings, and absorb the energy from neon lights and signs to boost Delsin's firing abilities.
 

Drakengard 3 (PlayStation 3)
Taking players to the beginning of the Drakengard timeline, Drakengard 3 is a prequel to the series, and looks to maintain its staple high-speed action RPG gameplay. Creative director Yoko Taro notes that it is "not Drakengard or Nier," though the darker tone of the latter game looks to make its way into this, along with "a good balance of humour," as mentioned by producer Takamasa Shiba. Main character Zero is somewhat of an anti-hero, fighting on both land and airborne on her sidekick dragon companion, and alongside a group of men, which she uses to not just help her on the battlefield, but to also satisfy certain "desires" of hers… Utilising a range of different weapons that can be changed on the fly—including swords for close-up fights that produce more combos and spears that deal heavy damage to armoured foes and are better at ranged combat—Zero soaks herself in the blood of her enemies in order to enter different modes that give her the upper hand in battle.
The Evil Within (PlayStation 3, PlayStation 4, Xbox 360, Xbox One, PC)
Shinji Mikami, the creator of Resident Evil, and who also contributed to the makings of Devil May Cry, Phoenix Wright: Ace Attorney and Viewtiful Joe, is returning to what he does best: survival horror. His last directing role in the genre was with Resident Evil 4, but Mikami is now planning to make The Evil Within his final directorial work. The game sees Detective Sebastian Castellanos arriving at the scene of a mass murder, but feels a powerful force in the area. After being attacked and awaking in an unfamiliar world with gruesome monsters roaming free, Sebastian has to face his fears and fight through this world of death and horror, trying to survive to uncover what lies within this peculiar force.
The Order: 1886 (PlayStation 4)
Perhaps one of the most intriguing and fascinating plots of known games coming this year, The Order: 1886 is set in an alternate history in which an order of knights protects the world from humans that took on beast-like traits. Since this bizarre happening, mankind has fought for centuries against these half-breeds, and despite greatly outnumbering the beasts, the sheer strength of these monsters always meant it was a losing battle for man. Centuries pass, and with the arrival of King Arthur and the Knights of the Round Table came a new hope for the order. However, even upon The Knights discovering Black Water, a liquid that increases their life times and grants amazing healing abilities, the half-breeds still continue to overpower mankind… That is until the Industrial Revolution, where the inventors of this time produce incredibly advanced technology like thermal imaging, wireless communications and zeppelins. Even though the war wages on, humans almost have it wrapped up, but in 1886, the lower classes rebel against the rich and social order, where it is down to a squad of four knights to restore the peace.
Hotline Miami 2: Wrong Number (PlayStation 4, PlayStation Vita, PC, Linux, OS X)
Dennaton Games' Hotline Miami took the indie gaming scene by storm upon its initial PC release in 2012, and is absolutely one of the best digital titles on the PS3 and Vita. The brutal and addictive gameplay punished the smallest mistakes in a game that saw one man going from building to building and inflicting bloody murder in the late 80s in gorgeous SNES-like neon graphics, making for a title that should not go amiss for anyone that plays video games. Hotline Miami 2: Wrong Number is the hugely-anticipated sequel, which looks to further explore the minimalistic plot of the first game, and again offer some of the most challenging, intense and dirty missions that trod over even more adult themes.
 

The Crew (PlayStation 4, Xbox One, PC)
Ubisoft is driving straight into the street racing scene in a bid to revolutionise the genre with The Crew—an open world game that combines fast-paced racing with role-playing multiplayer elements. Although the game can be played alone in a campaign involving infiltrating criminal groups and is said to push 20 hours, The Crew is utilising a persistent online world with no loading times set in the United States for players to create their own crews and take part in missions, races and other game types. Taking 90 minutes to drive from one coast to the other, this game is taking racing to a vast new level, and will be making big use of the social and co-operative aspects of the PS4 and Xbox One, as well as offer a "build a car" app for iOS and Android devices.
 

Metal Gear Solid V: Ground Zeroes (PlayStation 3, PlayStation 4, Xbox 360, Xbox One)
Hideo Kojima likes to take players back and forth through his Metal Gear timeline, and it is the return of Big Boss with Metal Gear Solid V. The entry is being split into two separate games: Ground Zeroes and Phantom Pain. With Ground Zeroes acting as a prologue to Phantom Pain and set in 1975, a few months after Peace Walker, the events that occur during the game will force a major character change for Big Boss. Despite it being unknown if the latter half of the story, Phantom Pain, will release in 2014 or not, Ground Zeroes will be the beginning of something new for the series, where an open world with a real-time day and night cycle will be central gameplay components.
 

Danganronpa: Trigger Happy Havoc (PlayStation Vita)
Fans of the Zero Escape and Phoenix Wright series may find this particular game of interest. Danganronpa: Trigger Happy Havoc is a murder mystery visual novel that takes place in the private high school Hope's Peak Academy, where the country's best students come to graduate. When new student Makoto Naegi arrives for his first day of class, though, he falls unconscious and wakes up in a classroom where the doors are locked and the windows barred. Makoto and his new classmates stumble upon a weird talking bear, which claims itself to be the headmaster, and declares that the only way for them to escape is through murder. By diving into a series of trials, players must expose the lies and contradictions of the classmates, using evidence and logic to best the opponents, pushing the abilities of these ultimate students to breaking point.
Titanfall (Xbox 360, Xbox One, PC)

Tipped as the next big leap for first-person shooters, Titanfall is an online multiplayer-only game that can be played either on foot as a free-running "pilot" or inside a mech known as a "Titan", competing in team-based objectives on an abandoned planet ravaged by war. Although multiplayer-only, Titanfall will be injecting single-player elements into the game, with developer Respawn declaring it to bring "scale, verticality, and story" to multiplayer FPS gaming. Needless to say, Titanfall has got many FPS fans extremely hyped, with the parkour element and switching between the nimble pilots and powerful Titans quickly and tactically looking especially appealing.
 

Transistor (PlayStation 4, PC, Linux, OS X)
Cloudbank is a gorgeous high-tech city, but it is home to an organisation known as the Camerata, which is behind a vast number of odd disappearances and deaths of many civilians. Next in line to be assassinated is the famous singer Red…but she manages to evade the killing attempt, and wakes up to find her companion dead, with a strange blade-like artefact protruding from his body. His consciousness speaks to her through the sword, which reveals itself as the Transistor, and Red is told to take it and defend herself from the organisation and robotic fiends called the Process, who aim to reclaim this powerful weapon. After the excellent work SuperGiant Games did with Bastion, the team's goal in Transistor is to create a fast action RPG, with moments to pause the action and plan out moves that will then activate quickly one after the other, delivering swift battle mechanics with tactical elements.
The Witcher 3: Wild Hunt (PlayStation 4, Xbox One, PC)

Based off of the novels by Polish author Andrzej Sapkovski and concluding the storyline started in the first Witcher game, The Witcher 3: Wild Hunt is billed as offering the largest living open world in the history of RPGs. To put it into perspective, Wild Hunt is supposedly 30 times bigger than past Witcher games, and 20% times greater than that of Skyrim, with players requiring the use of sailboats, horses and the fast travel options to explore this huge world quicker. On top of the 100 hours it will take to complete the story and quests, with the former being complex and multi-threaded to allow players multiple choices that produce varying consequences, developer CD Project RED is using a new game engine that will bear no loading screens, delivering a vast and free environment to wander and traverse.
 

Tom Clancy's The Division (PlayStation 4, Xbox One, PC)
After a deadly pandemic spreads thick and fast across New York City, the systems and services we rely on daily collapse, crippling society within days and erupting chaos. A group of self-supported tactical agents brand themselves 'The Division' and attempt to stop the fall of society, whilst getting wrapped up in a conspiracy involving the threat behind a manmade virus. Tom Clancy's The Division is a persistent online, open world experience, combining RPG action with tactical decision-making. Jump in and out with friends in co-op and player-versus-player gameplay, teaming up with other agents and restoring order in dangerous scenarios across dynamic environments. There aren't too many post-apocalyptic games that don't use zombies as the cause and threat, but Tom Clancy's The Division should offer an intriguing new take on the formula.
 

South Park: The Stick of Truth (PlayStation 3, Xbox 360, PC)

It has suffered countless delays and survived the bankruptcy of its original publisher, but South Park: The Stick of Truth is on its way at long last. With the TV series suffering from mediocre video game adaptations in the past, the creators of South Park, Trey Parker and Matt Stone, are this time heavily involved in the development of The Stick of Truth, having provided the voices and written the game's script. Turning the world of South Park into a role-playing game centred around a battle that has waged for thousands of years to uncover the mysteries of the Stick of Truth, it is players' job as the new kid in town to earn the respect of Cartman, Kyle, Stan and Kenny, and defeat the forces of evil…Those forces being the underpants gnomes, crabpeople, hippies and more. Customise a character with thousands of combinations of weapons and clothing, and recruit popular characters to save South Park once and for all.
Dragon Age: Inquisition (PlayStation 3, PlayStation 4, Xbox 360, Xbox One, PC)
The third major entry in the Dragon Age series is bringing together elements from the previous two games, and once again the opportunity to play as different races across the world of Thedas, which is now even larger than before. In the development team being influenced by open world games such as The Elder Scrolls V: Skyrim, Dragon Age: Inquisition will be much bigger in that regard, with the reusing of environments being eliminated this time around. Combat is taking a slightly more tactical approach, where it will be more important to prepare and coordinate a team, instead of relying on button bashing. As with other BioWare games, the opportunity to import data from players' exploits in the previous Dragon Age titles will affect the story of Inquisition, which focuses mainly on a civil war between mages and Templars.
 

The Witch and the Hundred Knight (PlayStation 3)
The beautiful, lusty Metallia the Swamp Witch has been engaged in a hundred-year battle with the ugly, disgusting Forest Witch. After one day finding a legendary soldier known as the Hundred Knight, Metallia uses him to attempt to tip the war in her favour and topple the Forest Witch once and for all. Known to possess amazing powers, the player controls the Hundred Knight, as it explores huge stages in a top-down world, hacking and slashing its way through enemies and undertaking quests for various townspeople. Crucially, even if the Hundred Knight loses all of its life, there is no Game Over; instead, the items accumulated up to that point will be lost. Keeping the undead character's hunger level up is a priority, so eating enemies is a must, else he be forcibly returned home. With a strong focus on making a great-looking action RPG, Nippon Ichi has aimed to create a dark visual expression with many bloody scenes for The Witch and the Hundred Knight.
Dying Light (PlayStation 3, PlayStation 4, Xbox 360, Xbox One, PC)
Mix the first-person free running gameplay of Mirror's Edge with zombie apocalypse-themed survival horror, and Dying Light is the answer. With a dynamic day and night cycle in a large open world urban environment, players must scavenge for supplies to bring back to safe zones during the daytime, making their way past slow-moving zombies. Once night falls, however, the infected transform, becoming faster, more dangerous, and able to climb onto the previously safe rooftops of houses and buildings. Using the Night Sense ability, distractions, traps and various other tactics, players must hold out and survive until dawn breaks once more.
 

The Elder Scrolls Online (PlayStation 4, Xbox One, PC, OS X)
The first ever MMO game in the Elder Scrolls series sees The Elder Scrolls Online taking place 1,000 years before Skyrim and set on the same continent of Tamriel. This new storyline features antagonist Daedric Prince Molag Bal attempting to drag Tamriel into his realm of Coldharbour, and allows players to join any one of the three warring factions in the game. Closed beta tests have been underway during 2013, and the developers are planning to have a consistent stream of expansions to further add to the story post-release.
The Witness (PlayStation 4, PC, iOS)
After the brilliant puzzle-platforming game Braid, Jonathon Blow is again creating a most intriguing new title called The Witness. A mixture of puzzle and first-person adventure, this game puts players on an uninhabited island, which is divided into various sections. Each one holds a number of puzzles that must be solved in order to access further areas of the land, and eventually unlock the way to the central mountain to complete the game. These puzzles involve tracing a path from one point to the next, and can usually be found placed on panels around the island. As the player progresses, however, the puzzles become more difficult to locate, with many of them being hidden away inside nature itself, or appearing as symbols on particular buildings. With the puzzles getting progressively harder as the game moves on and offering hidden messages upon successful completion of them, as well as the chance to unravel the curious information from a number of audio recordings on the island, The Witness sounds like a game many puzzle fans will be interested in—especially as it's coming from the man that made the weird and wonderfully-challenging Braid.

Clearly, there is still some life left in older consoles yet, as many big releases are on the way to the PlayStation 3 and Xbox 360, though there are some very appealing games getting the PlayStation 4 and Xbox One rolling in their first year on the market. It is going to be hard to top the sheer quality of games that came in 2013, but it presents an opportunity to also give some very deserving attention to perhaps some lesser-known titles on the way this year for the previous generation platforms and those from small, independent developers. Let us know in the comments below which games you are most looking forward to in 2014, and share any others which you think will be ones to watch out for. Stay tuned for a special feature looking at some of the upcoming games to take note of for Nintendo's platforms soon!