Keiji Inafaune, creator of Mega Man, has announced a collaboration with Inti Creates to develop a new 2D action game for 3DS eShop.
During the BitSummit festival in Kyoto this week, the pair confirmed the new project - Azure Striker Gunvolt - as a 2D side-scrolling action game for the 3DS eShop this summer.

Taking place in the near future, a group called Sumeragi has suppressed the world of a new psychic ability that's emerged within the population. Not content with living without these powers, a rebel group has planned to strike back. Enter the protagonist of the tale, Gunvolt, who decides to join the group, using his lightning-based abilities to stun and blast through enemies.
Ordered to kill a pop star who holds psychic abilities, Gunvolt hesitates and this decision shapes his destiny, forever.
Gunvolt can use electric attacks like a "Thunderbolt Ring" which forms a physical barrier, also locking on to enemies using a "Dart Leader" means of targetting. As for movement, he'll be able to perform mid-air jumps, dashes and various other abilities to help him plough through the adventure.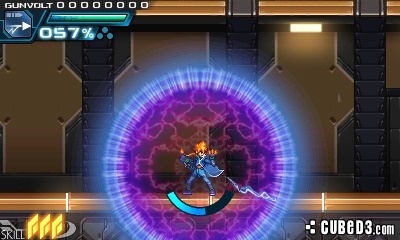 At one point Gunvolt can also unleash a deadly "Voltic Chain", which eclipses the screen in electric chains to take out all of the foes at one time.
There's a bigger connection to the Mega Man franchise than just Inafune, with developer Inti Creates having worked on Mega Man 9 and Mega Man 10 in the past. Takuya Aizu will be producer, former Capcom member Yoshihisa Tsuda (Mega Man X2, Mega Man Zero) will direct, whilst Mega Man 9 staffer Yoshitaka Hatakeyama will work on the artwork. There'll also be a flavour of Mega Man music, with Ippo Yamada leading the sound direction.

The game will be released this summer in Japan.
What are your thoughts on the Azure Striker Gunvolt look and concept?