Cubed3 spoke to Yannick Puig, studio lead behind Yanim Studio, on the indie side-scroller
Red Goddess.
The group launched a Kickstarter campaign earlier this month, and are seeking $150,000 in funding for a Wii U version, and $50,000 for an initial Windows/PC release.
We spoke to Puig on how the project came to be, inspiration and plans going forward.

Cubed3: Please introduce the team working on Red Goddess.
 
Yannick Puig: Yanim Studio is a game development team of six, composed of people who have worked for games such as Gothic, Deadlight, Wanted: Weapons of Fate, Rime (PS4) and more.
 
Red Goddess is leaded by Yannick Puig, creator of many award-winning 3D shorts and music videos. His most memorable work is probably the music video for I lived on the Moon. As a longtime 3D animation veteran, since 2002 Yannick has worked in France and Spain, as an animator, story-boarder, 3d artist, director and is an exploration/adventure game fanatic.
 
Yanim Studio Team:

Programmer: Ismael Castellano
3d Artist: Andrea Montesa & Jesus Oscar Navarro
Level designer: Jordi Carazo
Creative director: Yannick Puig
Music: Sylvain Guehl


Cubed3: What previous work has the studio produced prior to the new Red Goddess project?
 
Yannick: Yanim Studio is historically a high-end character animation and visual effects studio. We have provided digital production services for computer games, commercials, music videos, animated series and films. Our work has received awards several times for compelling visuals and storytelling. Our team is based in Valencia, Spain.
 


Cubed3: Red Goddess looks and sounds great! Please explain the core concept behind the game.
 
Yannick: Explore the mind of a goddess! Deep inside the subconscious, a psychological adventure game with distinctive atmosphere to be released for PC, Mac, and consoles.
 
GAMEPLAY FEATURES:

Action/adventure game
A dynamic and fun "split character" game play, you can select a "half" of Divine to play (either rage or fear) and have to deal with the other half.
The rage and fear sections of Divine also have their own unique skills and abilities, which brings along different gameplay strategies with them.
Possession of enemies: As you take over their minds, it's like walking through a door: you're presented with access to secret chambers and new things to discover. 
The whole world has its own personality. It is led by the subconscious of the main character. It's alive, aggressive, and will try to cheat you. You have to clean up the darkest zones, infested by the bad thought enemies. Blast it all! But don't upset the planet, or you could turn your half against you.
2.5D graphics, with a unique atmosphere.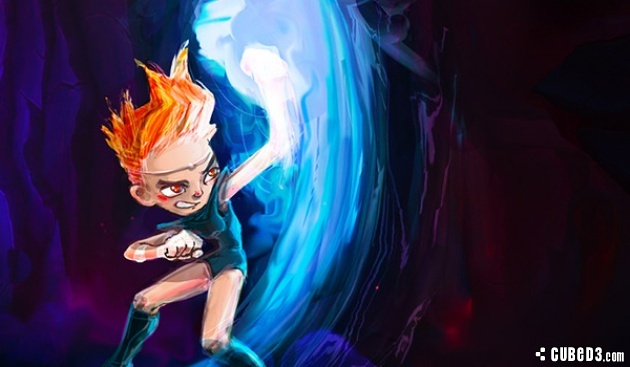 Cubed3: The open world approach already highlights some stunning art direction - what was the inspiration behind Divine's inner consciousness?
 
Yannick: The film The Cell and The Matrix trilogy
 
Cubed3: The music production really fits the look and feel of the game - how does that side of the project come together?
 
Yannick: At the beginning of the project, we started creating the story, characters, scenarios, and then developed a demo. We explained the concept to Sylvain, he madesome proposals ​​and the team was deciding the sounds and music to fit the ideas we had.
 
Cubed3: Could multiplayer work given the strong focus on a single-player adventure? It would be interesting to see co-operative play between Divine's two personalities!
 
Yannick: We have not planned multiplayer, it is only single player.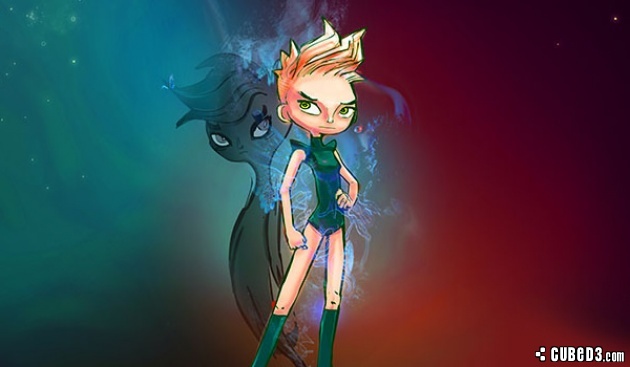 Cubed3: What other platformer/adventure games, films and shows have helped shape Red goddess?
 
Yannick: Castlevania, Trine and some films like The Cell and The Matrix.
 
Cubed3: Would you consider portable platforms like Nintendo 3DS?
 
Yannick: It depends on the demand of the gamers and the resources at the end of the campaign; however we are opening minded to develop in more platforms…
 
Cubed3: What hurdles have you had going at it as part of an independent team and also moving from animation to game design?
 
Yannick: Our hurdles are especially financially, we have little support from the state and at present it is hard to find private funding in Spain, so we had to launch our campaign on Kickstarter.
 


Cubed3: What are your thoughts on Nintendo's approach to indie developers in recent years?
 
Yannick: We like the current policy of helping indie games. That's one of the reasons for deciding on creating a stretch goal for Nintendo Wii U lower than for other consoles.
 
Cubed3: What are your plans for the future - do you see Red Goddess expanding into a series?
 
Yannick: We are planning to develop the game and after we have planed to do an animation series from Red Goddess - and why not? A film could be a possibility as well. We want to do cross media, that it will be a dream!
 


Cubed3: Any final words you'd like to give to potential backers?
 
Yannick: For us, Kickstarter's campaign is a big challenge and a great opportunity. If the project is completed with the expected level of excellence, it will be a really cool game! So please support our game, share our Kickstarter video, and join us on the subconscious planet of RED GODDESS!
Will you pledge support for Red Goddess? What are your thoughts on the concept?