Cubed3's ever popular Tech Up! series recently looked at the
GOCLEVER ARIES 785
, which was a fantastic lower-priced alternative and something to consider in the already crowded marketplace. However, now it is time to look into Hannspree's contender, the 10.1-inch HANNSpad Tablet PC. After being supremely impressed by the
HannsG gaming monitor
, and being fans of Hannspree's other products over the years, it was with great pleasure that this tablet was approached.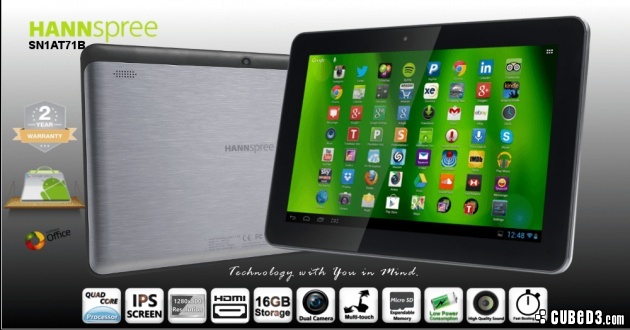 This 621-gram tablet, with dimensions of 1 x 18 x 26.3 cm, is a sturdy piece of kit. That is definitely the first thing noticed about the HANNSpad when removing from its packaging. Accidental drop? This simply laughs it off! It has a sleek finish to it as well, making it very easy on the eyes and feels very comfortable in-hand during long periods of usage. Another point of note is what is going on around its edges, with microSD, mini HDMI output, standard headphones, DC in, and mini USB ports all along one side, next to the usual volume and power buttons. Very compact and intuitive for all user levels.

There are some latency issues when swiping from screen to screen and when loading up certain apps, which can be very frustrating at first, but thankfully subsequent updates to the Operating System improve everything considerably. Hannspree keep this updated quite often to ensure any feedback received from consumers is taken onboard. After all, with a Quad Core, ARM Cortex-A9, 1.2 GHz processor, there should be no slowdown of this sort, and although annoying to start with, bugs are ironed out with firmware upgrades.

16GB of internal memory allows for a wealth of goodies to be installed on the tablet (expandable using up to 32GB with a microSD card), and with its mini HDMI output it means those that want to play back through a larger TV also have that option. This comes in very handy when at home and using the likes of Netflix. It has some internal apps for music and movies, but most will prefer to stick with favourites from the Play Store. At least the option is available, though.






Bluetooth 3.0, a moderately decent camera (2MP outward facing, although only 0.3MP for the inwards one), built-in microphone for calls and recording, and the ability to hook up to a USB keyboard, mouse, Flash disk or 2.5-inch hard drive, all make this highly versatile. Whilst watching streaming TV, the battery was able to hold up for about 7 or 8 hours, and far longer when just playing music when having guests over (and with two 1W speakers on the back that impress for their size, music playing is highly recommended). Portability is reduced because of its increased size, but with so many travel storage options available, this becomes a non-issue straight away.

7/10

Very Good - Bronze Award

Meaty in the hand, wonderfully clear imagery, superb audio quality, and very reasonable on the price front (
£145 from eBuyer
,
£120 from Misco
) other than a bit of hanging before OS updates are installed, Hannspree's
10.1-inch HANNSpad tablet
is a great piece of kit available for those on a tight budget.