This week's Famitsu has confirmed a slew of new details on Hyrule Warriors including the Boomerang and Skulltulas.
The magazine confirmed the addition of Shiek, Darunia and Princess Ruto yesterday and expanded details now highlight areas to be included from The Legend of Zelda: Ocarina of Time, including Lake Hylia and Death Mountain. Adult Link and Princess Zelda costumes from Ocarina of Time will also be available to use in the game, for Nintendo 64 fans.

Players will be able to obtain a boomerang that'll, like in past Legend of Zelda games, temporarily freeze enemies. The Gale Boomerang, as seen in Twilight Princess, causes enemies to float instead.
Skulltula will also be scattered about, like in Ocarina of Time, with 100 to collect if special conditions are met. Collecting each will unlock illustrations, and also pop markers on the map. Some of these beasts may be related to the weapon/character used or needed to capture it.

As for weapons, there'll be "sealed" varieties in the traditional treasure boxes that increase the amount a character can use, and also weapon bags that have random weapons that can only be used after clearing the stage.
Weapons also have attributes - fire, water, lightning, light and darkness, which can increase damage if used on enemies that are weak to it. It's strength can also increase by composing strong weapons in the Junk Shop.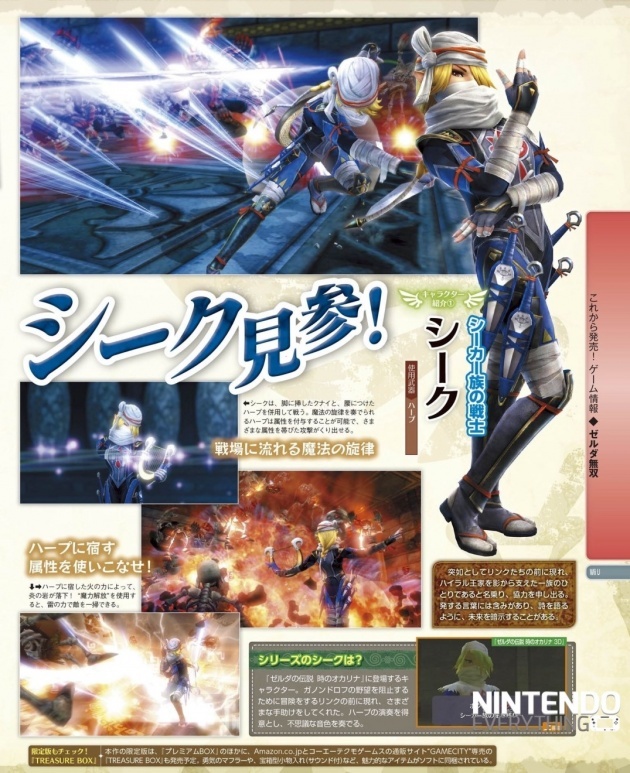 What do you think of the latest roundup of Hyrule Warriors details?