Meet the blokes from Harvest Moon: The Lost Valley in a new update for the upcoming 3DS RPG.
This week Natsume revealed a "trio of breathtaking bachelors" from the new farming-RPG hybrid, Tony, Gilbert and Hunter. The bachelorettes have already been revealed, so it's now time to meet the eligible gents. In Harvest Moon: The Lost Valley, players raise animals, harvest crops and forge romantic relations. All in a day's work on Nintendo 3DS.
Tony is the eldest son of Brutus the Blacksmith who struggle's with his father's expectations. He is training to become a blacksmith himself, but has ambitions to follow a different path.

Gilbert is a travelling bard who rhymes as he talks. He has a deep knowledge of history, is gentle but his "heart is locked inside the tightest of vaults."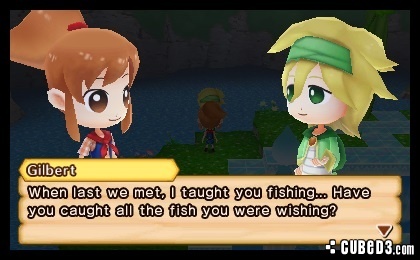 Hunter is a local farmer, an animal specialist with a keen knowledge of feed recipes. He wants to care for "all things with hooves, feathers and fur."

Which of these guys sounds most tempting to you?