Christmas may be the time of year for turkey, crackers and pud, but in the movie world, it's when everybody picks their films of the year - and Lights, Camera, Action! is no different. It has been a year packed with variety, but what came out on top?

2014 was "The Year of the Sequel," or even sometimes part three rather than two. It was also "The Year of the Y. A. Movie," films based on popular teenage novels aimed at the same audience, most of which did well at the Box Office, which means there will be more to come. Also, it was a year with some excellent films and, in keeping with the seasonal tradition, Lights, Camera, Action! has chosen its top five of 2014. The criteria? To have been on general release during 2014 (so, great though Whiplash was, it will have to wait until 2015) and to have been reviewed on this very site.

In reverse order, they are…
5.) Calvary
Director John Michael McDonagh's latest collaboration with actor Brendan Gleeson was easily his best yet. Calvary was a superbly drawn black comedy set in Ireland about a priest who finds out in the confessional that he's going to be shot, purely because he's a good man. By itself, it was a powerful film, but what lifted it out of the ordinary was the towering performance from Gleeson as the priest. His face, lined with his personal story and the pressures of looking after his flock, lingered well after the final credits had rolled. Now available on DVD, it is well worth a second look - especially for Gleeson.
4.) Guardians of the Galaxy
On a much bigger scale was Guardians of the Galaxy, the surprise hit of the summer. Another one from the Marvel stable but this time based on one of its lesser known stories, it was about a group of alien misfits protecting an orb with massive powers from an evil enemy who had dark designs on the galaxy.

Not that the plot mattered that much because this was easily the most fun to be had at the cinema this year. The film never took itself seriously for a moment: there was a gag around every corner, a gloriously nostalgic soundtrack, and some great special effects… Plus Rocket Raccoon, and Groot. What's not to like?
3.) Mr. Turner
Mike Leigh's ambitious, meandering labour of love comes in at number three. Mr. Turner followed the last 25 years of the life of Victorian artist, J. M. W. Turner, and presented audiences with a portrait of the man painted in front of their very eyes - a man full of contradictions and immense talent.

It was the role of a lifetime for Timothy Spall and he gave a wonderfully well rounded performance, one that had taken over two years' worth of preparation as he learnt to paint. However, the film wasn't just about the acting as Dick Pope's cinematography was a work of art in its own right. One moment the camera was on Turner painting a landscape, and the next it had moved to what appeared to be another painting… but it wasn't, it was a real landscape, and the effect was breathtaking.
2.) Boyhood
Director Richard Linklater provided the most unique film of the year with Boyhood. Filmed over 12 years with the same cast, it followed one boy growing up from the age of six through to 18. It was a beautiful piece of work in every respect and awards are already coming its way. The movie has already received several Best Film trophies and Patricia Arquette, who played the mother, is looking an increasingly strong contender for just about every Best Supporting Actress award. Everybody will recognise something of their own life in the film, making it comfortable and reassuring, yet it takes a clear-eyed look at the complexities of modern life. Definitely a movie to savour and absorb!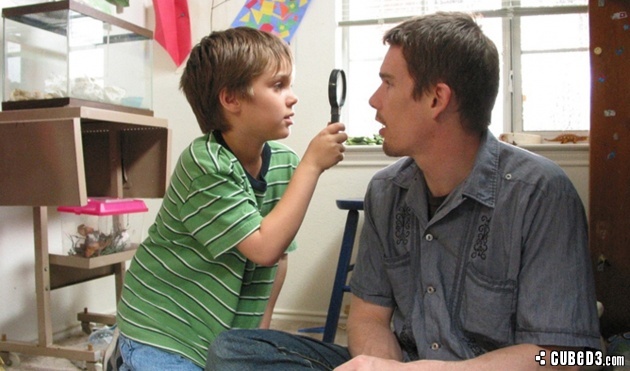 1.) 12 Years a Slave
Lights, Camera, Action!'s "Film of the Year" comes from the very start of 2014 and was the year's big Oscar winner. Steve McQueen's extraordinary movie took an unflinching look at a subject that filmmakers had often shied away from and told it like it was. The cast was superb, and some of the scenes were gut-wrenching and downright disturbing.

It's a film that everybody should see, not just because it's filmmaking at its boldest and best, but because it's also one of those rare occasions when cinema transports its audience into another world, where they watch a side of themselves they would rather not see.
Five films with characters that were poles apart - a priest, aliens, an artist, an ordinary family, and slaves - and five films set in worlds apart: rural Ireland, outer space, Victorian England, modern America and the 19th Century Deep South, and yet each had a great story to tell and told them beautifully.

What does 2015 have to offer, though? There's a special preview on its way…