Liverpool Sound City was an eye-opener back in 2014 when sister-site
K-Pop Korner
attended and caught the performance of the stunning Asian Chairshot, but the way things were laid out made it difficult to 1.) find all of the venues, 2.) actually get to them quick enough to see everyone desired. 2015 was an entirely different kettle of fish, being located at Bramley-Moore Dock, all in one easy to reach location and featuring some amazing artists, such as Jambinai, Monoban, and Thirdstone. Two of the artists from that year returned, fresh-faced for 2016 - Dead Buttons and PATiENTS - alongside some newcomers to the UK scene, in the form of WE ARE THE NIGHT, 57, Laybricks and DTSQ, and MusiCube's Adam Riley, also host of K-Pop Korner, was on-hand to watch... and what a year it was!
Dead Buttons
Last year was indeed massive for the duo of Jihyun Jong and Daniel Lee. Having already impressed at Liverpool Sound City in 2014, they were elevated to an even higher status by the magnificent performances on the Korean Stage at 2015's event at the new Bramley-Moore Dock, before signing with Baltic Records, the same label as The Tea Street Band and Johnny Sands. For 2016, Dead Buttons was ripped off the Korean stage and given a far bigger slot on the main, Atlantic Stage. Sure, it may have been so early in the afternoon that punters were only just starting to find their way onto the site, and the stage was so large that without accompanying dancers, light shows, or anything like that, it could have been daunting for the two normally stationary guys. That was certainly not the case, though, with their added energy helping to make the stage their own and blow away those watching, even alluring passers-by, making them come over and check out what the amazing music was. A bright future definitely awaits Dead Buttons in the UK music scene.

Watch Dead Buttons live at Sound City 2016 here and also here.
WE ARE THE NIGHT
From the same label that brought the heavy rock feel of Thirdstone to Sound City last year, Ruby Records' WE ARE THE NIGHT is a totally different kettle of fish, and really cannot be labelled in the traditional sense because of its eclectic range, with key elements from the rock, indie, dance, and almost ballad-esque worlds all mashed together into one extraordinary bundle. It brought many highs of varying sorts, and left the crowd hungry for more, tickling the musical taste buds of everyone in attendance.

Watch WE ARE THE NIGHT at Sound City 2016 here.

Laybricks
After impressing in Manchester during the Superheroes of Korean Rock night put on by Splitting the Atom in the Night & Day Café, singer and guitarist Kwangmin, and drummer Hyejin, were met by a far larger audience in Liverpool, with many people lingering from WE ARE THE NIGHT beforehand, and the fact that the Cargo Stage was right near the main path, as well as by the long queue for the toilets certainly helped! Whatever works, right? The wonderful thing to see was that the extra people milling around meant that Laybricks was invigorated, putting on the performance of a lifetime, to the point where poor Hyejin collapsed afterwards. Talk about giving it all for the cause… Fans went crazy for Laybricks, though, especially thanks to Kwangmin's interaction with people, and when Hyejin threw her drumsticks flying after the final song. Some lucky audience members likely got a nice memento…

Watch Laybricks at Sound City 2016 here.

DTSQ
Grunge rock is the thought that flittered across the mind when first seeing DTSQ come on stage. The guys just have a particular look about them that screams American rock band playing out of a garage. There is a raw feel to DTSQ that immediately appeals. However, things are not always as clearcut as they seem, and there was indeed a shock to be had as the style switched from punk rock to electro-rock, with even a Beatles cover thrown in for good measure, and plenty of high octane action on stage. There was a immense amount of variety during the 25-minute set. Other than the addictive tunes blaring out of the speakers, lead singer, Suhyun, was a real stand-out, not once, but twice coming down into the crowd, the second time actually launching himself forwards and then charging into the throngs of watchers. DTSQ certainly knows how to work the crowd, and screams of "See you guys next year!" honestly need to be true, because we need more, more, more...

Watch DTSQ at Sound City 2016 here and here.

57
"Warrior" Seol on drums continued where she had left off at the event in Manchester a few days prior, belying her small frame to deliver a raucous performance that was only marginally upstaged by Junhong, guitarist and lead singer, who decided to give the women in the audience a treat by first shedding his leather jacket, and eventually whipping off his T-Shirt and then proceeding to storm around the stage with aplomb, blowing everyone away with his powerful vocal and guitar skills. Those that disappeared off to see The Dandy Warhols really did miss out on something special from this excellent duo.

Watch 57 (Oh-Chill) at Sound City 2016 here.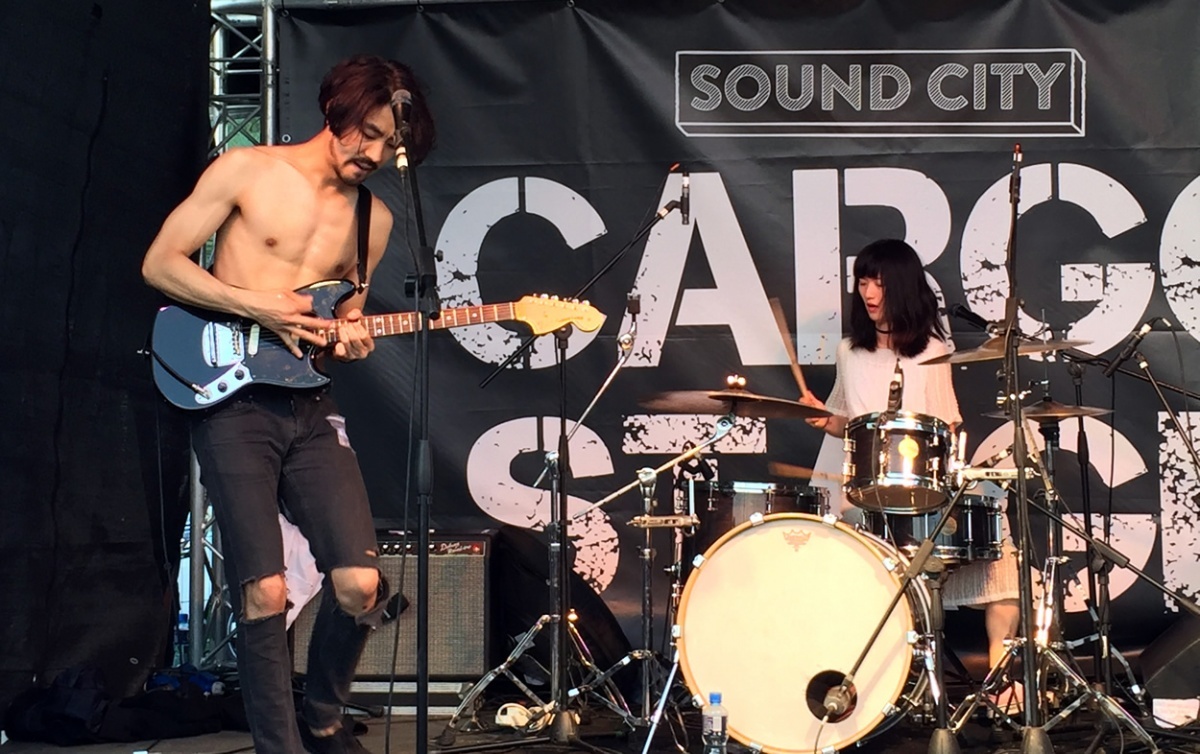 PATiENTS
The amount of people that came up and said "Oh, it's PATiENTS! We loved those guys last year!" and "Are you their manager??" was quite astounding. The former question is testament to the amount of effort that Sumin Jo and his latest band mates, Hyuck Jang Kwon and Soowon Choi, have put in over the years to raise the band's profile. Perhaps last year's crowd-surfing from Sumin will have helped somewhat, as well… As for the latter question, well, that goes to show how animated the band's music made people during the event, myself included - spurring punters on to join the crowd and sing/clap/dance along. Nothing wrong with being passionate, right? If there is no crazy dancing whilst listening to the infectious music of PATiENTS, then there is definitely something wrong. These guys have been rocking the scene in Korea since 2005, and quickly growing a bigger and bigger audience in the UK since first performing here in 2014. Powerful drums, an absolute genius on keyboards, and the raw energy of Sumin on lead vocals and guitar - why PATiENTS hasn't hit the big-time here yet, nobody knows. Someone sign these guys up!

Watch PATiENTS at Sound City 2016 here and here.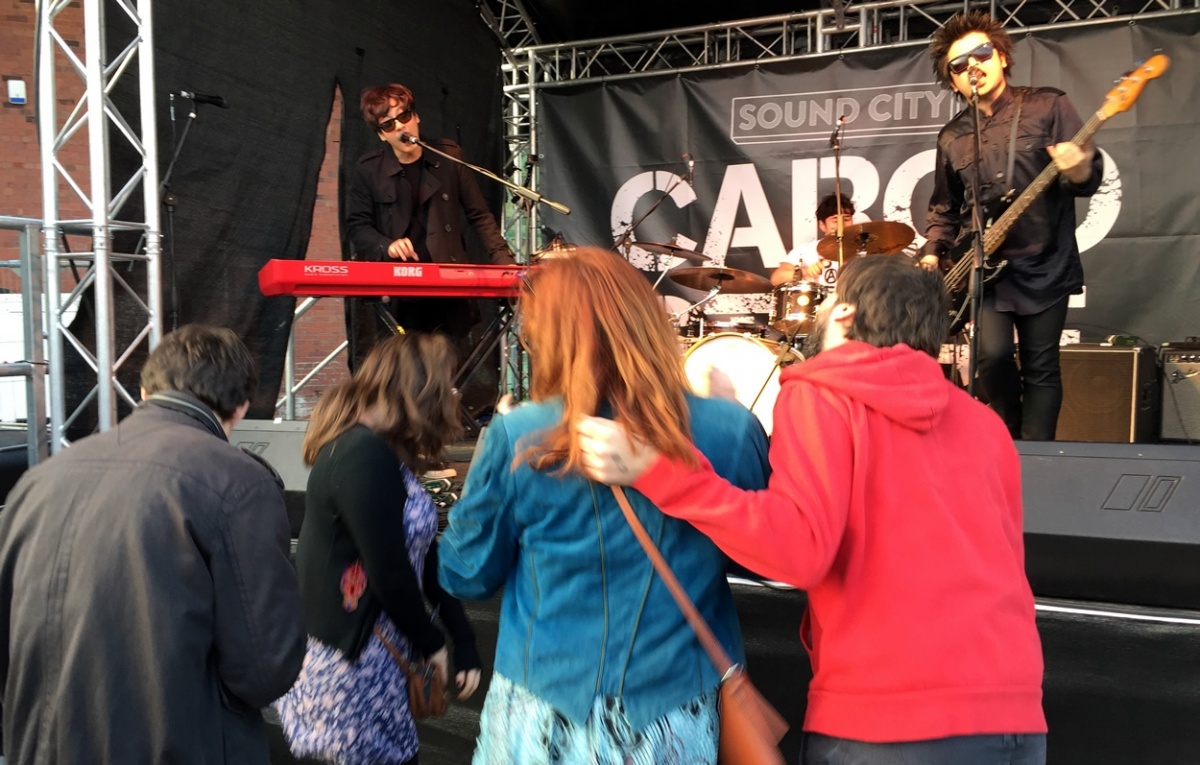 Overall, the selection of bands chosen for this year's Liverpool Sound City was very impressive, appealing to a wide chunk of the attendees, and likely drawing in newcomers to Korean music because of its easy-to-listen-to and memorable nature, as well as the fact that there is something for everyone. The Cargo Stage was far smaller than the one used at last year's event, sadly, and there was no merchandise stand provided for those wanting to support the Korean artists, but in terms of the actual mix of  music, general atmosphere, and reaction from the throngs of people watching, the Korean Cultural Centre's K-Music Showcase at Sound City 2016 was a resounding success.
More photos from Liverpool Sound City 2016 can be found here.