Thursday is always a fantastic day at EGX, as not only does it mean being among the first to go hands-on with all of the hot new games, but it also means a good deal fewer people, which means shorter queues, which means more time with the games!
Taking advantage of this, Cubed3 dived straight into the biggest games at the con before they gathered up huge queues. Nintendo returned to EGX in stunning form this year; its absence was very noticeable last year and the attendance this year really helped liven up the show. This year it had a huge area setup with absolutely tons of Switch stations ready for the hordes of gamers descending upon the Brum. Of course, centre of interest was the Super Mario Odyssey stations. These deserved to be first on the agenda. Nintendo had three separate areas set up, each with a specific function and Mario Odyssey was found next to the main stage, along with some other huge titles like Fire Emblem Warriors, Pokkén Tournament DX and Monster Hunter Stories.
The Mario Odyssey demo stations at EGX offered either the much anticipated New Donk City, with its strange realistic designs, or the sun laden lands of the Sand Kingdom. With most players taking on New Donk City, Cubed3 decided to break away from the norm and dive into the hot sands. There is nothing but good news here, as every part of the game looks polished to perfection and this feels like a complete successor to Super Mario 64. The ability to use Cappy to take over enemies felt like a gimmick that could quite negatively impact the game if it felt too overdone, like the type of ability that just gets old yet, thankfully, that's not the case. It's really natural to take on enemies and the controls help with the smooth different ways of pitching Cappy at enemies - taking control of binocular droids to get the lay of the land or taking over a Bullet Bill and flying around the world is all superb. The release is now just over a month away and it's looking to be a game of the year contender, which is huge considering some of the titles released this year.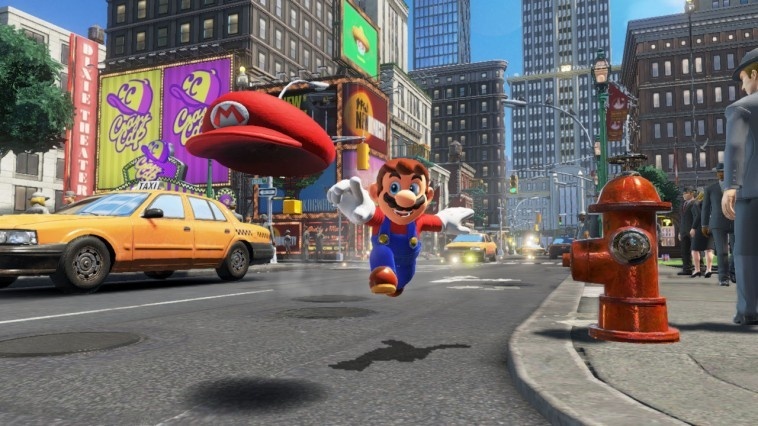 While still in the Nintendo main stage area, it was worth hanging out to see the fantastic hosts call up players from the crowd to do battle in titles like Mario Kart 8 Deluxe and ARMS, and to the winner a goody bag of shiny goodness, whilst to the loser a sticker sheet and eternal shame. The guys manning the booth kept up their enthusiasm and comedy all day; a great job done and these guys deserve more medals than they handed out for their performances. Before Cubed3 headed off from the Nintendo stage, though, a new game was being showcased. Between the extending arm boxing matches, the Salmon Runs and the always enjoyable Renegade Roundup mode of Mario Kart 8 Deluxe came a simple little game called Flip Wars. This was one of the hidden gems of EGX this year and a game already available for download on eShop. Any Switch owners looking for some simple multiplayer fun would be wise to give this a go; four players face off on stages of coloured panels. Jumping and ground-pounding flip the panels to the player's colour and the player with the most coloured panels at the end of the timed stage wins. There are also battle mechanics where people can flip each other over and environment elements to avoid. Flip Wars manages to hearken back to the beloved PVP simplicity of the early Bomberman releases and was definitely a pleasant surprise.
The other two Nintendo areas were quite lacking in comparison, though. There was a tournament area that had an equally energetic and enthusiastic MC but looked completely out of place. This "area" consisted of a single tiny stand that resembled a hot dog cart with TVs attached. This mini setup was used for each of the tournament qualifiers, seating four players on each side where Switch docks had been set up for contenders to use their own consoles. Not only was this horribly located and tiny but the system of using the attendees own Switch consoles was a terrible idea, too, causing numerous delays and confusion during each tournament. The finals took place on the main Nintendo stage, at least. Finally, was the Nindies area, showcasing titles like Super Meat Boy Forever, Worms WMD, and Rogue Trooper - so many must-buy Nindie titles incoming, but sad to see that Stardew Valley was not in attendance.

At this point in the day, most stations had already filled up to the point where one-hour queues were the norm and they only got longer and longer… and longer. Ubisoft was next on the agenda and it was hard to miss - a gargantuan Rabbid Kong presiding over all, acting as both a photo opportunity and imposing monstrosity. Within Ubisoft was the next game to try: Assassin's Creed Origins. This latest instalment in the series is breaking away from many series mechanics and the changes it brings to the combat feel very positive. It's something fresh and new instead of the "stand and hit parry over and over;" however, the experience itself was tarnished with bugs - mostly graphical, but plenty of freezing demo stations and worse. This was a surprise considering the very close release date looming on the horizon. Hopefully, this was an older demo build and the problems seen have since been addressed.
Ubisoft wasn't the only place with these issues, either, as over at the Square Enix area, Dissidia gathered huge queues, but not because of its popularity or even the promise of a medal for those who managed to win in the melees; it was rather because of the numerous technical difficulties. The game was set up to play over an Internet connection at first and constant connection woes left players stuck at the character select screen. Eventually, fans were set up to face off against AI opponents, removing the connection woes, but that didn't mean it was smooth sailing from this point. Instead, players were met with regular crashes to halt their playing. Thankfully, Simon from Whatculture was on hand with his constant soothing positivity to try and counteract the rage of players who had queued for hours.
There were a handful of special guests at the event on Thursday, too; Dave Lister himself filming The Gadget Show, Tracer's voice actress opening the Overwatch tourney, but all of them were trumped by the master of performance capture. Andy Serkis is always going to be known for his breakout role as Gollum, or perhaps as Caesar in the Apes series, but few seem to know of his work behind the scenes. Andy has established his own digital effects studio, The Imaginarium Studios, and is now producing a Planet of the Apes game in the Telltale style, entitled Planet of the Apes: Lost Frontier. Mr. Serkis was on hand first at the EGX main stage, and then on with the PlayStation team, to show off the gameplay and talk about not just the game but his performance capture for films and even games with Ninja Theory.
To see out the first day, some indie games were on the cards. The Rezzed Zone took over a huge amount of space again this year and held a diverse range. Collectives like Square Enix and the Leftfield Collection from SEGA were surrounded by stalwart veterans like Team 17 and fresh newcomers. Team 17 was showing off a rather fresh idea - or as the lady on the stand described it, "The best idea a developer ever had" - smashed together pinball and a colourful 2D platformer. A little hyperbole, perhaps, but this still looked tons of fun. Entitled Yoku's Island Express, this is a self described "Open World Pinball Adventure" and sees a diminutive bug pushing a huge ball across some lush and colourful worlds, collecting floating bubbles filled with fruit and various collectibles, but at certain points the world becomes more of a pinball stage and tactical shooting is required to burst out onto the next area, with a small strand holding Yoku attached to his ball and whipping around in its wake. This holds as much promise as Snake Pass did last year and will be a must buy when it lands "sometime" in 2018 on PlayStation 4, Xbox One, Switch, and PC.