MCM Comic Con Scotland has first been launched on the Scottish Event Campus (SEC) in 2013. Since then, every year this big event has attracted fans from all over Scotland. This year was no exception. The SEC provides an ideal venue for this kind of event. Providing not only a large and accessible space, toilets are available at key points. Additionally, when leaving the expo itself, there are spaces to stand inside (in case of rain), or if the weather allows it to meet with friends outside as well. The SEC can be reached by train (with a little bit of walking), but also provides a large multi-storey carpark (which will charge you, naturally). 
MCM Comic Con Scotland offered a variety of events. Panels about videogaming or cosplay, workshops, and opportunities to meet celebrities are only a few among them. 
PlayStation VR Experience 
Video games need to be part of this kind of event. Disappointingly, something like a gaming corner was missing. It would have been amazing to have a corner dedicated to this, in which people could try their hands at some Wii, Switch, and PlayStation titles. Luckily, visitors did not have to miss out entirely, because at least Sony was present and delivered a VR game experience. Visitors could choose one out of six VR games and give it a go. This was free of charge, and an amazing idea for people wanting to try their hands on a VR experience for the first time or simply indecisive of whether or not acquiring a VR set is worth it. Getting the chance to trying out Beat Saber on VR was amazing. While it's a simple deal, the feeling it provides is great. Published by Beat Games, players use two motion controllers to slash cubes in the rhythm to the music. Arrows on the cubes indicate in which direction the cubes need to be sliced. The left controller is a red laser, and the right one a blue laser. Cubes are also coloured either red or blue and the player needs to slice each cube with the same coloured laser. 
LillySwifty playing Beatsaber
Although this kind of game would totally work without VR, the 3D environment adds to the experience immensely. Cubes come rushing towards the player, making it even more important to slash them on time! The controls are incredibly responsive, which made it a real pleasure to play. The game comes in different difficulty settings as well, so people who wish so can challenge themselves. Only the music choice could be better. 
The PlayStation VR headset is comfortable to wear and wearing glasses with it is no problem at all. That was a pleasant surprise, as it may worry people with glasses. The headset can easily be adjusted for different head sizes, and once fully adjusted the picture is very clear. The only downside is that one can get really quite warm, and sweaty, underneath the headset. Especially when playing games that require quite a bit of motion, this can become uncomfortable. 
The setup of the experience was very interesting. PlayStation had set up different cabins in which players could try their chosen title. People could watch from the outside to get an idea of what was going on. Unfortunately, there was no information available about it prior to the event. The MCM website did not update the information about the VR experience before MCM started, which made it difficult to plan. It was necessary to queue at the PlayStation stall in order to receive a timeslot to try out one of the games. This was not made clear in advance, and many people missed out on the chance to try it. This was very disappointing, as a good portion of luck was necessary to get one of the highly demanded timeslots! 
Cosplay 
MCM Comic Con Scotland made an effort to attract cosplayers. Next to cosplay competition and catwalk, the event offered cosplay themed panels and workshops. In addition, there were changing rooms for cosplayers, bag drops for cosplayer with a lot of luggage and a repair desk for cosplayers in need of fixing a broken part of their costume. Plenty of people were cosplaying. Everything from comics, over TV shows and Anime to videogame characters was represented. Be it Leon from Resident Evil, Natsu and Lucy from Fairy Tail, or Liv from iZombie, a grand variety of characters could be observed taking photographs, shopping or visiting workshops.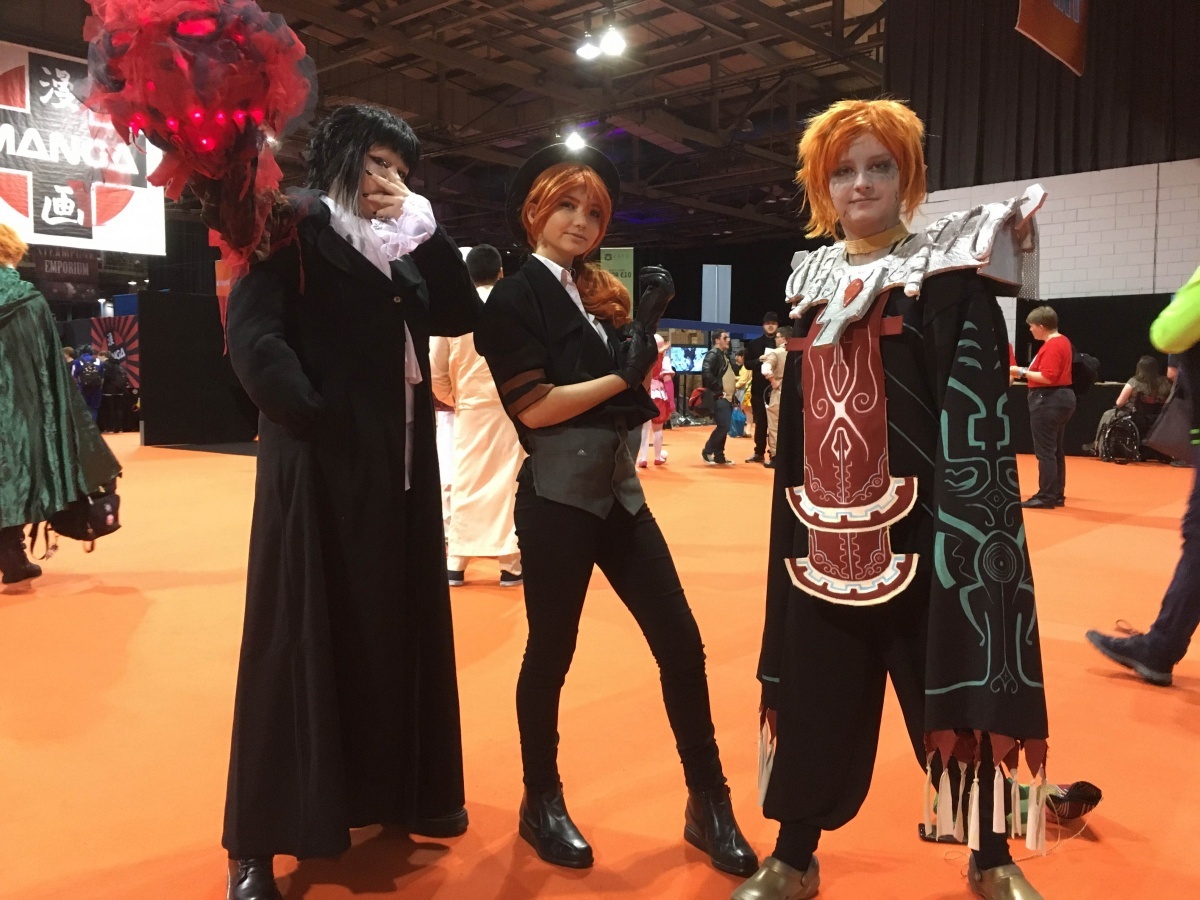 Akutagawa (groundzero_cos), Chuuya (aust.cos) and Zant (lee_myster_)
Unfortunately, the variety of workshops was limited. While working with Artyfakes (to make cosplay swords or shields) surely was quite interesting, this was about it. Interesting for cosplayers could have been workshops such as working with different materials, wig styling or make-up. Additionally, spaces for workshops were limited. Guests had to sign up for a workshop, however that did not mean that they could attend it. Firstly, they had to be chosen, and would be notified via e-mail if that was the case. Participants were selected on a first come first serve basis, but the website sign-up form gave no information about whether or not a workshop had already been fully booked. Additionally, people that were not chosen did not receive an e-mail at all. This meant that up until the time of the actual workshop people had to check their e-mails to ensure they really had not been chosen, which was quite annoying. This was especially annoying since MCM had a strict policy that if someone that was chosen and could not attend failed to communicate this in time (which was not specified, so who knows what was expected), would be unable to attend any other workshops at future events. All in all, this was a very disappointing choice of system. 
Stalls, Food and Everything Else 
As expected, there was no shortage of stalls selling everything from merchandise, over DVDs to artwork. Unfortunately, the full program was not available before the day. This made planning for the day not easy. A program could have easily been released a couple of days in advance in form of a PDF. Especially since there is such a wide variety of possibilities, different stages with different programs and different workshops, planning a couple of days in advance would have made a visit a lot smoother. 
Once one has walked around stalls, attended panels or workshops, and possibly met up with celebrities, one or another may become hungry. One of the downsides of the SEC is its location in the sense of food outlets. Catering within the SEC is available but limited. There is nothing particularly close by either. This is disappointing but by knowing this in advance it is possible to bring own lunch. 
Other workshops and panels included comic related themes, such as how to make a character and similar things. However, what was missing were more game related workshops. Granted, there was one such workshop, yet that was geared towards improving a university application. What would have been interesting, is a workshop in which guests could try their hands on videogame character design. That could have been a great opportunity for people unsure if they were interested in such a thing. 
With famous voice actors present for photographs and autographs, there was another missed opportunity for workshops. A voice acting workshop would have been absolutely amazing and can be a lot of fun. Of course, one could argue that the prices for autographs and photographs were a little high, but a true fan will still be happy to pay.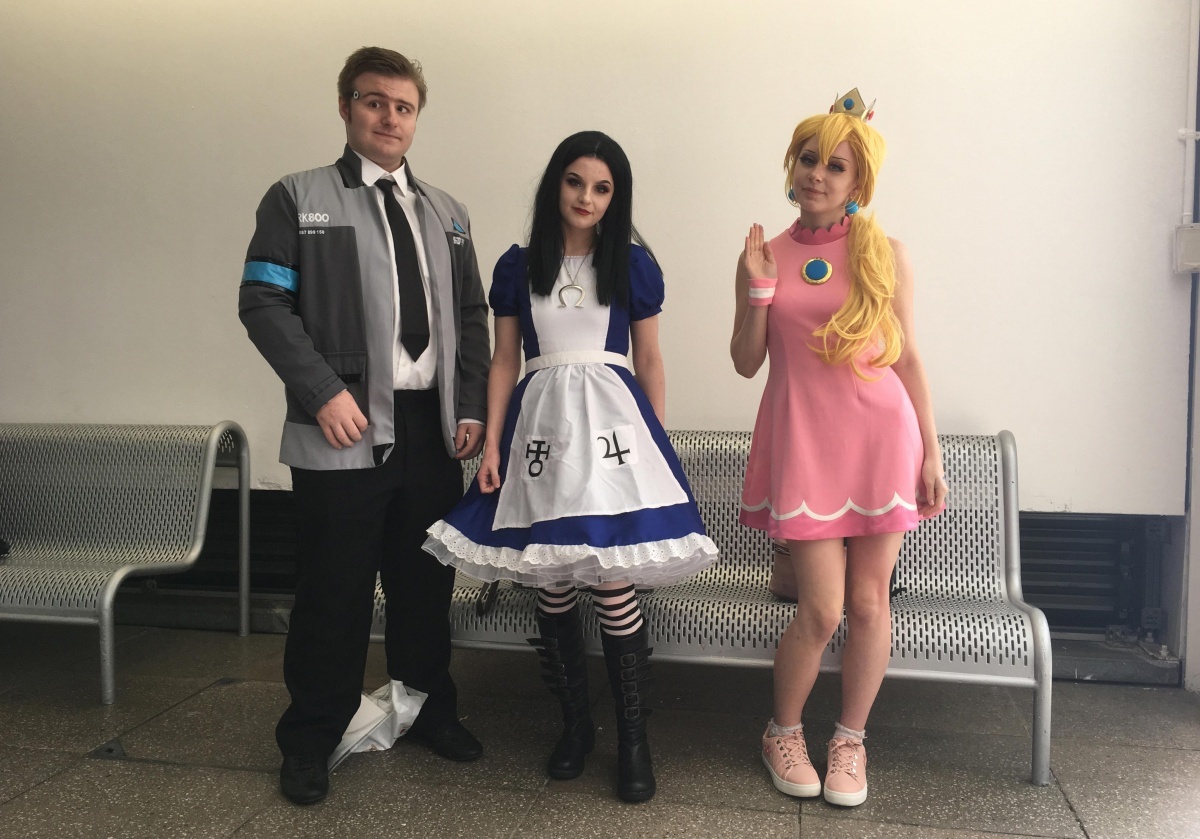 ​
Connor (CookehMuffinz), Alice (Kirstycameron150) and Peach (amytay555)

Something very enjoyable for families with children is that MCM Comic Con Scotland caters for them. In their Tree House, families can enjoy a break from all the busy hustle of the big hall. They can sit down, relax, and children can get the chance to colour or play with toys provided. Amazingly, free face painting and glitter tattoos were also offered. Not only children could enjoy this free service, but also adults. Two very talented make-up artists drew everything one could ask for. All they needed was a picture of what people wanted and they did an amazing job of magically transforming their faces. Everything was possible, from Spiderman to bloody wounds or cats. With everybody welcome, that was a great experience. 

CONCLUSION 

MCM Comic Con Scotland is a big event, with great stalls and opportunities. While it is understandable that organising such an event can be hard, it was disappointingly disorganised. However, it also provided a lot of fun, and searching for merchandise is always exciting. Some more interactive opportunities could make this event even greater.