​It is time for the annual Cubed3 Staff Game Awards. Last year saw Super Smash Bros Ultimate brawl its way to the top of Cubed3's best of 2018 pile, followed closely by the grand scale open world of Red Dead Redemption 2. This year has seen a widespread showcase of genres that epitomise the variety available on today's gaming market. Find out what has been keeping our thumbs busy in this year's staff game awards.
Honourable Mentions

Members of our Cubed3 team discussed adding the following titles to the final list but after much deliberation they didn't manage to make the cut. They include, Judgment, The Sinking City, Doraemon Story of Seasons, Tom Clancy's The Division 2, Sekiro: Shadows Die Twice, Pikuniku, Farm Together, AI:Somnium Files, Darksiders Warmastered Edition, Planet Zoo, Pokemon Sword and Shield, The Walking Dead Final Season, The Legend of Zelda: Link's Awakening, Blasphemous and A Hat In Time.
15. Kingdom Hearts III
Each of the Disney worlds completely captures the magic of the movies, plucking the heartstrings and embracing the nostalgia. This is exactly what fans of the series wanted and, best of all, somehow, someway, all the crazy plot threads are dragged together, kicking and screaming, into an utterly satisfying conclusion. The prospect of Kingdom Hearts III being the end of the road is a sad one. Sora's tale may be over, but there are so many other Disney worlds left to explore. The world needs a Moana level with Mau'i helping to take on a huge Tamatoa boss. Wreck it Ralph deserved its own levels, as did The Incredibles, and so many more. Here's hoping, one day, Kingdom Hearts will return.
  -Drew
Read Drew Hurley's review to find out more
14. Luigi's Mansion 3
Luigi's Mansion 3 delivers up to its expectations, and builds on the first two entries in the series. It has the right level of challenge, varied locales, brilliant animation and comedy. This looks superb right down to the charming characterisation of Luigi's face, or the stunning environments, and it is well worth a buy.
 -Neil
Read Neil Flynn's review to find out more
13. Dragon Quest Builders 2
Continuing on the addictive properties present in the first game, Dragon Quest Builders 2 is an infinitely expansive sandbox building RPG. Apart from minor niggles that will hopefully be fixed in any future instalment of this popular series, the balance of humour with emotive moments makes the main story engaging, with most of the fun to be had in the post-game. The ability to use the hundreds of blocks and items, some with a capability to be dyed, thus expanding the range of crafting materials, makes it easy for architects of all abilities to unleash their imagination on land, in the air and even underwater (with certain DLC) in dozens or even hundreds of gaming hours.
 -Nayu
Read Rudy Lavaux's review to find out more
Read Drew Hurley's review to find out more
12. Mortal Kombat 11
Mortal Kombat 11 is not only a terrific fighter that manages to refresh a classic franchise, but also a testament to the love and care the folks at NetherRealm have for this beloved and gruesome series. Familiar and fan-favourite MK characters have been revitalised thanks to some impressive graphics and reworked move sets, and while the brief-but-great story mode won't hold interest for long, there's a wealth of content to be found by completing Towers and competing online in the Kombat League. It doesn't get everything right - the gear system is noticeably flawed and many balance issues are still present - but it's a fighting game that is almost everything you could want from a fighting game. Gore never looked so good.
 -Justin-p
Read Justin Prinsloo's review to find out more
11. Need for Speed: Heat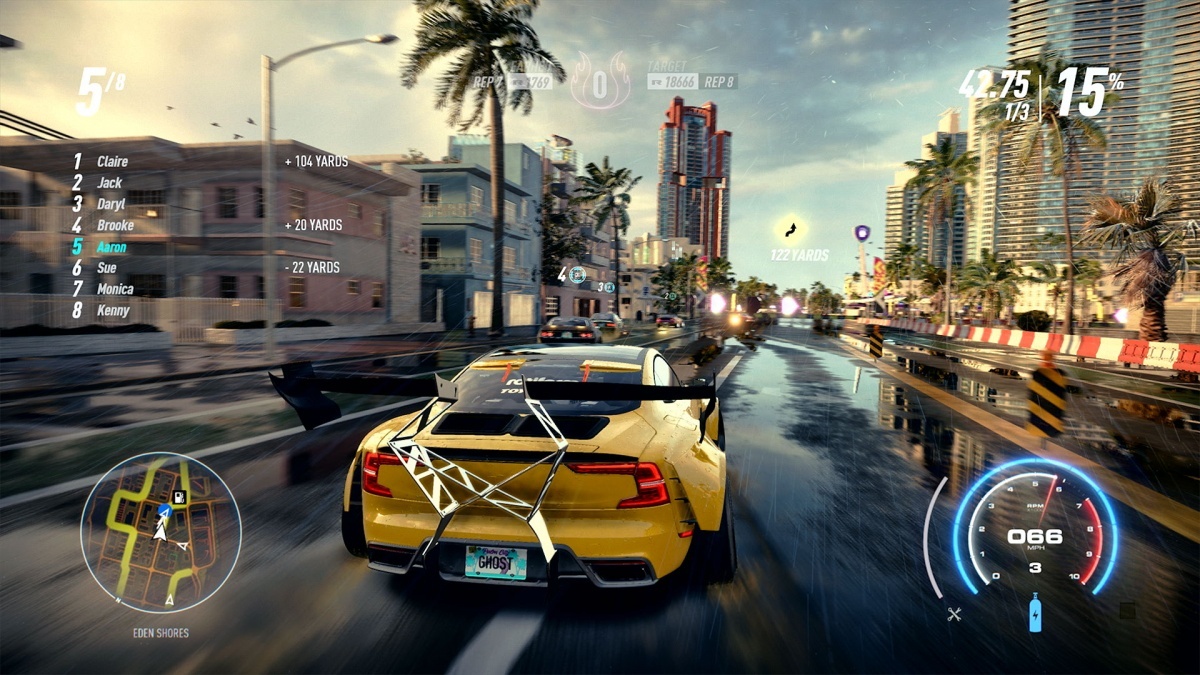 Need for Speed: Heat ramps up the intensity with the high-speed cop pursuits that threatens to tear apart the street-racing scene of Palm City. With a new story and a thriving vehicle-filled city to roam around in, this open-world racing experience brings all of the best attributes found in Need for Speed titles. Create a driver, complete side-missions to unlock new car parts, and make the cops eat dust in the campaign as you build the best car you can. With a heap of customisation options to unlock and over 120 cars to purchase, this is 2019's best racing title.
 -Josh
Read Josh Di Falco's review to find out more
10. Alien Isolation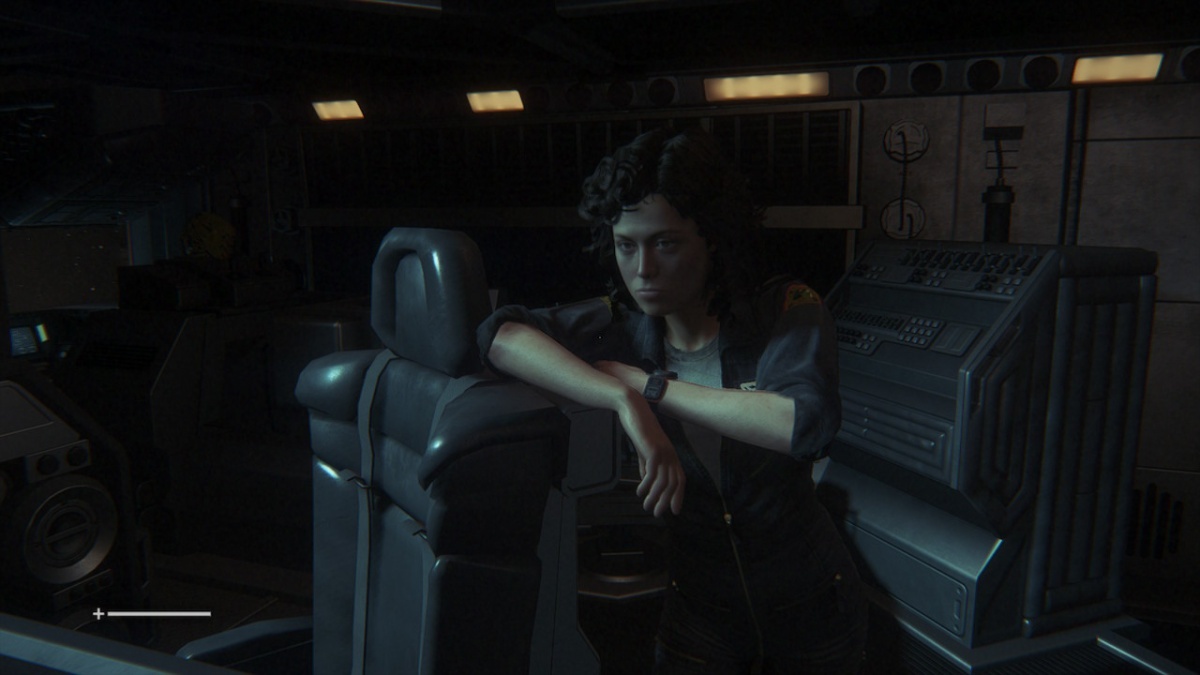 Alien Isolation  was and remains an incredible survival horror and a great contender for best game in the genre to date. The moody atmosphere and wonderful visual designs cannot be overstated. This held true on any platform it got released on, even if on some the game did not run without issues. On Switch, it is not only the scariest and best survival horror game currently available on the system, but it is also arguably the most impressive port of a current-gen game to the hybrid console. Feral Interactive went above and beyond anything anyone had any right to expect. It offers the best visual quality of any console version to date, albeit at the expense of a few but unimportant effects. It truly deserves the title of best Switch game of 2019 for the quality of the work that went into making this version possible.
-Rudy
Read Rudy Lavaux's review to find out more[/b>
9. Fire Emblem: Three Houses

A new formula for a new console, Fire Emblem: Three Houses mixed up the core gameplay by adding in a hub world acting as the base for the protagonists. This without a doubt divided the player base who preferred a more traditional Fire Emblem approach, rather than JRPG elements such as fetch quests and different types of character bonding. Nevertheless, Fire Emblem: Three Houses[i] has such variety in gameplay, an excellent sound track, great story telling, epic battle scenes, dual audio and three different paths to take, making this one of the standout titles on the Nintendo Switch and the series as a whole.
[i]-Neil
Read Rudy Lavaux's review to find out more
8. Control
One of 2019's most pleasant surprises. Control is one of the most original works of fiction to surface not only this year but perhaps in the last five years; it's not easy to pin down, but in a word, it's weird. Delightfully weird, in fact. This oblong sci-fi tale is steeped in morose existentialism and even veers towards being nihilistic, but its all believably conceptualised thanks to its beautifully realised world and characters. Control's refined third-person combat makes you feel like an off-kilter superhero as you stylishly charge through waves of enemies and glide through the mind-bending walls of the FBC's headquarters. Great combat aside, this is an experience that persists in the mind long after the credits roll.
 - Justin-p
Not every video game needs to reinvent the wheel and at first blush Control is, gameplay wise, a fairly standard action-adventure - much in the vein of Remedy games that came before. What it does do, however, is done with such a high degree of panache and polish that it has to be noticed as one of the games of the year, aside from noticeable frame rate issues. It lets players utilise psychic powers in battle that are a constant thrill to use, especially in conjunction with the highly destructible environments. The top-notch art direction throughout make it a brutalist's joy, with compelling world building and a unique set-up that is incredibly aesthetically pleasing.
 - Mike
Read Justin Prinsloo's review to find out more
7. Astral Chain
Astral Chain was expected to be great from the moment it was announced - Platinum Games has developed a penchant for delivering epic action games with a unique flair, and this title is no exception. The age-old argument of style vs substance is redundant here, as Astral Chain has heaps of both. This is a massive flex from Platinum Games, who shows off its untouchable grasp on satisfying combat mechanics and meaningful character progression. Very little about the gameplay loop is unpolished, resulting in a relentlessly addictive and stupidly entertaining ride.
 -  Justin-p
 
Another Platinum Games gem, this game blew everyone away with its cyberpunk aesthetic and slick combat. It is well arched with the Switch and features some of the richest content on the system and a fine, if predictable, story to knit it all together. Fantastic.
 -  Sandy
Read Renan Fontes' review to find out more
6. Tetris 99
Tetris has been going for decades, yet even the original game just does not get old. Its basic concept has proven to be the most successful puzzle game of all time, but at this stage in its career, developers have had to find fresh twists to bring new leases of life into this classic. The battle royale genre has proven to be incredibly popular over the last few years, and Nintendo saw this as a chance to reinvigorate Tetris and crafted Tetris 99, an online multiplayer game that pits 99 players against one another, clearing lines and dumping trash on others' screens until the last player standing wins. As if Tetris wasn't addictive enough as it already is, Tetris 99 is hard to put down, especially when that competitive instinct naturally comes out as you find yourself in the last few players remaining, palms sweating and heart racing to top it off.
- Az
 
Perhaps Nintendo didn't realise what they had on their hands when they shadow dropped it as part of the February 2019 Nintendo Direct. This free to play title was an added incentive to join the Nintendo Switch Online service, and as of December is probably still the key benefit of having the online subscription. Tetris 99 joined the "battle royale" arena in some style as the game took over everyone's lives, almost like it was the 90s again. Nintendo's continued support with online competitions and themed backgrounds have kept the online scene alive. Tetris 99 is by and large Nintendo's greatest success in the online arena, with quick match making, no lag and the fact it is free.
 - Neil
Read Neil Flynn's review to find out more
5. Super Mario Maker 2
Super Mario Maker on Wii U was one of the console's best titles…and some may say the best 2D Mario entry in years! It didn't deserve to be stuck on that failed console, though, so it was a joyous moment to hear a sequel with even more features was planned for Switch! Super Mario Maker 2 isn't as such a sequel, though - rather an update that introduces plenty of extra elements for players to experiment with in this endless playground of Mario platforming goodness. On/off switches, moving snake platforms, vertical scrolling stages, day/night themes, new level themes, multiplayer versus and co-op options, a simple tutorial-like story mode, along with a much more accessible user interface and surprising free expansions that offer new characters and methods of completing stages make this heaven for all 2D Mario fans. It can be overwhelming at first, but jumping in and experimenting, producing your very own Mario levels to share with the rest of the world is an awesome feeling. No Mario fan should be without this gem if they own a Switch!
 - Az
  
Super Mario Maker 2 is every reason why Mario is still vital and relevant in today's gaming landscape. As much as Nintendo gets wrong with online (which is a lot!), the online features here really encourage a positivity and creativity in play. Levels are often surprising, often requiring "one more go", and almost always fun. There's a lot of smart design here whereby it's just as important what has been left out and limited to the player, as it is the toolkit that Nintendo does give people to create their own levels. With the December 2019 update, and 'Link' power up, there's no better time to "jump" in.
 - Mike
 
Legitimate creativity tools in gaming has long been desired by gamers around the world. Gamers have often had to turn to their own creation suites to tinker with games. Nintendo's sequel to the original Super Mario Maker hits the nail on the head even further by adding in a number of new updates to play with such as the addition of new themes, landscape changes, new enemies and additional puzzle solving tools such as the On/Off switch. Even if creating levels seems like a chore, then the endless opportunities to download other people's creations will give any gamer an everlasting experience that should satisfy any 2D Mario fans thirst.
-  Neil
Read Jorge Ba-oh's review to find out more
4. Devil May Cry 5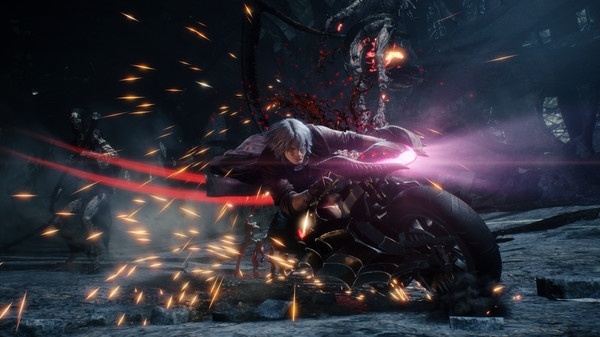 After 11 years of waiting, there was no way that the newest instalment of Devil May Cry would deliver, especially after sending the franchise, story wise, towards setting up emo attitude Nero as its new poster boy. But somehow, it succeeded in every respect? Nero suddenly had depth of character as well as an interesting entourage to back him up through the main quest. Capcom made sure they didn't neglect Dante for the die hards too, back and cooler than ever. Grizzled, wise-cracking and carrying an arsenal to make a predator weep. Between Dante, Nero and Newcomer V, any play style you could ask for is covered and all are a delight, Dante powers through enemies with brute force, Nero methodically looking for weak-spots or V dodging and juggling from afar. Nobody was short changed in both gameplay and story. Easy enough to enjoy, hard enough to challenge even long-time veterans. It may not have been revolutionary but it was the demon destroying hack and slash fans deserved after such a long wait.
 -  Luke
Continuing on a story that everyone had thought was dead and gone after Capcom left the series on ice. Devil May Cry 5 rocks the house with razor sharp gameplay featuring the famous combo driven combat and a great returning cast all revamped in the Resident Evil engine. The comedy, gameplay and amazing visuals, sound and script make this one to remember. It cannot be recommended enough.
 - Sandy
Read Albert Lichi's review to find out more
3. ​Dragon Quest XI S: Echoes of an Elusive Age - Definitive Edition
Cubed3 already lauded the quality of Dragon Quest XI when it came out in the west on PS4, despite a few gripes regarding the sound quality of the soundtrack. In 2019, Dragon Quest XI S: Echoes of an Elusive Age - Definitive Edition came out in brilliant fashion on Nintendo's successful hybrid system in a version that managed to retain just as much visual flair as anyone could hope. Given that the game runs on Unreal Engine 4 and that ports to Switch of games using that engine tend to see their resolution and performance dropped dramatically to even run, the extra effort that went into this new version is, itself, worthy of praise. Then, this Definitive Edition brings to the table the orchestrated soundtrack it deserved and heaps of extra content to make this the best version to own and play, especially since it is easier to sink hours into those long RPGs when they are portable.
 - Rudy
 
Although it took almost a year to be brought to Nintendo Switch from other consoles, Dragon Quest XI S: Echoes of an Elusive Age - Definitive Edition is worthy of the label epic JRPG. As a series renowned for inspiring the JRPG genre, the full of surprising twists plots alongside truly classic turn-based battles with visually stunning graphics, combatting evil had never been so fun, be it as a magic using sister under an interesting enchantment or a highly skilled knife wielding thief. Monsters with humorous appearances and names pleasantly counteract the emotional intensity of the good vs evil rollercoaster plot, with extras including an orchestral soundtrack, the ability to play in 2D and stylish character outfits make it a must play for all Switch owners.
 - Nayu
 
To hardened and stubborn JRPGs veterans, any previous Dragon Quest titles may have been laughed off as the childish younger brother of spectacles such as Final Fantasy. Silly looking monsters and over the top voice work may have kept RPG fans away but due to a lull in quality releases, Dragon Quest XI ended up in many Switch consoles.
Without a shadow of a doubt this has been one of the stand out releases of 2019. Not since Final Fantasy 7 has it been worth investing in a group of characters and their exploits. The story moves along at a cracking pace along with unexpected twists, diverse locations, fantastic voice acting and a great combat system.
The Icing on the Dragon Quest cake is the armour system, something totally unique and worth coming back to. Picking up an item then improving it through a re-forging mini-game feels so satisfying when you succeed and devastating when you don't. It's infuriating and totally addictive.
 - Luke
Read Rudy Lavaux's review to find out more
2. Death Stranding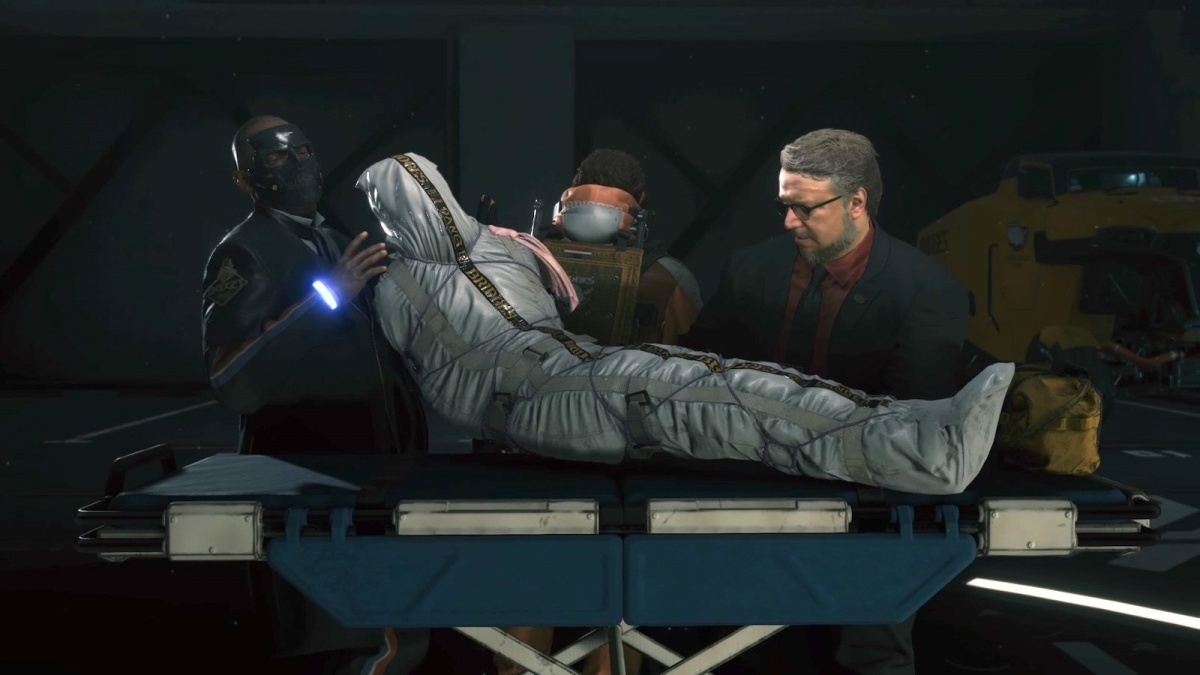 2019's video game equivalent of marmite is one that I spread all over my toast and lapped up every crumb of this year. There's definitely moments that it feels indulgent, and I guess I can see why many might not go for the post apocalyptic delivery boy gameplay, but to say it's a badly made game would be a disservice to Death Stranding. On some level I enjoy that indulgence too, in an industry that appears to be getting a bit more vanilla over time, at the very least at this tier of game. That put aside, for me, Death Stranding was totally engrossing from the first BT encounter to plugging my bridge baby in. To building roads and ladders and giving 'likes' to other players, right up to the mind screwing conclusion, it was an experience like no other. I could go on. I also have a theory that there's some significance that in portions of the game you are "sneaking" from "ghosts" whilst carrying a lot of "baggage".
 - Mike
 
Kojima is back on the soliton radar and he's bringing his A game with him. Death Stranding is an artistic dream with out of this world mystery and intrigue alongside some of the most addictive point to point traversal gameplay. It would be impossible to do the game real justice by describing it. You just have to play it and experience it. Perfect but divisive!
 - Sandy
Read Albert Lichi's review to find out more
1. Resident Evil 2
Resident Evil 2 is and remains one of the greatest games of all time on the original hardware it came on over 20 years ago. Its achievements in terms of atmosphere and visuals, even more so through such an impressive port as the N64 one, have gone down in history and are fondly remembered to this day. This remake, many years in the making, delivered on every level. The visuals are, even by current gen console standards, pushing new boundaries. Then, the more modern gameplay is sure to help new generations of gamers to dive in, more so than the original tank controls could have ever done. That way, many younger players can finally get a taste of the wonderful atmosphere of the original which more than survived the transition to HD, but surpassed it. This is a true return to form for Capcom, which has tended to err more often than not in recent years.
 - Rudy
 
The fact that Capcom has taken a phenomenal horror game and made it even more phenomenal is a feat worthy of unfettered praise. 2019's Resident Evil 2 remake improves upon the original in every way and then some. The haunting atmosphere, pulse-pounding combat and survival-led exploration have set the bar very high for the future of survival horror games. Resident Evil 2 not only revitalises the series and the genre, but opens the door to a new generation of similar experiences, prompting the upcoming Resident Evil 3 remake to be one of 2020's most promising titles.
 - Justin-p
 
Credit where it is due, Capcom has been on fire in its attempt to bring Resident Evil back to the forefront of survival horror. Although Resident Evil 7 took a new first-person approach, it was a bold path that definitely brought back the scares, and after the fantastic remake of Resident Evil 2, the publisher recently announced the third game in the series will be getting the same treatment. Without the brilliant new take on the second title, though, that third remake wouldn't be happening. Resident Evil 2's 2019 redo brought in brand-new and unrecognised voice actors that successfully added realism to the characters of Claire and Leon, and the entirely new perspective and 3D graphical overhaul of Raccoon City and the police department was crafted immaculately. Capcom hit all the right notes in bringing back survival horror…and Mr. X's footsteps are still pounding in my head at night. An exciting time to be a Resident Evil fan.
 - Az
  
This game is amazing. RE Engine brings its fantastic tools to ye olde Racoon City in a Remake that is almost a pitch perfect reimagining of the classic PlayStation game. Capcom have put together something special that captures the essence of what Resident Evil 2 is about but brings it into the modern era with some amazing 3rd person action gameplay that starts strategic and gradually shifts to more action-based scenarios. This is a modern Resident Evil game that brings back the terror!
 - Sandy
Read Albert Lichi's review to find out more
2019 has been a stellar year for gaming, packed to the brim with a range of diverse quality titles that appeal to a wide audience. Feel like we missed off any important games that should be featured on the list? Feel free to comment below to make your thoughts known.