Cubed3 has put together this must have list of Xbox essentials. Getting your loved one, child or even yourself an Xbox Series X or Xbox Series S this holiday? Then dive into this article to find those Xbox essentials for a perfect holiday!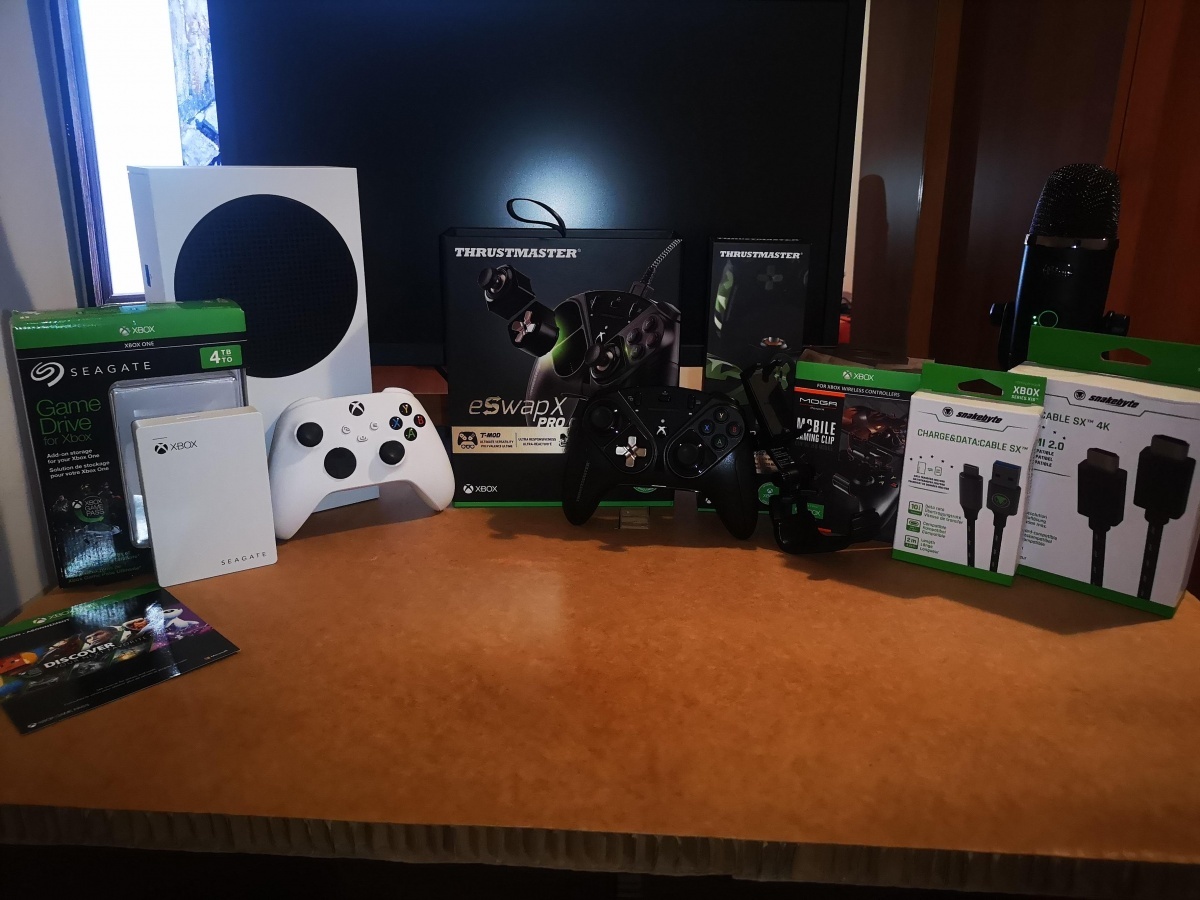 Xbox Series S

The console itself would be a good start wouldn't it? The Xbox Series S is the baby brother to the Xbox Series X, it lacks the blu-ray optical drive and a little bit of horsepower, but it still has the oomph to deliver next-gen gaming at the high resolution of 1440p and 120hz and all for a budget price. If you can get your hands on one before Christmas then you absolutely should. If you need more convincing then watch the Cubed3 video review to help you make up your mind.



Thrustmaster ESWAP X Pro
This modular controller packs a serious punch, any serious gamer would greatly appreciate this elite pro controller that is purpose-built for those striving for the higher echelon's of game rankings. This is a new 2020 edition which features next generation mini-sticks for a longer life span and with great customisable options, such as being able to lock the triggers, button remapping and headset controls on the underside of the controller. Any one who enjoys a good FIFA, Call of Duty or Rocket League gaming session is going to absolutely love this controller.

Visit the Thrustmaster website to find out more.



Thrustmaster ESWAP X Colour Packs

The Thrustmaster ESWAP Pro X controller can be fully customised, right down to swapping out triggers, grips, control sticks and the d-pad. This controller is comfortable to the hands and eyes from the start, but if players want to swap out any parts of the gamepad then purchasing a set of additional coloured modules could be a great accompanying gift.  

Visit the Thrustmaster shop to find out more.

 
SEAGATE Gaming Portable Hard Drive for Xbox - 4TB

The Xbox Series S only comes with 360gb of SSD storage to be used for games, so this will be enough for Christmas Day, but serious, and even casual gamers, will need some extra storage space down the road. This officially licensed Seagate 4TB HDD drive is a necessary addition to help store games, and not just that, but it also comes with 2 months membership to Game Pass Ultimate, which is the Xbox's answer to a huge library of games at your finger tips. Remember that to play Xbox Series S or Xbox Series X games they MUST be stored on the internal storage, however, this plug and play HDD enables additional storage at an affordable price, albeit as an external drive. The 4TB HDD can be plugged directly into the Xbox itself and data can be easily swapped between the internal memory and this external drive.

Purchase the Seagate Gaming Portable Hard Drive from Currys 

Snakebyte Charge Cable and HDMI Cable

Additional cables can be a god-send when using a console on a different TV, it means that players won't need to unravel their set-up and cable-tidies from the TV when moving the console from place to place. Snakebyte have a few cables on the market, most notably these beautifully braided green USB-C charging cable and HDMI 2.0 cable. They can be used universally used on other devices too, so they aren't just limited to the Xbox. However, Xbox Series X users with a newer 4K TV should make sure they seek the slightly different HDMI 2.1 cable instead to ensure they get the best visual fidelity that the console can offer.

View the entire Snakebyte range of Xbox Series X/S accessories on their website.

 
Moga Power A - Mobile Gaming Clip

A mobile clip? It does seem like a strange gift suggestion, but anyone with an Xbox Game Pass Ultimate subscription can play their a large number of their games on their Android mobile device for no extra cost. This officially licensed gaming clip can be used to attach any modern smartphone to it to Game Stream the Xbox locally, acting as a TV screen for the device, or alternatively to be used for Microsoft's Xcloud service where users utilise an internet connection to play games via the cloud. This mobile gaming clip is easy to attach and detach from the Xbox Series X and Xbox Series S controllers and has additional hinges to adjust the viewing angles. This is the perfect gift for any Xbox gamer who is always on the move and wants to take their games with them.

Purchase the Power A Mobile Gaming Clip on the Microsoft Store

LG 49NANO86 4K TV

The Xbox Series X and Xbox Series S are fully capable of some extraordinary things, including outputting games at 4K resolution and 120hz, but this is no good the player doesn't have a screen capable of hitting these heights. TV's truly capable of achieving this are far and few between in 2020 and the vast majority are at a much higher price point, with one exception, the LG 49NANO86, which ticks all the right boxes for the performance needed for next-gen gaming and at an affordable price. The LG NANO86 is capable of 4K at 120fps and features the VRR (Variable Refresh Rate) that enables Xbox games to look incredibly smooth. There are bigger and more powerful TV's available, but just remember that these also come at a much higher cost.

Purchase the LG 49NANO86 from Argos

 [/h2]