Winter is definitely approaching in the northern hemisphere at the moment, a season where parties can be more popular and what better to start off the season than with a new Loungefly bag? Owned by Funko and based in California, Loungefly regularly produces limited run bag designs for a variety of brands including Disney. Sometimes the bags are limited to specific locations too, such as only in Disney resorts around the world; regardless, each bag is a collector's item and often highly sought after. On November 7th there was a two-day pop-up in London filled with cakes and bags dubbed 'House of Loungefly', where the new autumn/winter 2022 range was promoted. These included a Marvel Spider-Man mini backpack, a Warner Bros Looney Tunes mini backpack, and a Princess and the Frog themed handbag. It was with great pleasure that the final bag, a Disney Minnie Mouse green sequin mini backpack, was selected for review here. Will it be worthy of the £80 price tag?
The excitement from fans of any merchandise is high, especially when it is the very first item in a collection, making this sparkly number an extra special arrival on a particularly cold and rainy day. Immediately one of two issues of the bag became obvious, which will vary in how major it is for each individual - the packaging. Opening up the cardboard box the backpack was in a large plastic bag, something that the eco-conscious may want to be aware of (there is no real leather used in the bag itself, making it ideal for those who prefer vegan items). A smile appeared upon seeing a snug foam strip gently protecting the ears from harm.
The long shiny green straps had protective material around the buckle, presumably to stop it from damaging the smooth, shiny, almost mirror-like material that is on the back, bottom as well as the handles and straps themselves. Here is the second potentially negative aspect of the bag: the shiny material looks gorgeous but has the potential to be easily marked, unlike a fabric bag. The positive point is that most of the shiny areas are less likely to be seen by people since almost the entire bag is covered in the sequins, which themselves are extremely secure and none came off in the initial handling. The padded straps in their factory setting make a comfy fit when worn as a backpack on both shoulders, the length is adjustable by a matte finish fabric part of the strap. All the stitching, especially at the seams, is perfect and looks like it will take a lot of wear before any signs of use can be seen. 

The backpack is mini sized, with dimensions of approximately 23cm width, 27cm height and 11.5cm diameter, a size that is decent enough for any trip out and was actually bigger than expected from the description of 'mini'. On either side of the bag there are two pockets - these are however extremely narrow and a water bottle could not fit in them. A small pack of tissues or sweets could be slipped inside but certainly not anything bulky which is a shame as it is useful to be able to stick a bottle in a bag.
For safety in transit, both the front pocket and the main compartment were filled with a foam-like square and then a lot of recyclable paper respectively. It is a shame the front pocket was not paper filled, but perhaps the foam was used to help protect its shape until it reached the recipient. The front pocket is not quite large enough to hold a modern smart phone, but can fit in a glasses case (dependant on size). It has an adorable metal snowflake charm attached to the zipper which looks and feels sturdy enough to not come off after a few uses. Above the front pocket is the signature Loungefly bag tag in what looks like a combination of metal and plastic, with the Disney brand too.
Snugly fit onto the front above the tag is a shiny bow with a sequin centre knot. There is no way the bow will come off unless with brute force. Using the shiny fabric instead of making the bow all sequins makes this accent pop out of the front of the bag, becoming a good focal point after the distinctive mouse ears.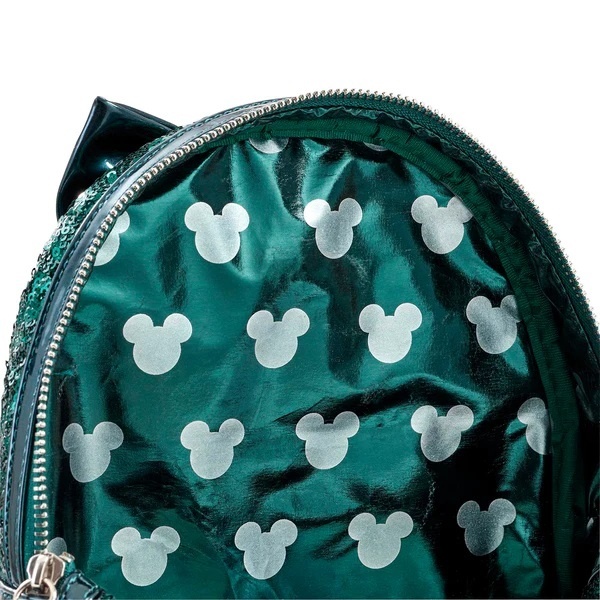 Finally, there is the main compartment, fastened with two strong zips made from shiny material, each with a tiny metal mouse head logo. The interior is really spacious, that elusive water bottle will fit in here along with a phone, wallet, and other necessary essentials. There is one interior pocket made from the inner lining, which has a silver mouse head on a green background repeat pattern. The pocket is big enough to fit a phone, although it is quite thin so putting the phone in the main section is better, to help prolong its life. Perhaps in future designs the pocket could be made more sturdy, given how often it will be used, and maybe even given a zip too. It does feel strong, but only time will tell if it will hold up with constant use.
There is the standard label with 'Loungefly' contact details, bag fabric details and notification that is could be a choking hazard for small children in many languages. Since being a social butterfly is not for everyone, this particular bag can be used to house portable gaming consoles; it comfortably holds a Nintendo Switch Lite in a small case, one PlayStation Vita in a soft case and a Nintendo 2DSXL console in a soft case with room to put perhaps two chargers in, and the third charger in the front pocket. As a gaming site it is only natural that gaming items are used for checking out how big a bag is!

9/10

Exceptional - Gold Award

For newcomers and returning fans alike, this Loungefly Disney Minnie Mouse style green sequin mini backpack is almost perfect and certainly merits the price tag. It is an utter delight to behold, both the eye-catching main exterior and the prettily decorated interior. The minor details such as the main compartment's inner pocket construction, the not entirely one hundred percent recyclable packaging and the potentially easy to damage shiny areas on the back detract little from this high-quality fashionable bag. Overall, it feels like a must buy for all Disney fans who want to bring some glitz into their lives, with enough room for a phone, wallet and a handheld console (or two!).