The third Zelda magazine infestation comes from US Nintendo magazine, Nintendo Power. The publication has an indepth study on Eiji Aonuma where he gives details about the production and developmental side of The Legend of Zelda along with his past, his influences and promises for the upcoming adventure.



Unlike the previous magazine scans and information,




Previous Scans



Aonuma writes about the developmental processes behind the franchise, what inspired him in certain areas within the game's production and how he got into the industry originally. With the moving on of old and the birth of new and youthful talent to take Zelda forward, Aonuma promises for something that'll hopefully surpass the previous Zelda adventures. What's most interesting is how the team works, how the game comes into play behind the scenes. All's well and good with the images and footage of the title, but the backbone of The Legend of Zelda provides an excellent read. Aonuma also details his position as a producer, a lecturer for a weekly game developers seminar and the five things that inspire him which oddly includes puppets.



The article and images can be seen below and in this month's Nintendo Power.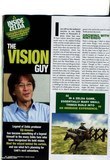 E3 is drawing ever closer, and C3 will endeavour to provide up-to-date coverage of the event, and this immensely gorgeous game.



Stick with C3 for more information on The Legend of Zelda.