Square-Enix has gone into media overload with the upcoming Final Fantasy XII spin-off, Revenant Wings. The gae, in development for DS, features various FF XII characters and in particular Vann, an 18 year old sky purate, and Penelo, his younger navigator.
The game is designed for DS owners who don't have much experience in battles, with a simplified system and some stripped down controls. Visually, Revenant Wings uses a sprite-based graphics engine with prerendered backgrounds and character designs by Ryuma Itou (of Final Fantasy Tactics Advance fame).
Some recent scans from Famitsu, courtesy to Jeux-France: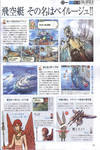 Be sure to stick with C3 for future media updates..