It has been revealed that Nintendo's Monolithsoft will be working with Bandai Namco-owned Banpresto to bring an exclusive new traditional RPG to the Nintendo DS in Spring 2008 that has random encounters. Thanks to a translation of Famitsu's information from duckroll of NeoGAF, it has been revealed that Infinite Frontier Super Robot Wars OG Saga will be an RPG spin-off only for DS developed by Terada-san of Banpresto, who is most infamous for the Super Robot Wars franchise, and produced by Koji Ishitani of Monolithsoft (who produced the Namco x Capcom PS2 RPG previously). As for the game's director, this will be Soichiro Morizumi, who was behind some of the older Super Robot Wars titles, as well as Namco x Capcom.
The game has been confirmed as having an action based battle system that caters for four-character parties. Players must hit a button repeatedly based on timing to score multiple attacks and combination moves, which sounds similar to the approach taken in Paper Mario.
Check out the first three scans below: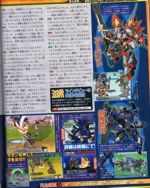 Stay tuned for further updates...