The opening anime segment of Tales of Hearts R has a bit of a dark theme to begin with. Two humans are running through a forest at night in the pouring rain, trying to escape a powerful witch hell-bent on attacking them for unknown reasons. Chasing them to the edge of a cliff, the brother and sister dive into the sea below, dodging a powerful magical attack. The witch seems unfazed, though, and although the pair does get away, it seems their days are numbered if the attitude of this mysterious being is anything to go by.
Cue the contrasting change of scenery! It is the next morning in Seaville Village, a peaceful town on the edge of the sea, and a young man called Kor Meteor (yes, the main protagonist of the game, and another example of characters receiving worse names over their Japanese counterparts) is training in nearby Seaville Woods with his grandpa. Managing to successfully best Gramps for the first time, the old man blesses his grandson with his Soma, a strange weapon that can take a number of forms depending on the wielder - in Kor's case, a solid gold sword. It is during these scenes that Spiria is also brushed over in the dialogue - the source of life, and from which the human mind and will is derived. Although powerful, people's Spiria can be disrupted during moments of intense emotions, but Soma wielders, or Somatics, have the power to fortify ailing Spiria of others.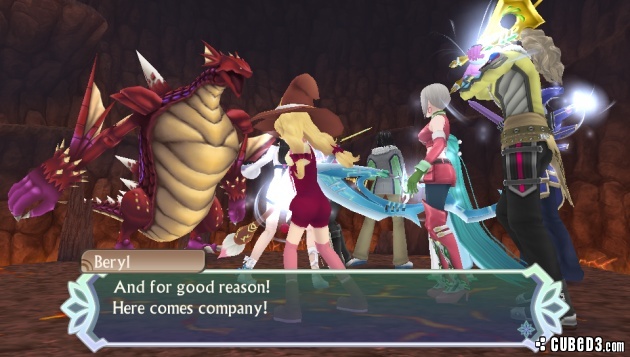 After a bit of lecturing from Gramps, Kor is able to enter some battles with basic foes, revealing a very familiar Tales series real-time battle format - that of free running with the control stick, but also being able to run sideways and jump using the D-pad. Some basic attacks and Artes can be pulled off with the X and Circle buttons, with the latter using TC and TP, and can be combined to produce various combinations of moves. Spiria Drive is also a featured mechanic, built up over time through attacking and being attacked, and once activated, can produce various effects, such as reducing TC cost to zero, and preventing being staggered by enemies.
Like other Tales games, a mouthful of a naming convention is given to the battle system of Tales of Hearts R - the new Aerial Chase Linear Motion Battle System, which allows the ability to move freely in the air and experience aerial battles unlike what has come before in the series. The full capabilities of this system aren't able to be seen in the short opening sections of the game, but one very pleasing aspect that the series is known for is just how fast battles start up and end. This time around, there are no enemies on the field - they are traditional random encounters - but the loading from battle start to battle end to being back on the field and running around again is super quick, making random battles that much less annoying than in other games.
After returning to Seaville Village, Gramps is called to another nearby town to examine a sick young woman, leaving Kor to babysit the house. Taking a walk to the beach, he spots a washed-up girl unconscious. Unluckily for Kor, she wakes up and freaks out before he can give her mouth-to-mouth, and leaves him lying face down in the sand for his dodgy behaviour. It turns out that this girl is the one from the opening scene that jumped off the cliff with her brother. Introducing herself as Kohaku, she is seeking Kor's granddad and his Soma. A convenient coincidence that she happened to wake up on his doorstep, then, but with him not around, Kor sets off with Kohaku to the nearby shrine, which supposedly houses one other Soma.
Passing through the woods, they are jumped on by Kohaku's brother, Hisui, who believes Kor to be taking advantage of his little sister. Although obviously glad to find him alive and well, Kohaku is quick to set the record straight that Kor is her new friend that helped save her life, and doesn't hesitate to give her brother a good few kicks and punches. She certainly seems to put her strength to use in times of high emotion! The animation of the characters are stiff, almost like a stop-motion picture at times, but this actually adds somewhat to the hilarity of the opening segments, especially when seeing a swift kick to the groin from one sibling to the other, and for Hisui to be lying flat out on the ground the very next second.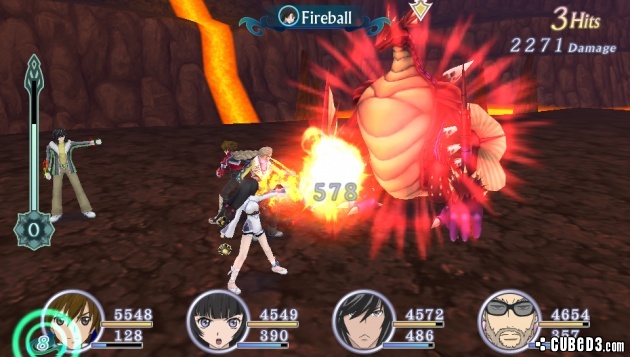 Journeying as three to the shrine to claim the Soma for Kohaku, the evil witch that they escaped from appears, and who is subsequently revealed as being named Incarose. Managing to put a spell on Kohaku, Kor attempts to attack the mysterious robed being in what would likely be an ill-fated encounter and, out of nowhere, Kor's grandpa takes the full force of Incarose's magic attack. Escaping to the village, Kor believes he can save Kohaku by entering her Spiria in her body, thanks to the power of being a Somatic.
Inside her maze-like Spiria world, which will no doubt become a common theme in the rest of the adventure, entering others' bodies to rid them of the evil within, Kor does indeed find odd monsters and another strange woman. With long green hair, she reminds him of a legend like that of Sleeping Beauty, who has supposedly slept for a thousand years. Unusual scenes begin to play out in anime form (there are a lot of short animated cut-scenes, which is rather pleasing), as the woman forces Kohaku's Spiria Core to burst out from within her into the sky and shattering across the world. Being pulled out of her body, Kor reveals she has lost all of her emotions save for her kindness. Meanwhile, old Gramps is destined to pass on and leaves Kor with some valuable parting words. It is now the duty of Kor to help Hisui recover the fragments of Kohaku's Spiria to restore her emotions to what they once were, and for the young man to step outside the confines of his small village to the world beyond, uncovering the plans Incarose has in store, and how exactly she knew Kor's grandfather.