By Jenny Geist

04.09.2021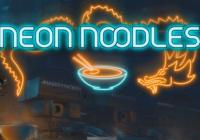 Continuing the PAX West hype train, Cubed3's Jenny Geist just checked out the cooking automation puzzler Neon Noodles, from solo developer Vivid Helix. This unique indie takes the typical cooking game formula and revamps it with a cyberpunk aesthetic and automation-based mechanics, a distinct combination that works better than it has any right to. The title's early access release has already gained quite a bit of early buzz, but Cubed3 was able to dig into a newer build to see if these noodles are still worth the bill!
Imagine a typical game of Overcooked, but instead of racing to finish an unexpected dish at the behest of your untalented teammates - totally not calling anyone out, here - you must carefully plan every move from the start of each match. Rather than directly control one's chef through a large, randomly-generated kitchen, the player will instead carefully program a robot, step by step, to properly cook a wide variety of synthetic meals. This unique control scheme already makes Neon Noodles stand out from the crowd, and for the most part, it works very well!
For instance, the first few levels are as simple as grabbing an ingredient, cooking it, selling it, and then resetting one's position. Nothing particularly groundbreaking, just a brief tutorial to get players acquainted with the new control scheme. However, spending more time with Neon Noodles shows an immense amount of potential in this programming puzzler. New recipes are quickly introduced, requiring different processes to prepare which take a certain amount of time each. Noodles may only need to cook for one unit of time, but rice needs to cook for two, and once these combine, controlled chaos will inevitably ensue. The demo only scratched the surface of these types of combinations, but it is already clear that Vivid Helix has many, many ideas that will bend the player's mind in the future.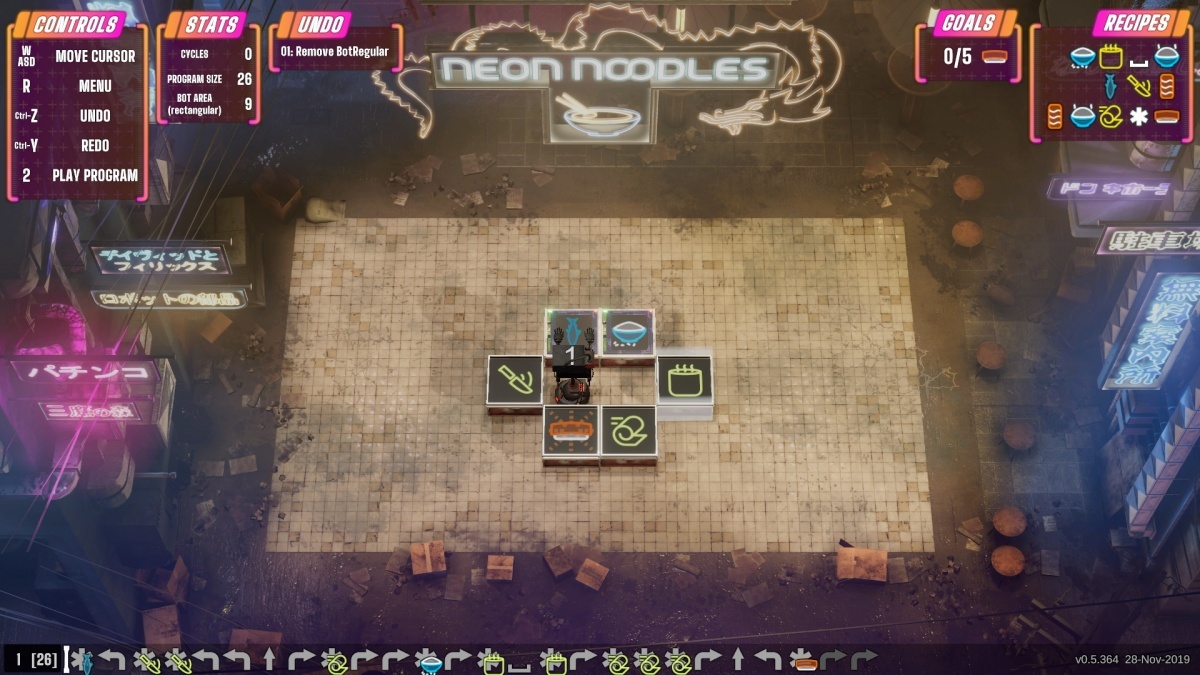 Contrary to what one would expect from the grid-based management genre, Neon Noodles also has full support for controllers and keyboard & mouse! Main developer Radu Muresan later confirmed in an interview that the game was designed with gamepads in mind, assuring Nintendo Switch players will not be playing a stunted experience at all.
The whole package is tied together by the aforementioned cyberpunk theme, which is already promising to be more than just a mere aesthetic. While the neon, downtrodden visuals look fantastic on a portable screen, the use of synthetic foods and automated workers also hint that this universe has something to say about the world around us. Good cyberpunk stories use the setting to tell revolutionary ideas, and as offbeat as this take is, it seems to be no exception.
Final Thoughts

Cubed3's time with Neon Noodles was brief, but it already managed to make quite the lasting impression. The mixture of mind-bending puzzles, various real-world recipes, and grander themes about society are unlike anything this previewer has seen before. Stay tuned for an interview with Vivid Helix's Radu Muresan, giving more insight on the game's development, inspiration, and pandemic struggles

Developer

Vivid Helix

Publisher

C3 Score

n/a

Reader Score

0 (0 Votes)

TBA

TBA

TBA

TBA