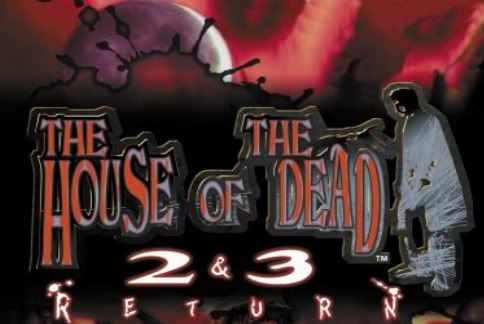 Like many point-and-shoot games, the House of the Dead series began in the arcades, enjoyed with plastic gun peripherals and like many others at the time, relied on pin-point precision, instant reaction speeds and deep pockets to get the most out of it. House of the Dead consists of you playing the role of a Government agent, with an endless barrage of disease-infested Zombies for you to blow the crap out of, and each game in the series has stayed true to this formula.
Sega never missed a trick; they saw the potential for the home market to enjoy a game like this, and brought House of the Dead to Sega Saturn owners (complete with light gun) and PC owners. Ever since, a new House of the Dead game has debuted in the arcades before being released on a console, with a few exceptions; the sequel arrived on DreamCast, XBox and PC, the third game made it to the PC (again) and Xbox, and although the forth game has yet to escape the Arcades, it is expected to.
In fact, the first in the series to be made exclusively for a console is the upcoming House of the Dead: Overkill, a Wii Exclusive. This compilation of the second and third games in the series is a very good example of what to expect from Overkill.


The House of the Dead 2 puts you in the shoes of James Taylor and Gary Stewart (depending on if a second player is involved), on a mission to investigate disturbances in Venice. When they turn up, so do Zombies, and the Headshots begin.
Basic gameplay consists of you, the player, controlling an aiming reticule (that can be turned off), and moving it over enemies to kill. Generally, this involves head or leg shots; to kill or incapacitate. Boring, it may sound, but this is the foundation for all rail shooters, and depending on the game in question, exciting and relentless. Through branching pathways, innocents to save or leave to die, Killer Frogs and Zombies to squish, and humongous bosses to fight, Hotd 2 is certainly no exception. Wii Zapper support is here too, although given the awkwardness of the peripheral, you're better off with a remote alone.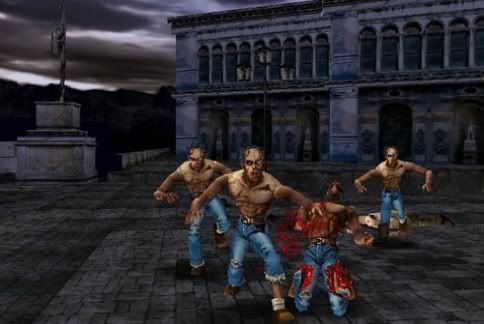 Considering that the second game is over 10 years old, you wouldn't expect HotD 2 to be a looker, and although it may have been back then, it sure as heck isn't now. The graphics are functional, and the Zombies fall to bits nicely (if you're a sadist), so it all fits together nicely, even if it is a little rusty.
Audio is, to be quite frank, laughable. Gunshots and Zombie Groans are as authentic as they'll ever be, but the speech is terrible; on the level of the original Resident Evil. 'Suffer like G did' originated here, and although it's awful dialogue, it's nonetheless entertaining, another element to a well-rounded package. Because of the speech, the story isn't very-well conveyed in-game, but HotD2 doesn't really need it anyway.
Alongside multiple alterations for the aiming, a regular Arcade mode and a more-focused Original mode, a Boss Mode, Training mode, and probably many other things with mode at the end, not to mention all of it is two-player co-operable and tough to boot, HotD2 is already worth the budget price of admission, just for the classic feel alone. The fact it's only half just sweetens the deal.
Graphics - 5
Sound - 7
Gameplay - 9
Length - 8
Overall rating for The House of the Dead 2 - 7

The House of the Dead III follows on from the second game by quite a number of years, and involves you taking control of series protagonist Thomas Rogan's Daughter and Agent G as they attempt to rescue him from a research facility infested by, yep you guessed it, the 'Z' things.
Most of what you can say about HotD's gameplay can be attributed to the third game too; the core essence of the game is taking down creatures with bullets (shotguns this time), and there are multiple branching levels. Environment damage, such as shooting barrels and boxes to get bonuses, plays a more pre-dominant role here, although it'll be the Zombies you focus on more, and whatever else gets in your way. The control configuration is once again excellent, and ensures a speedy and tense playthrough.

Visuals for III are fairly decent this time around; not groundbreaking by any means but a worthy upgrade from HotD2. Locations that you travel to all add a decent amount of variety; from Plant-overrun corridors to hi-tech laboratories, HotD3 gives enough eye candy.
Sound is another area that has been greatly improved, although the cheesiness of HotD2's speech has been lost. Shotgun reloading, Zombie groans, crashes and screeches, they're all here, and they all help immerse you in the game.
One new feature for this Wii Edition of HotD3 is an unlockable 'Extreme' mode, where you can face tougher enemies and limit yourself to a smaller blast radius on the shotgun. In addition, weapons can be used as a melee attack to block enemy blows. Alongside this mode, Time Attack and the main Arcade Mode, you'll get quite some usage from this one. An enjoyable title.
Graphics - 8
Sound - 7
Gameplay - 9
Length - 7
Overall rating for The House of The Dead III - 8
Combined verdict
If you enjoy lightgun titles in any form, I recommend House of the Dead 2 & 3 without hesitation. Although there is a notable lack of truly new content, both games are excellent fun, with or without a buddy, and despite the fact that they are ports, worth every penny of the budget price.