As explained in the introduction, Dot Runner: Complete Edition is a top-down puzzler that is like Pac-Man with a difference. Players control a character named Bolt, who has to complete dungeons by collecting as many dots as he can to save an alien race called "chefs" from an enemy called the Pitmasters so that they avoid extinction. Each dungeon has more obstacles and dangers for Bolt to overcome to complete the level, as well as some distinct rules that could mean the difference between success and failure.
The game takes place on both screens, with the bottom screen showing the entire map with everything you need to get to, and the top screen showing a 3D perspective from Bolt's point of view. The only problem is that the 3D view doesn't show much besides walls and the dots, as well as the story -- so most of the time, it will be ignored and focus will be on the top-down view that is far more useful. On the bottom screen is almost everything; enemies, allies, switches and the dots reside here. Dots are shown by stepping in an arrow-shaped room and if facing the way the arrow is pointing, collecting the dots within a small amount of time is required, which can be really tricky. Facing any other way on the arrow will show an outline of the dots on the bottom screen for players to plan their route.
Next are the enemies and allies; along the way there will be encounters with Chefs and Veggies, and these little alien creatures will act as allies with the Chefs being important to the levels (only usually one per level), and many Veggies. Three allies can be collected at a time, with the others collected being eaten by Bolt, which can be detrimental to plans. Bolt has predator-like abilities causing him to be unable to resist eating them. Enemies are called Yakkini-kus and they are part of the Pitmaster race that come in various shapes and sizes, as well as having different movement patterns, and if coming across one of these, a pre-determined battle will take place. Collecting allies will help in battle, and going in without them, or with less than the amount the Yakkini-kus have will result in instant failure. Having the same amount of allies as the Yakkini-kus will result in a win, but with one of the allies being killed, and having more allies than the enemy, will result in an outright win.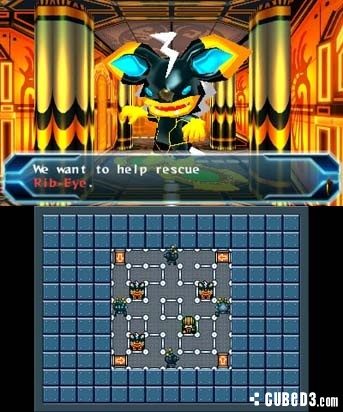 Other obstacles include switches and spiked walls, amongst others, with the switches opening and closing new paths, and the spiked walls resulting in instant death if touched. The controls use mainly the D-pad or Circle Pad for moving Bolt around, and this can be frustrating to do. Move forwards and backwards with up and down, respectively, and turn by pressing left and right, which is pretty much like Resident Evil in a way, but a bit more frustrating due to time restrictions -- or constantly running into walls, although pressing L or R to slide sideways works well if you can get your orientation correct.
Story-wise there isn't much worth mentioning, since although there is a story, it actually feels like it isn't needed, and is only there to really describe how to go through each level of the dungeons - not paying attention can lead to it being hard to figure out what to do. There are two story modes that take place in different years, with the original in 3015, and the other in the past with Bolts ancestor in the year 985. Each era has eight dungeons, with 985 really just being an extension of the original story. Each dungeon has four quests and a speed run; the quests have different objectives in the same dungeon, and the speed run is an extra where collecting all the dots in the dungeon in the shortest time possible is required. After each quest is completed, players get a time and a score so that they can go back to try and beat it again.
Graphics-wise, the character models are nice and cel-shaded, but in-game on the top screen players can just be seeing different coloured walls outside of cut-scenes and battles. The bottom screen is full of nice colourful sprites, and since that is most likely the screen watched most of the time, that is certainly a plus. Sound-wise, there isn't much at all; there are a few sound effects here and there, and the start screen music is used throughout the game, which, and at one point you might just decide to play with the sound off.
Is the game worth parting with £4.50 and a small amount of storage space? Well, there are technically 80 levels to go with if all the quests and speed runs are included, plus there is the chance to go back and beat high scores if dared, but it can be a frustrating experience if to do so due to the controls.