One of the things some may remember the most about ASH was the announcement of this game being the first to use the then expensive 2Gb (256MB) Nintendo DS cartridges, leaving tech-hungry gamers to ponder how much great content would then be crammed into this one game, especially in terms of 2D graphics. What this also meant was that the game would sell for roughly 1000 yen (£7/€8/US$11, at time of writing) more expensive than regular DS games, which is perhaps why it didn't sell too well in its homeland, despite getting a decent review from Famitsu.
What this in fact resulted in, is a game that makes heavy use of pre-rendered material that usually takes up a lot of space, which cartridges lack by nature although this fact isn't as relevant today as the price of flash memory continues to drastically drop as years go by. ASH holds more CG video than pretty much any other DS game released, save perhaps for the bunch of 4Gb (512MB) games that were eventually released near the end of the system's life, of which Ninokuni is the prime example. These are standard fare in terms of quality for an RPG, although they can show a lot of artefacts like previously seen in original PlayStation games. They are used as a means of storytelling, as well as for animating the most powerful attacks of the main characters. These are quite impressive to see at first in a Nintendo DS game, but their limited number and the reduced quantity of characters that can use them will mean they get repetitive fast.
Another area that made big use of CG pre-rendered graphics are the character sprites seen in battles, in a similar fashion to the DS Fire Emblem games, except they are much better rendered here. They are big and take up most of the height of the DS screens, allowing for a decent amount of detail to be rendered despite the low resolution of the DS. With that being said, the limited amount of different characters and enemies seen in the game will mean that this also gets repetitive in the long run.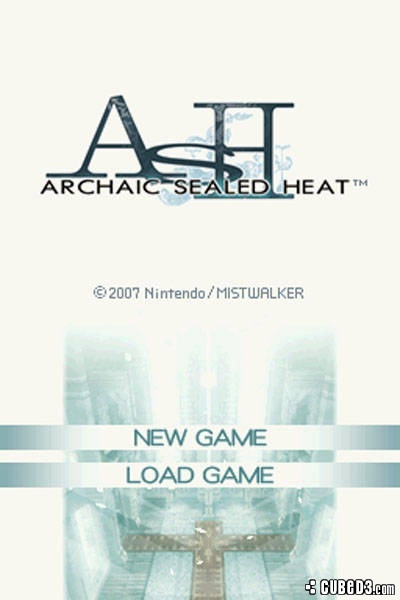 Speaking of characters, the story focuses on the quest of Princess Aisya - freshly-made Queen - to give the people of her kingdom their original form back after they were all burned to ashes by a flying serpent-like fire creature called the Salamander. What's peculiar about it is that these people come back to some sort of non-life in bodies made of ash, and they can still fight alongside her. The story, it is sad to say, takes a long time to unfold and start getting really interesting. Later on, concepts such as time travel, treason and other typical JRPG clichés are thrown into the mix and make the game a little bit more intriguing, but the less indulgent player may not reach that point if stopping earlier because of other sadly negative aspects of the game.
One of the drawbacks is that, other than the pre-rendered 2D stuff, the character sprites outside battle are much too tiny and generic and the 3D environments are quite bland, if not even ugly. Although the DS has fairly limited capacities in terms of 3D, this doesn't even come close to utilising the full extent of what the DS has achieved since back then. Sure, back in 2007 when the game had just been released, this was perhaps still barely acceptable, but coming from such a high profile development studio (with help from Racjin), seeing that it doesn't push the system even a little comes across as a huge disappointment (it pushes the boundaries of data storage, but not technical prowess for the system).
To make matters worse, it doesn't help that the core mechanics of the game feel equally as bland. From just looking at it and seeing the way it seems to control, one would immediately deduce that a Tactical-RPG is being presented that throws classical turn-based mechanics into the mix. Well...for a Tactical-RPG, there's very little tactics involved. The characters move on maps divided into a grid, much like Fire Emblem. However, no terrain-based effects apply; it never matters what kind of terrain is being stood on.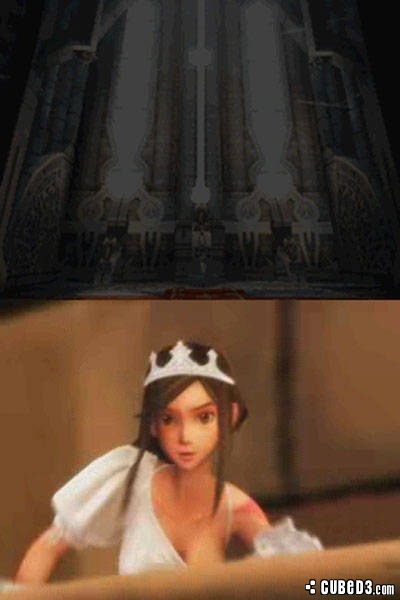 Characters are also grouped into "parties," much like a group in a turn-based RPG, and there are the enemies that roam the maps. Each party on the map takes turn to move and act. Actions cost AP (Action Points, of course). The farther a unit tries to move from its initial position during that turn, the more AP each step will cost, and starting a battle with an enemy party always costs 50AP. The same rules apply to enemy teams.
However, when the enemy acts, they only attack once each, and their turn ends, but when the player's parties attack, the battle only ends when all of the foes are decimated, and enemies act rather dumb and won't always attack, even when their AP is sufficient. This contrasts heavily with the unforgiving difficulty of Fire Emblem where enemies will always attack if they can, and will attack the weak to kill them and then they never come back. Here, not only do they leave players alone half the time, but there are ways of bringing back dead allies, or generating new units that will take their place anyway, at the cost of the game's currency. What this means is that tactics don't matter too much in ASH, and weapons can be used as many times as desired, as and as many healing items as required can be carried, plus going back to previous chapters to level-up and gain money - if by any chance you really still have problems progressing through the game - is a possibility.
Therefore, it would be thought that normally it's rather a classical-RPG with gameplay elements from Tactical RPGs thrown in, right? Well, guess again because that's not it either. There are very few pieces of equipment to choose from in the game and they are extremely uninspired, and the amount of important characters could be pretty much counted on both hands. Most allies are generic classes of characters without any story of their own to discover and can die a horrible death without caring about it, since they can be easily replaced and when they are, they come back with about the same level of experience, training, and even better equipment than the one you just lost, for the most part.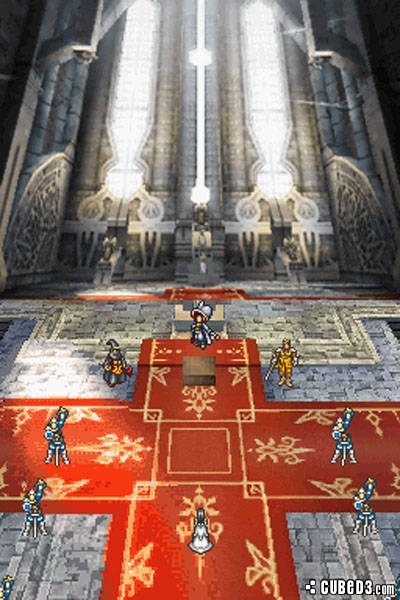 The main characters act like classes of their own, much like certain Final Fantasy games like VI, IX or X where Locke or Zidane are the only thieves, Strago and Quina are the only Blue mages, and so on, while the others have their own set of movements of which every incarnation of the class will have the exact same. In that sense, it's a real mix of classic RPG with games like Fire Emblem...except characters akin to the latter have nothing to make them particular other than a randomly generated name. This is not generally a bad thing, as games like Final Fantasy Tactics do it very well, and it's very good...but the latter has a lot of other positive things going for it which make it fun to play...but which ASH simply doesn't have.
Don't get us wrong, not all is bad, though. For example, the in-battle system is quite good. The characters have a variety of moves that are all animated quite well and the possibility of fusing some of these units who are "unimportant" to the story with the ones that are, opens quite a lot of possibilities for customisation. Aisya, for example, can wield to types of weapons, which are blades and carbines, and as such the management of distance between the unit acting and the enemy target always plays a vital role, which is quite unique to Archaic Sealed Heat and introduces a new versatility in the gameplay that more games of the tactical genre should use. Indeed, parties and enemies' don't need to move together to be able to attack an enemy, which means that a magician with poor physical defence six spaces away from the enemy while the other two units of the party are dealing damage in close combat, keeping the weakling out of range while it deals ranged damage with techniques or magic that can hit the enemy from that far. Sadly, the low difficulty of the game only rarely exploits the positive aspects of things to make them really worthwhile.