Ray Doewood tests hard hats for a living, so is used to having objects dropped on top of him daily. However, after work one day, he gets hit by a strange container from space. As soon as he wakes up, he realises a giant spaghetti arm has sprouted atop his head and later finds out that he's wanted for a crime he didn't even commit! Whilst this gigantic arm protruding from his head might be an eyesore, it actually provides Ray with the ability to read other peoples' minds and proves to be the most useful tool on the quest to run from the law and clear his name.
Players must take control of Ray through Stick It to the Man's various environments, using his newfound abilities to read the minds of civilians and grapple to points that would otherwise be unreachable. Upon reading minds, NPCs will often "drop" stickers that serve as puzzle pieces and help solve problems for other characters. For example, during the early chapters of the game, Ray is met with a man hanging from a lamp post who wants to end his life because his girlfriend left him for a guy with shinier teeth. Whilst this may sound messed up - which it is - it also sets the stage for one of the first puzzles in the game, tasking players to use various stickers in order to ambush a disco and get a new set of teeth for the suicidal chap.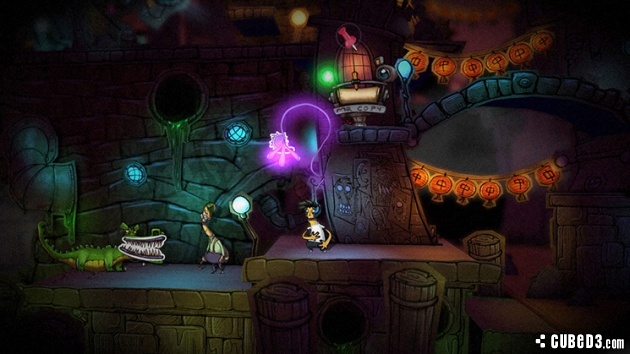 There are also basic stealth sections among these levels in which Ray must sneak past several henchmen of the game's main antagonist, The Man. To help get past these foes, several aids can be produced by reading their minds, such as a sticker that can be used to send a henchman to sleep when stuck on them and also a sticker which slaps Ray's face on the chosen victim, causing surrounding enemies to chase after them.
A variety of different control methods are on offer in Stick It to the Man, the Wii U GamePad, Wii U Pro Controller and Wii Classic Controller/Pro are all compatible, but it's the different mind reading controls that are the most interesting. The default method of controlling Ray's giant spaghetti arm is the right analogue stick on any of these controllers, but players can also hold the GamePad up vertically and "aim" at the brains using the gyro sensor - using this method causes the thoughts of NPCs to be played through the GamePad speakers, as opposed to the TV speakers.
As with most Wii U games, there is also Off-TV play that can be activated by simply tapping the minus button on the GamePad. When in mind reading mode whilst playing away from the TV, Ray's mind reading abilities can be used by simply touching the brain icons on the Touch Screen.