Mama's got content, lots of content. There's enough to keep anyone busy for days. Not only is there cooking to be done but there are also chores to do, lessons to study, veggies to harvest, and even a store to help in. All of these side attractions can be fun in moderation but none will be as enticing as working with Mama in the kitchen.
Be prepared to discover recipes for dishes of all types as it seems nothing was left off the menu. Items range from peanut butter crackers to sushi with instructions that range from simple one step processes to intricate preparation of a delectable dish. Mama's gonna be there through it all, giving instructions that can be somewhat vague for each step in the process. Don't be afraid to make mistakes, Mama can find a way to help even if the meat is burnt to a crisp!
Mama is also going to find a way to make this as difficult as possible. Trying to launch meat from a manual slicer onto a plate is tough enough, but that is not the Mama way. She is going to make sure this mundane task will be anything but by moving the plate further away so that the speed with which meat is sliced will have to be adjusted accordingly. Although some actions are still pretty basic, Mama finds a way to spice up most requests in order to provide a little challenge…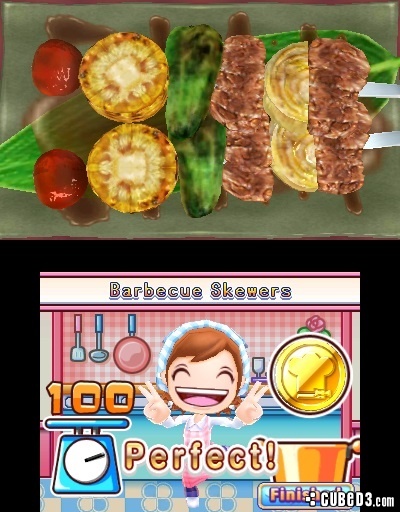 Not all challenges are good, though. There are a few occasions where the instructions are just as unclear as the on-screen prompts. Indications for when to tap, or simply press with the stylus, are too similar and can lead to confusion. Some challenges are near impossible to pass the first time but luckily there is a practice mode that allows a specific step in the instructions to be replayed repeatedly.
Unfortunately, with the way Cooking Mama 5: Bon Appétit! is set up, once a mistake is made it cannot be undone. The dish gets made in the end, but a perfect score will not accompany it. In order to get a perfect score, each step in the process must be performed perfectly within the required time limit. Practice mode can help a little, but it will still be frustrating to lose that potential top level right at the end because the last instruction was not clear enough.
Getting the best score will earn some high praise from Mama. Every dish completed will unlock a plethora of rewards in the game. All of the scenery behind Mama is customizable with items unlocked, and her outfits can even be changed. Other rewards include new dishes and new mini-games. Also, each completed dish will unlock its counterpart in the Cooking Dojo, where players are tasked to complete the same instructions in a shorter time limit.