In Toys vs. Monsters the goal is to protect a sleeping child from the evil monsters under the bed by building up a toy army. In typical tower defence style, resources are collected, towers are built and eventually monsters appear. In other words, it is a typical tower defence title, but with toys.
Toys vs. Monsters starts off slowly. There are initially three tower types. Firstly, a battery tower that adds energy and creates a field that is needed for the toys placed to operate. Secondly, a wall that has a lot of health at a low cost, but is seldom any good due to offence being the best defence in this genre. Finally, it's the piggy bank, which is the run of the mill peashooter tower.
As the game goes on new towers and new enemies appear with different stats and approaches. The sad thing, however, is that the strategy used to beat the levels never really changes from stage to stage. It is always easy to determinate what the best towers to place are. As well as this, Toys vs. Monsters is never strategically challenging in its first mode out of four, and is too straightforward, which might be a big turn off to many seasoned tower defence players.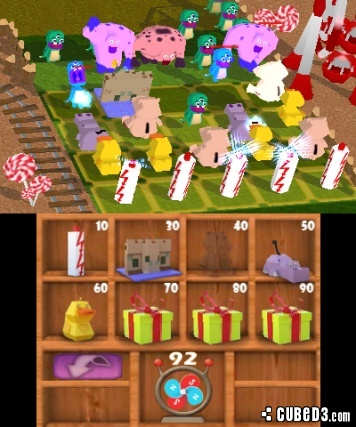 The second mode, however, starts to show off what makes this game unique. The game takes place in two alternative realities by shifting between these two mid-game, requiring the player to build and protect each one of them. Each reality has its own towers and enemies, but can interfere with each other. How? By placing bombs or towerboosts in one world into another by spending energy. The concept is very interesting and fun, and adds further strategic depth. Sadly, the tower defence aspect is as shallow here as earlier, offering very little strategic decisions when it comes to towerbuilding.
These two modes offers a lot of playtime for the game, but it gets tedious and very repetitive quickly, and it might feel more like a chore. Toys vs. Monsters does, however, have mini-games to change up the pace. Or they could have, if the developer did not choose to have these on unlock after the game has been beaten in the two main modes. That is a horrible design choice, as mixing up the main game with some rounds of the mini-games could have prevented the tedious feeling that Toys vs. Monsters might get after a larger number of rounds.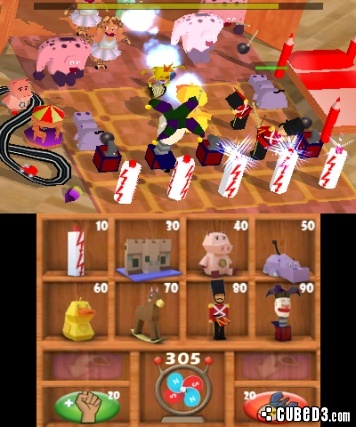 The mini-games, however, are not worth unlocking. They are pretty boring and a great let down after it takes so long to unlock them. They come in two flavours, with the first being a mini-game in which the player controls a guard doll from the main game that throws drumsticks at the enemies, preventing them to reach the goal just like in the main game. The second is a Kaboom remake. For anyone who has not played Kaboom, the goal is to move a character around the stage preventing any enemies from reaching the bottom by catching them. It isn't anything special, in all honesty, especially since it is only played for a set time, making a high score hunt impossible - usually the charm of mini-games.
Challenge mode is by far the most fun aspect of Toys vs. Monsters. Here, the game ramps up highly in difficulty, and actually demands some skill and thinking to win. Unfortunately, this comes up way too late and most players will have got sick and tired of the game by this point. It is still nothing spectacular, but a decent treat for a veteran of the genre to try to fight against unfair odds.
There is another weird design choice, though, beside the mini-games being on unlock and lacking high scores, and that is the way energy is generated by the player. In Plants vs. Zombies energy is collected by catching green balls. In Toys vs. Monsters it is generated by spinning a wheel. This might not sound so bad, but after playing the game for a little while its annoyance starts to make itself present. The issue is that the box is very tiny, and constantly rotating the hand in the way needed can make the hand and arm stiff very easily. In other words, it is extremely uncomfortable, and to top it off, boring. This design choice could have been taken from a game like Cookie Clicker. However, in a tower defence title it is not a natural thing.
Toys vs. Monsters is a mediocre clone of Plants vs. Zombies with a few nice additions, but also some odd and sometimes stupid design choices. To make the mini-games stage-based and not high score-based and hide them behind the main game is severe, as a mini game is supposed to serve as something to do when the game starts to feel boring, not when the game is done. Overall, though, the game is passable.