Ready to go out and feed the piggies, milk the cows and reap the harvest of hand-planted seeds? Too bad, that is not what Farming Simulator 15 is going to deliver. Instead, the series focuses on the more modern and industrial reality of the trade today. Still interested? Then read on as Farming Simulator 15 might be a game of high interest.
The goal is, as usual in farming simulators, to make a big bank out of the hard farm work. The difference that separates the Farming Simulator franchise from the more colourful options is that it is more realistic and there is less goofing around in the work - an aspect that will be appealing to fans of lifelike simulators. The issue is, however, that it will end up a boring experience for literally everyone else. The main problem with Farming Simulator 15 is its complete lack of mass appeal, and to the average gamer the most fun that will be had will simply be to run the tractors into the lake and see them floating around at the bottom of the water, or having fun with the sometimes faulty physics engine.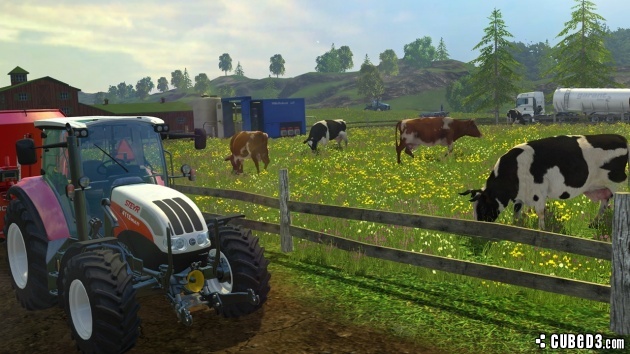 Beside the lack of mass appeal, it is a good simulator, all in all. The realism and the multiple steps on the way from a seed to finished product will leave fans of simulators, and especially farming simulators, really pleased with the experience, as the game delivers what it promises. The graphics look good and beside the sometimes quirky physics engine, Farming Simulator 15 is a very realistic experience that does a good job mimicking the real life experience.
Farming is difficult, however. It is a job with many aspects to take into account. Luckily, Farming Simulator 15 comes with a hefty tutorial that covers most, if not all, important aspects of the farming life. The detailed learn-by-doing tutorial will ensure that even newcomers to the franchise, and maybe even the genre, most likely will get a head start and never feeling at a loss for what to do next.
If able to bypass the by nature repetitive gameplay, and the fact that it is not an all too exciting experience, this is a great simulator. With lifelike gameplay, and realistic graphics and (more often than not) physics, Farming Simulator 15 ensures a lifelike farming experience. However, this does come at the loss of mass appeal that series like Harvest Moon deliver, but if into simulators, this is a title strongly recommended.