Despite the fact that LA Cops is somewhat derivative of Hotline Miami, the idea of a twin-stick action game with a 70s style TV show backdrop and a slew of ultra-violence is actually quite a good idea that can lend itself to a lot of fun. What's not to love? Huge aviator sunglasses, handle-bar moustaches, jive-speak, bowl-haircuts, alcoholism and a complete disregard for human life is an excellent spring-board to start from when presenting an action game. The real problem is the action game itself is so poorly conceived, all due to very slow moving characters and poor feedback during the action.
The six playable characters all tend to move very slowly, and this fights at the core design of the run-and-gun action of the game. Enemy tracking and aiming are almost always on the mark, gunning down any police officer, and no matter how quick the player's reflexes are it will not matter because the playable characters have the tensile strength of a toothpick sculpture and move as fast as a groggy three-toed sloth in a coma.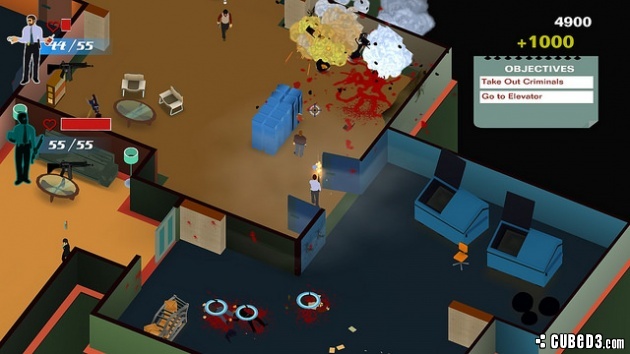 In other, more successful period-based twin-stick shooters the enemy gunfire was always clearly visible and had a clear trajectory. LA Cops's goons fire their guns with Charles Whitman-like precision and the feedback of getting hit is rarely clear or obvious enough. Too often when enemies get assaulted without them knowing, they will get cheap shots in without users even realising it because the game does a very poor job of conveying getting hit at all. All of this is made excruciatingly worse by the long respawn loading time that feels longer with every death, smashing the flow of action.
LA Cops has slow moving player-characters, but maybe their actions are better? They aren't... The same lack of feedback the enemies have with their attacks carries over to the player-actions as well. Firing the guns lacks the appropriate oomph and feel like air guns. Moving through doors doesn't feel right - the weight of doors makes them feel like they are gigantic slabs of concrete and open way too slowly as characters tirelessly grind up against them, desperately trying to nudge them open. Doors and their problems become magnified when the enemy AI goes through them no problem and the player-character is also trying to go through the same door on the opposite side, which usually means the AI has priority in these matters where the game will comically have the door close on the user and will push them up into a corner as the enemy nonchalantly walks through like nothing happened. Most would assume this is a rare or occasional occurrence, but in LA Cops it is pretty frequent, especially in the later, more highly populated levels.
Other extremely nagging issues are the ineffectual melee attack, which is a complete crap-shoot, and the "partner system," which was the one defining characteristic of LA Cops that made it stand out from its peers. LA Cops implements a semi-strategy element to its action (further illustrated by its slower speed) by having users control two cops. Between the two characters being used, they can be switched between any time and a basic "go here" command can be issued. The real problem with this mechanic is that it ties back to the poor feedback mentioned earlier where death is sudden and not felt, and the control is immediately shunted to the remaining character, resulting in a very disorienting effect, and, in most cases, causes immediate death.
The story is pretty much any stock 70s cop drama, but for some reason the developers seemed to have forgotten to have personality in their game. Sure, it has a very stylish and graphic-looking approach to the visuals, and the appropriate 70s era colours are represented, which would obviously lead people to believe this is some sort of comical and satirical take on the genre. Even the voice actors seem to be in on the idea of the joke and really ham it up. Sadly, the script/writing is very flat, and comes off as a very dry attempt of actually being the material it is lampooning, instead of actually lampooning it. It's very bizarre how straight it is, for the most part, and the fleeting moments it does attempt any comedy it falls very flat. Perhaps it is because the material is being performed in a very over the top manner, which causes it to clash with the grittier aspects of the plot.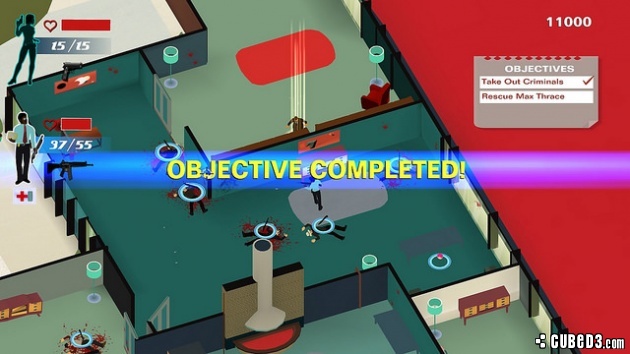 LA Cops is also a very bloody game, which just doesn't gel well with the bizarre attempts of slapstick, flat jokes and light visuals. The visuals and graphic style is another point of contention, since it uses a shader that makes the 3D models look flat, which does make many of the environments difficult to discern at times. Certain obstacles aren't always clear due to the art style, and the lack of a feature to pan the camera around further compounds on the core gameplay, as well as leading to many cheap deaths or run-ins with dead ends.
This is not a good game. It is an agonising misfire of good but derivative ideas. The cost for this train-wreck to fester inside a PS4 is $14.99 and is money best spent elsewhere. The game does have a sizable amount of levels, but nowhere near as many as Hotline Miami 2: Wrong Number, and what LA Cops does manage to do to keep people playing is the means to upgrade a character's stats, but with the huge problem of the stats making an inconsequential difference. Only for those who truly put in the tedium will notice any difference at all. This is filler at its finest, but at least it is something instead of nothing at all.
LA Cops cynically tries to imitate the Hotline Miami games in its own way by having slick cut-scenes, a more dynamic isometric camera angle, voice acting and tries to expand on the concept with minor strategy elements, but everything failed in the end because it got the most basic elements wrong and had its priorities in all the wrong places.