Grandia II was a decent looking experience back in the original release. The low resolution somehow made the blocky and flat textures look far more acceptable years back; however, seeing how flat and washed the textures look in high definition makes everything, from clothing to rock textures, look rather strange. Luckily, the 60 frames per second upgrade makes it all for the better. The soundtrack and story still hold up well, although clique for the most part, and most importantly, the voice acting is exceptional, available in both English and Japanese.
Dungeon exploration has always been the strongest feature of any Grandia game, and Grandia II is certainly no exception to that rule. Although this is a very linear game, luckily, dungeons are riddled with exciting loot, gold, battle items and mana eggs to find and use to assist the heroes in their journey. Dungeons and fields also have hazards and traps, or even secret obstacles to overcome in order to progress or find special loot, but beware of the onscreen enemies, since Grandia II uses the classic style of having party members on the screen; if they get touched, an ambush will occur. This issue will occur frequently if trying to rush through, or even purposely manoeuvre away from enemies.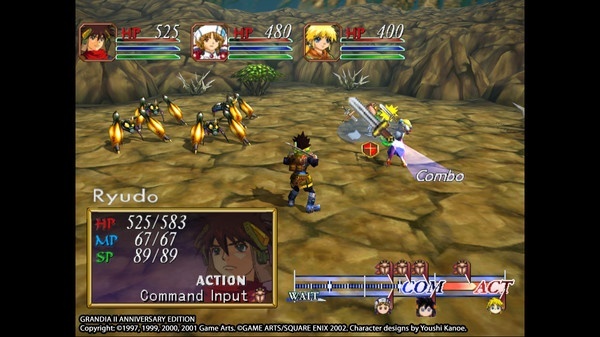 In addition to the exciting exploration of dungeons, combating monsters in has never looked nicer, with 60fps. During turn-based combat where character placement is constantly on the move, players have the choice of giving a multitude of combat commands: Combo, Critical, Specials, magic, items, and defending. Combo and Critical are conventional attacks, but both are completely different. The amount of combat options only further expand exponentially once mana eggs are found, which teach even more spells, and if that's not enough to satisfy, skill books can also be acquired, which power up characters with passive skills!
Combat is also fully voiced, and the overall charm and novelty never seems to run thin, with one particular character named Millenia keeping players excited and on their toes with the many charming and witty suggestive comments she has to share.