Adventure Time is a series that revels in its absurd humour. For fans, or generally anyone who has seen the show, it's a known quantity. The nature of the protagonists, Finn and Jake, are basically "a couple of rad dudes" who say things like "TOTALLY RADICAL" or "MATHEMATICAL!" instead of a more typical response like, "Cool" or "Neat." It's a show that's ambiguous as to the intended age group of its audience, appealing to children, stoned teenagers, and even some adults. Unfortunately, this is a huge downfall for this game.
Mechanically and systematically sound, it could be said that Adventure Time: Finn and Jake Investigations hits all the requirements to be called an adventure game. Dialogue with characters, all familiar from the show, lead to the taking on of objectives and gated paths throughout the game world. Once a problem is established, it's up to Finn and Jake to head out into the world and discover a means to an end. Uncovering new items along the way and finding a use for them is pretty much the name of the game. Occasionally, combining two items together is necessary before solving the current puzzle. Again, there's nothing unfamiliar to anyone who's played an adventure game before.
The issue here is, although functioning in all the ways that make most adventure games fun, these systems are used in such basic ways that the thinking element is all but absent. Instead, solutions just seem to jump out in a way that feels like the game was designed for children, which it easily may have been. Contrasting this, there are rare occurrences where the solution to a problem is so convoluted, so unapparent, that they literally require combing entire areas in order to solve. This includes interacting with elements that are integrated into background or foreground with no indication of intractability. Simply put, it's either too easy or frustrating in a rage inducing way. Kids will love it...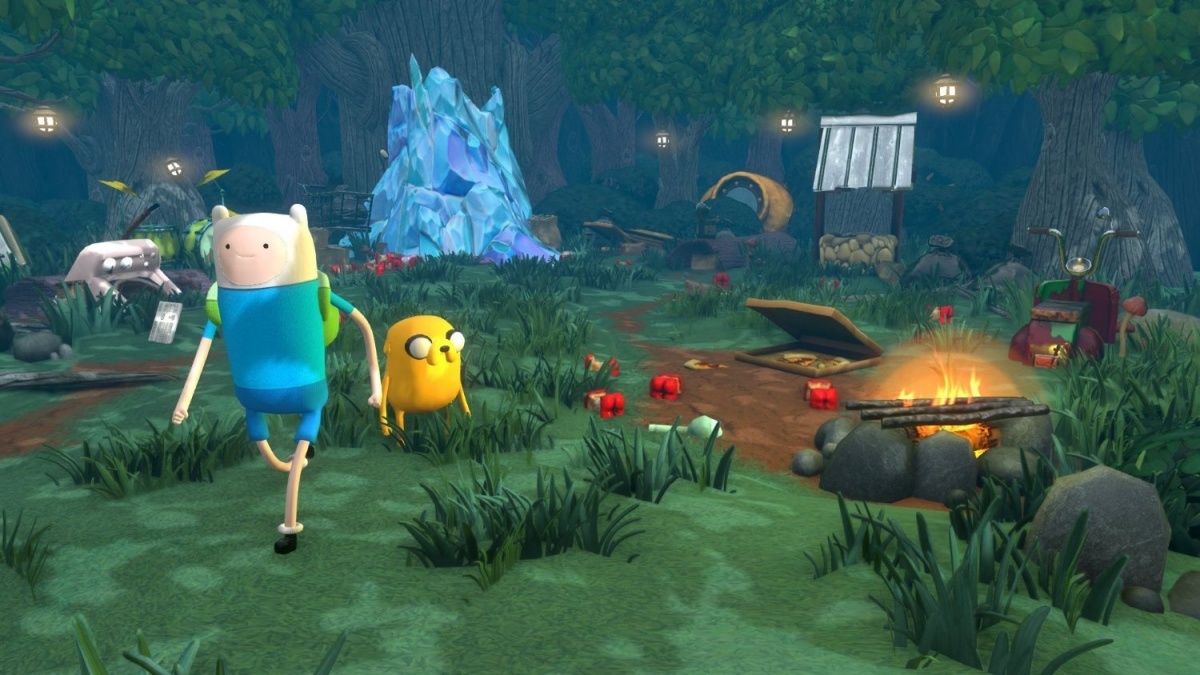 Everything mentioned previously should be easy to dismiss. Adventure Time is about fun and light-hearted humour, right? At first, this is completely the case. The puzzles, far too easy for anyone over the age of twelve, are generally coated in that Adventure Time humour. It's easy to like. Well, that seems to be what the creators were counting on. Unfortunately, the game is a bit long. The humour wears thin fairly quickly. There are still occasional chuckles in the later game, but the allure of interacting with all the silly characters is gone. Instead, players will begrudgingly giggle at fart jokes, and then question their maturity.
Again, an ambiguity relating to the intended age of the audience feels like the culprit here. The occasional question pops up: "Is this bad because I'm old, or is this just bad?"
Things aren't sounding so good for this game, right now. Sadly enough, there are a couple more things to be pointed out that seriously limit the enjoyment of Adventure Time: Jake and Finn Investigations. Firstly, dialogue is unskippable. The typical person can read the subtitles faster than the lines are delivered, but will find themselves refused the option to skip through. Mix that with the game requiring that all dialogue be heard and it's quite an infuriating situation. Secondly - and this falls into the "Is this a kids game?" category - the game assumes that the player is incapable of puzzling out solutions. As soon as an item is picked up, Jake typically blurts out how it should be used. This completely ruins any fun to be had in figuring out the solutions.
Oddly enough, the charm and tone that coats everything in Jake and Finn Investigations still manages to pull it through. It's the same feeling that is invoked when a terrible joke can't help but be laughed at. It was corny and dumb, but something about the humour just draws users in like a warm blanket. Setting aside all of the bad gameplay conceits and design choices, there is still a game here that manages to be fun.