Nearly a month has passed since Darksiders II: Deathinitive Edition inexplicably stopped working, prompting a series of emails to Nordic Games' support department that inevitably went absolutely nowhere. It functioned properly for somewhere between two and three hours (exactly long enough to prevent a Steam Refund Request from getting automatic approval, strangely enough), at which point any attempt to launch the game caused an immediate crash, containing no useful information whatsoever.
Unfortunately, Nordic was somewhat less than enthusiastic to assist, as there has been no word at all since 9th December. It is as if the developer doesn't care whether it will go the same route as THQ, because a number of game-breaking bugs have been discovered, and the only way to resolve them presently is to opt-in to the Beta, which is fine, except that this appears to address only one specific crash to desktop (CTD).
What can be said about something that doesn't work? Although it actually does so for some people - perhaps even the majority of players - purchasing it is still a gamble since without knowing the source of the persistent CTDs that make it literally non-functioning, there's no way to predict whether the glitches will affect an individual gamer. Meanwhile, if it doesn't work, Nordic Games provides about two days' worth of email replies, and then ceases any further response.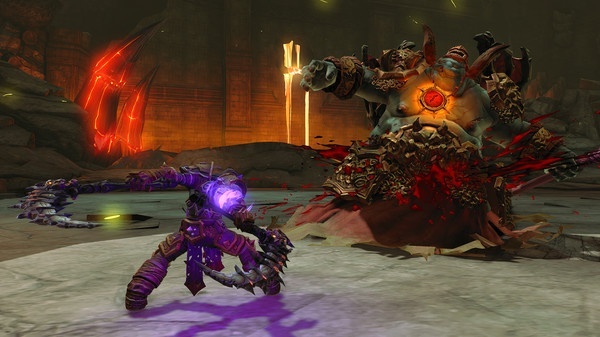 If the planets align and "fortune smiles upon thee," then the Deathinitive Edition is essentially just Darksiders II. Allegedly, there were some changes to the Bloom Effect or to the overall lighting, but these are negligible without any side-by-side comparisons. Additionally, DLC equipment was actually integrated into the adventure as drops from bosses, but these are the only noteworthy alterations.
When it works, it feels like a combination of Diablo II, The Legend of Zelda, and Devil May Cry. It's a bit of a hack 'n' slash loot-fest, with bosses that feel more like Loot Piñatas than challengers that must be overcome, and Zelda-esque dungeons containing puzzles, locked doors, hidden keys, and even dungeon items. The combat is combo-based and is one of the more satisfying aspects of the whole thing because it's fun to play as Death, ripping through enemies with his scythes.
In conclusion: this will probably stop working after the point where a refund could be easily obtained, making it a rather risky purchase, particularly since "this game doesn't work" is not really an uncommon complaint on the Steam forums - and even when it actually decides to work again, it's a distinctly average experience anyway; it could be great, but something just doesn't click.