Danganronpa 2: Goodbye Despair begins innocently enough, with the protagonist joining, much to his elation, the academy he has been struggling to get into his whole life. The mysteries begin immediately, and the game keeps players' questions plentiful throughout. Fortunately, the game answers the majority of these questions, though the solutions can be slow reveals.
This seems to be the point, though, because as quickly as the player is dropped into one confusing situation, it's taken over by another. The protagonist and his classmates are thrust into a murderous game show-like tournament, with each character finding themselves the winner of the short straw contest that is the Danganronpa games. The player must deduce attributes about another player in the event, in an effort to not end up on the receiving end of the punishment at the end of each round.
The story manages to mix both horrendous anime tropes and oddly charming characters, and a few that jump between the two. A few characters, like a loud, short girl and a stuck-up business-type young male, are generally teeth-gnashingly annoying. Other characters - most, in fact - are genuinely interesting to talk to and interact with.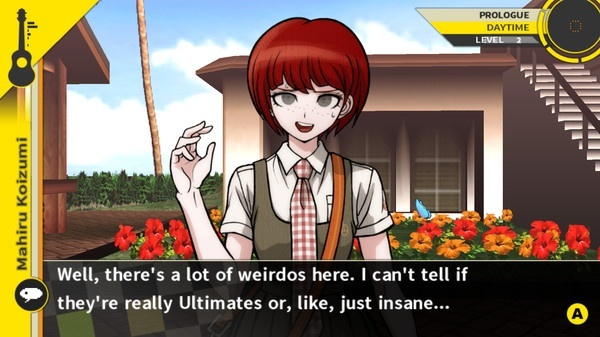 Artistically, the game dances around being both a trivia show and a sick and twisted coming-of-age story. You will get to know each of the characters - some more, some less - and the aesthetic does nothing to contribute to this. From a pointy-haired gentleman, to a so-cliché-it's-humorous sexy woman, everyone looks exactly like what you might expect knowing this is an anime visual novel. Perhaps this isn't a bad thing for some, but for others, it belies how interesting these characters are.
The most fun in the game is arguably the game show-like tournament. Being able to remember characters' names and attributes leads to often grabbing a notepad to jot down names and the physical likenesses they are related to. This is ridiculously fun, hearkening back to old text adventures, in that the player is required to not only take notice of even the smallest details, but also to memorize them. It's in this place that Danganronpa 2: Goodbye Despair shines. Many games wouldn't make the player participate outside of the game, but it's often important to jot down notes, because even the most minute detail could save your life down the road.