7th Dragon III Code: VFD is more than a mouthful, but its name is pretty indicative of its story. Throughout history, dragons have come to Earth to wreak havoc upon its inhabitants. They've all been stopped, but the final dragon, VFD is on its way to Earth, and nothing will be able to stop it from wiping out humanity once and for all. The mission of a ragtag group of heroes is to find a way to stop VFD, and, well, actually manage to stop it.
All heroes in the game are created from a variety of templates; gender, general appearance, and more specific fashion choices lend their way to a huge potential variety of characters that wouldn't look out of place at a local anime convention. In addition to physical appearance, each character can be customised with an honestly impressive range of voices offered up from some of Japan's biggest names in voice acting. There's a huge selection to be had, and for fans of JRPGs and anime alike, there's sure to be someone recognisable.
Every detail paid to the aesthetics all seems to be aimed at hitting one specific demographic, and it's pulled it off quite well. While the visual and audio presentation will likely strike a chord with a more modern audience, the actual mechanics are just about as old-school as they come. The party of three to six characters explores a dungeon, fighting random groups of monsters and progressing to a boss, before doing it all over again. It's not especially unique, but 7th Dragon finds ways to keep the gameplay fresh.
The variety of classes isn't huge, spanning fewer than ten, in fact. While there is some more traditional representation from one standard mage class obtained later in the game, every other class really brings something unique to fights, whether that's the insane damage and debuff potential offered by the unusual Agent class, or the mix of support and tanking offered by the God Hand class. Every one offers a unique way to look at each fight, making party options feel massive even with so few classes.
While each class obviously has direct comparisons to more traditional JRPG classes, they really do offer a surprising amount of depth. While the God Hand supports allies with heals, all while countering and blocking, as well, they're a must have for tackling difficult foes. The Duelist class relies on luck, hoping to draw the right combo of cards to deliver a perfect spell, making for a uniquely supportive mage with some really insane abilities. There's so much potential for different parties all suited to unique playstyles, it's really exciting each time more class options open up.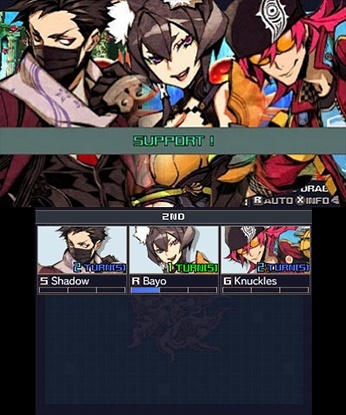 Despite that, battles can become a bit too frequent when trying to progress the story, and the encounters tend to take a while. This is an old-school JRPG at its very core, so there's a fair amount of grinding involved to progress in the story. While the battles are initially fun due to the unique approaches required to succeed, the do become a bit of a drag after a while, and they aren't helped by the labyrinthine structure of menus encountered both in and out of combat.
The story does have some high points, mostly stemming from the unique cast of characters encountered throughout, but there's nothing particularly ground-breaking about it. It's got some interesting plot devices used to advance between different dungeons, but it's still very comfortable sticking to standard RPG tropes.