First, a quick rundown of the things that are good, yet have nothing to do with the game itself: the pixelated visuals are as simple as the ones found in an old Atari title, and yet they are also detailed enough to be almost as pretty as the vistas of the Sierra Entertainment, SVGA-powered, adventure classics. As for the Wild Wild West sound and music, it sets the mood as best as possible, with a quality that's up to par with triple-A productions like Red Dead Redemption.
What is Western Press, though? Well, while a lot of indie games nowadays try to stand out by being innovative and original, the premise here is mind-numbingly plain. Select an avatar (just an aesthetic choice), enter the duelling arena, and then… press the randomly generated buttons that appear on the screen faster than the pixelated enemy - and just like the good ol' spaghetti westerns, the one that isn't lying in the mud is the only winner.
Died? Here's a nice (and surprisingly long) "cut-scene" for your troubles. Won? Move on to the next in line, who, in the case of CPU bots, can be surprisingly faster than the previous one. Of course, the simple nature of the game means that fighting with bots is there just to prepare you for the real deal, the one-on-one duels between real gals and guys, which is, undoubtedly, far more entertaining.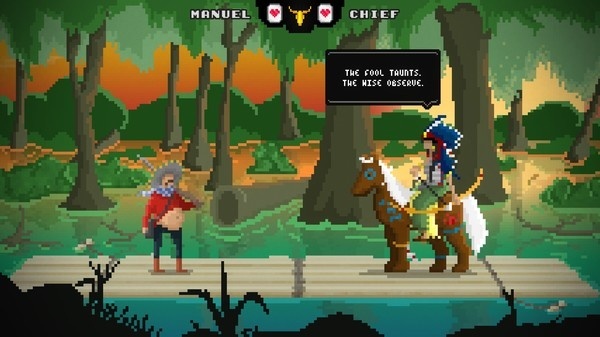 Is the whole thing fun, though? While simple, this definitely is fun, partly because it is a pure test of skill, secondly, because non-hardcore gamers don't need to spend an enormous amount of time to train for competitive play, and, mostly, because it's fast, with each match lasting about five - or ten with the "introduction" - seconds. Is everything just fine, however? Well, not really.
First of all, for a game where part of the fun is the overall speed, moving from match to match takes a bit too much time when it should be super-fast. Another problem is that the use of keyboard is a mess, because it's far easier to press a combination of D-pad inputs along with the few buttons of the gamepad, instead of typing a whole word, or a random array of letters.
The worst thing about this, though, is none other than the thing it boasts about: its simplicity. Sure, it's very cheap, tiny, and doesn't require a powerful machine to run it, and, yeah, it's something targeted at everyone, but that doesn't change the fact that there's only one thing to do here, and it can become boring way too soon. Oh, and while anyone can create a custom character in the workshop, and it's cool to be able to play as Kirby or Yoshi-plus-Baby Mario, that doesn't impact the gameplay.