Year upon year EA try to improve upon their tried and tested formula of football imperfection. We've had off the ball player control and first touch, the ability to send players on runs, the ability to use 'freestyle controls' and various other more gimmicky inventions. Basically, it all boils down to; nice idea, shame about the execution. Until now. This is, without doubt, the best FIFA game to date. We even compared it against FIFA 2004 and laughed at how rubbish this franchise once was.
This game is stupidly polished. After you've cried at having to wipe your memory card clean/invested in a new one to accommodate all the fricking save blocks it uses, the game boots up with a 'FIFA Flashback', a lovely piece of commentary from sublime football moments. We've heard Dennis Bergkamp's beautiful goal against Newcastle where he left Nicos Dabizas for dead with a glorious turn and control move, David Beckham's shot against Wimbledon from the half way line that somehow went in and something Thierry Henry did against Manchester United when Barthez was in goal that we fail to recollect. A small touch, but it does make the game that little bit more fun. Until they start repeating...again and again.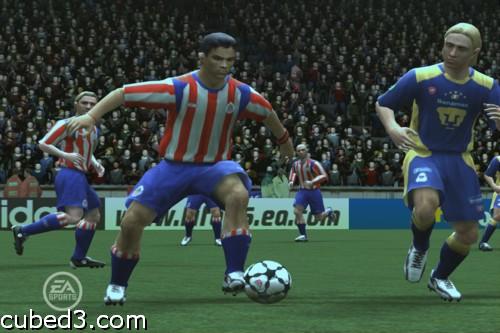 Indeed, that seems to be a recurring theme that haunts FIFA every time. EA seem to neglect the fact that people are going to play it more than once. We decided that the best way to get a taste for this game would be through the new fifteen season 'Manager Mode'. Here, you pick one of the many teams available from a whole plethora of leagues, set up the team sponsor, the playing and non-playing staff are all under your control, you can send out scouts, fiddle about with investment in training and even dabble in the transfer market. Basically, EA are trying to do a Championship Manager on the cheap. Needless to say, it has its good and bad points. First up, it is terrific fun, having a few more distractions than just football, and also lots of pretty knobs and buttons to press will please most people who like remote controlled cars. For the rest of us though, it feels a bit like a poor man's football management simulator. Also, fifteen seasons of straight single player football might get a bit tedious...
But fear not, if you don't feel like playing every single game, you can simulate it. This can be done in text form, where you sit and watch the events of the match in an updating text format. Should your team fall behind, you can intervene and set things right. If even that sounds like too much effort, you can always use 'Quick Sim', where you are just told the result of the game, like it or lump it. As a nice little sidetrack to the action you get headlines from 'The Sun' (joy) and are asked to be involved in making 'important' decisions. "Your team morale is low at the moment, and there is a local charity event coming up that you are due to attend, what to you want to do?"; oh the dilemma.

For our first team we picked West Ham (don't ask why) and playing on professional and world class we managed to win the Premiership, the FA Cup and the League Cup. We didn't cheat once. Admittedly things can get very tough on world class, but the game seems to be very easy to work out. If you set your team up to be as attacking as possible at the start of the second half, your wide-men always seem to be unmarked, so you can sprint down the pitch, knock in a cross and score (we managed it nine out of the eleven times we tried). Simply put, football should not be predicable. Thankfully, gone are the days when walking through the defence works, the computer AI is really quite excellent, and when a team needs to score against you or stop you scoring, it is far more tactically astute to enable it to do so. The goals are better too. You can pass your way into the net, hit a screamer of a volley from twenty yards, or ram home a bullet header. And if you try playing with Manchester United, you can shove van Nistelrooy on the six-yard line and let him tap it in every time. Just like in real life.
EA have tried to put in some nice touches. First of all, the physics of the ball and the movements of the players with it are much better. No longer does the ball stick to their toes as they sprint down the pitch, it bobbles, moves about and behaves in a far more ball-like fashion. Secondly, you can control tactics in game. If you pick up the ball in a defensive position with the whole opposition team camped in your penalty area, hit the up direction on the D-Pad and the team sets itself up to counter attack. You can also select wing play, third man running and box overload (send as many players as possible into the box in a comical attempt to score a last minute winner). You can even change your team's mentality in game, attack, defence or neutral. And it really does make a difference. The one problem, unless you can master the art of doing seven things at once, this feature often leads to you giving away the ball trying to find the right buttons.

We do have one or two more worrying complains though. Firstly, when playing against Bolton the game alleged that Bolton scored a goal, when the ball clearly went about a foot wide of the post. Furthermore, when hitting a long-range free kick straight at Shay Given, the Newcastle keeper clearly saved the ball about a foot behind the line, meaning it was a goal. Little bugs like this annoy us greatly, but looking at the Premiership of late, it isn't totally inconceivable that a shot that goes wide could be awarded as a goal...
This is as close to real football as EA have come, and it is terrific fun. It looks lovely, the commentary is less annoying than before and the depth of player statistics and details is far more substantial. Some of the new additions don't pay off, but they are more of a disappointment than a hindrance to your enjoyment of the game, so there is no major damage done. The football you can play is good, it is fun, but ultimately is falls short of brilliance. The players don't quite move about enough, they don't have the dexterity and subtlety of movement that we are dying to see in this game. It all still feels like what it is; a simulation of reality.
Still, it is an enjoyable simulation. There is loads of gameplay fun to be had, and hopefully unlike us you wont work out exactly how to beat the computer and win nearly every game quite so quickly. FIFA has come a long way in the last few years, but it still has some way to go yet.