It's easy to see, right from the very beginning, that this isn't exactly a creation of some people with talent. The subway scene with which Renegade begins, as well as the few sleeveless white shirt-wearing goons that occupy it, and the, marginally different from them, hero (he is dressed in brown), give a very strong MS-Paint like vibe. It all looks simplistic, monochromatic, and devoid of character, even for an early NES title. In other words, it's bland.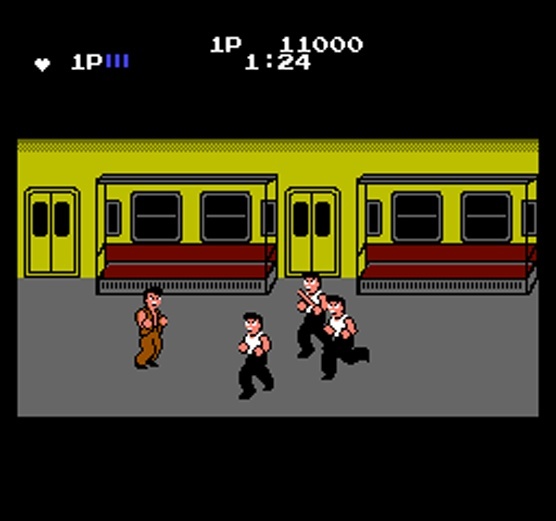 Those who can take pleasure in the crude, so-bad-it's-good, and just plain goofy qualities that were especially abundant in video games back then will have blast here. The corny one-liners after losing or winning a boss fight, the funky, out-of-place, swinging rock & roll tunes that would fit like a glove to an Austin Powers title, the girls which bitch-slap the "hero" with their freaking purses… it's all hilariously bad. Perfect material for an AVGN episode, right? Well, wait to see the lameness of the overall level structure.
Fight a few waves of enemies on one scene, move to the next, repeat the whole process, move on to a boss fight, and then do this for three more, small levels. On one hand, this is what the genre is all about: fight, fight, and more fight. On the other hand, though, it all feels the same here, with the only parts that stand out being a single fight on bikes, the rare appearance of a certain BIG lady who can slap the protagonist silly, and the final level: a big hotel with multiple paths, with the wrong door being able to send you to a previous room, or even level!
The real problems, of course, start with - what else? - the start button. The moment this begins the player will immediately get a taste of things to come. The thugs gang up on the hero without an ounce of mercy, and, if he chooses to fight back, he will find out that, due to the beeeauuutiful enemy AI, 99% of the time they will step back a pixel or two, leaving the player to hit thin air. In other words, this is one of these video games that, in order to beat your foes, you have to "beat" the game mechanics themselves - it's all about figuring out how to trick the AI, and thus becoming cheaper than it.
So far, Renegade is nothing more than a heavily unpolished, subpar-to-mediocre experience… and that's because the controls haven't been mentioned yet. Surprisingly, this lame excuse for a hero can pull off a lot of different moves: he can jump-kick, he can punch someone while he is on the ground, he can throw an enemy towards another one, and, most importantly, hit in front as well as in his rear, which is very useful in a title were the opponents don't have the courtesy to wait for their turn - but, unfortunately, doing all these is where the real problems are at.
This possibly has one of the clunkiest, and somewhat unresponsive, controls in the genre, which, coupled with the cheap enemy AI, makes this beat 'em up much tougher than what was - possibly - originally intended. Besides simply not being able to do some of the moves when needed, this gives that irritating feeling that you don't just control the main character, but you struggle to make him move, you "push" him. In other words, Renegade is something best avoided.