While Collateral Thinking hasn't changed much since its initial release, it's definitely made some changes for the better. The stutter and frame rate issues seem to be completely absent this time around, and there's much needed clarity added to the level design, with objectives being much clearer early on.
Despite this, and despite the more frequent progress checks, it's still hard to want to keep playing time after time. There's a clear indication for unlocks, things like character selection options, lives, hearts, etc., but unlocking them feels like a chore. There's a clear path to success in each stage, but it requires a level of practicing few would want to undertake.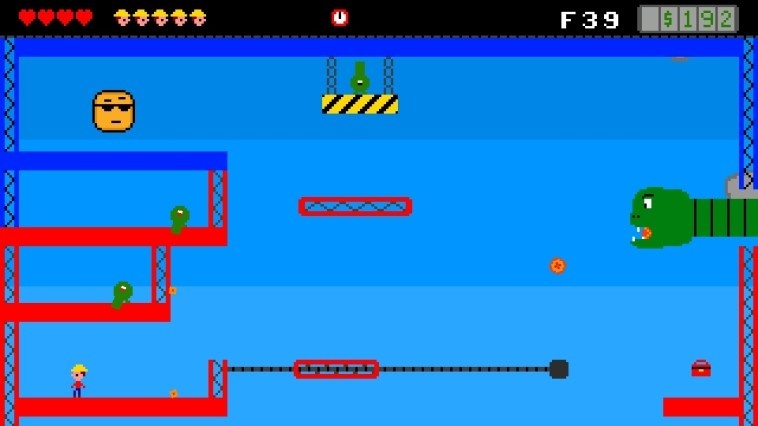 As previously mentioned, each stage has its own unique goal, either surviving for a set time, defeating all enemies, or collecting all the plans on a specific stage. The stages all run through in a set order, and there's a pause every ten levels to regroup, allowing items to be purchased with the cash so far collected on that playthrough.
The biggest problem is that it doesn't feel rewarding. There's not really a good sense of progression between stages, and the experience doesn't really feel meaningful. Mastery over Collateral Thinking is always going to require multiple playthroughs of each stage, and it's hard to picture that being a fun diversion. The environments are about as stock as stock gets, the music stops just short of being annoying, and the characters aren't particularly compelling.
While it's a functional platformer, it isn't a great fit for the Wii U. This is definitely the type of game that's well suited to a mobile experience; with quick run-throughs being possible, it feels like it would have a bit more success on a mobile platform. With some kind of ability to pause the game and return to it, it's possible to see Collateral Thinking being a hit amongst hardcore platforming fans, but the bulky nature and short battery life of the Wii U GamePad make it a strange fit.