So what of the game? Well it is an adventure title, where Harry (that's you) has to navigate his way about ancient ruins and dangerous forests in the search for a team of explorers. You have to fight against the enemy, run about pointlessly and generally get very bored. This is essentially a game that does nothing exciting and nothing new. The ideas that the developers have tried to implement have been done so much better in so many other games. It isn't just average though, it is plain bad.
The standard fare is on show. Puzzles, problems, foes, levels, graphics, a vague plot and enough poorly executed ideas to fill a dozen games, let alone just one. You can wonder about for eons just looking for something worth doing, but the thing is you can't. To be fair you always know what you have to do next, the game points you in the right directions, but all the tasks are so generic and pointless that you simply wont feel like doing anything.
There is one point of innovation; you can move Harry's arms! It is a bit disturbing, wiggling about the C-Stick will cause him to throw his arms about left right and centre, in a gangly effect to manipulate objects. It isn't anything too amazing, in fact it isn't really anything, but it is nice to find something fun in what is essentially a sea of tedium.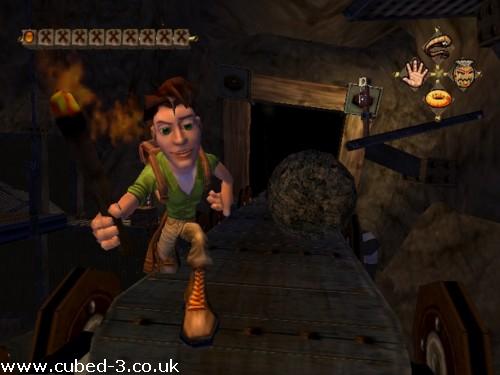 The levels are not too much to write home about either. Solid objects seem to be mere illusions, when at times you go shooting through something that should surely knock you flying when you run towards it at full tilt. It is all woefully unfinished, and to be brutally honest is some of the worst technical mastery we have seen on the GameCube. Further examples of this come in the form of the puzzles, what the developers were thinking when they came up with some of these we don't quite know.
In some levels you can take out the mightiest of monsters, fell the mightiest of trees, but you can't remove a cobweb from your path. It just doesn't make any sense. There are further examples of this, you can destroy some things, but not others that look exactly the same, frustrating does not even begin to describe it.
What we fail to understand is why you have to hammer the controller buttons so much in combat? There isn't one iota of subtlety to it at all. You just stand there are hit the buttons very hard and very fast, hopefully the enemy will die and then you can bugger off and take on the next 'challenge'. If you ignore enemies, they throw things at you, and they never miss, they hunt you down and kill you faster than you can run away. It is annoying, it is pointless and it is totally rubbish.