Second Sight puts you in control of John Vattic, who wakes up to find himself in solitary confinement in a medical facility. You have been beaten up to the back of beyond, can't walk and have lost every single memory you ever had. As the 'kids on da street' might say you are well and truly fu… (snip – Ed). Whilst life not be the best thing ever for Mr. Vattic, after just a few minutes of play you make a rather nice, he has the ability to manipulate things with his mind. Whilst he can't bend a spoon or make a watch stop, you could argue that Vattic's powers are slightly better than warping cutlery.
What is so refreshing about Second Sight is the control system. You can manipulate things with Vattic's mind so intricately. Holding down the Left Trigger locks onto things in the room, tapping the C-Stick left or right switches you attention to other items and when you hold down the R-Trigger you can start manipulating. The first task set out in the game is to get our of the cell you are contained, once you get to grips with your manipulating powers you can break out and get moving. All sorts of things can be done with this hugely innovative and well-implemented power. Smashing items about, moving objects across rooms, making things fly; it is all great fun and a somewhat unique gaming experience that will have you hooked from start to finish. Not only can you use your powers for attacking, but also for defence. In doing this you are able to heal yourself, but be careful not to overuse the ability, it will only lead to problems…
What really impresses us is the depth to which you can use the powers of your mind. So many things can be influenced from televisions and clocks to possessing guards and getting them to shoot their mates. You can pick up a hoofing great big table or board and use it as a shield to get past enemies who are intent on shooting at you. Even if you do get shot a lot, all is not lost, you can simply heal yourself when you get enough time. One move that we particularly like is the ability to pick up a guard so he floats in front of you and then shoot him, all at the same time. Watching your soon-to-be-victim wriggling and struggling as you suspend him in the air before shooting him is worryingly satisfying. 'Cool' doesn't even come close.
Once you have been eased into the game, things start to get interesting as the fascinating plot starts to unfold. The GameCube is getting something of a reputation for housing games with stunning storylines, and Second Sight adds further to this as it grips you from start to finish and keeps on surprising you with twists and revelations galore. The cut-scenes are excellently produced and portray a wonderful story brimming with personalities and drama. The graphics of the entire game are typical of what we have come to expect from Free Radical, chunky, solid and beautifully lit. This time however, they have taken it all to a whole new level and Second Sight look stunning.
The plot is mostly revealed in a series of flashbacks that Vattic experiences...but it is not just the character that experiences them; you are in them! Due to this the game works on two timelines. The present day one, where you go about finding out about your post and get very confused, and the flashback section of the title, where you find out about your past by moving through it as you please. It is a bizarre idea, which even more oddly, actually works!
Another key element of this title is stealth. Thanks to the simple control system Vattic is able to creep about, slide around corners and generally not get noticed. Much like in MGS you can sneak up behind people and grab them, hide away until any panic has calmed down and the game even forces you to cover your footsteps, meaning if you leave tracks you're going to have to cover them up...otherwise someone will get wise to your presence.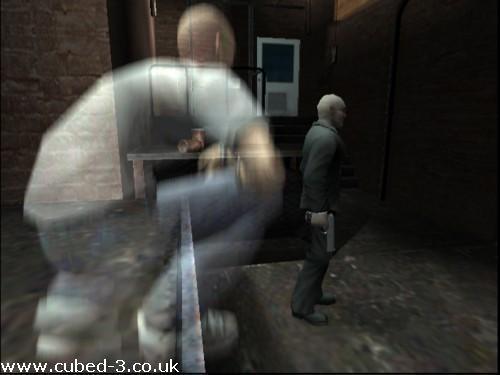 Second Sight is really a game all about skill. There is no point running about like a headless chicken trying to progress, you have to call on all your powers and guile to beat this title. Using psychic energies to blast the hell out of anyone nearby, picking people off one by one with a sniper rifle, hiding away, jumping out and smashing them about against walls. The game really gives you a chance to mix things up and try something different all the time.
And trying different things has its rewards. You can stand about toying with enemies, flinging them about, lifting them up, putting them down, shooting them, chucking them through windows, slamming them into other people. For a disturbing psychological thriller, you can certainly create a fair amount of comedy. Whilst the whole game is packed with freedom, the developers have ensured that the whole thing is full of structure and great missions. From mental asylums, to snow-covered landscapes, to offices, to high octane combat zones. This game has it all and you never feel bored or as if you are doing the same thing over and over again.