First off, praise must be given to Neko-Nin exHeart for its resolve. This is a visual novel that takes a silly concept and runs with it. There aren't any half-measures or shortcuts here. Yura and Tama are full-fledged catgirls, and they'll take every opportunity to remind both Haruki and the viewer of that fact. Expect a lot of purring, ear twitching, licking, and mewing. It's sickeningly sweet and nauseatingly adorable. The story is essentially a slice of life tale. Haruki tries to adapt to a new lifestyle, Yura and Tama fawn over him, and there's an unknown threat. It's serviceable and predictable, but much like fast food, it gets the job done.
What keeps this title from being another shallow excuse to show naughty bits? Perhaps it starts with the protagonist. He's a bit of a frustrating jerk. The ninjas are just trying to serve and protect him, but all he does is ignore them. It gets to the point where the poor girls are sleeping in a playground and it just breaks my… dammit. At this very moment, it's like the walls of my fortress of cynicism are being penetrated. The appearance of Yura and Tama is probably the first good thing to ever happen in Haruki's dreadfully dull life; the least he could do is treat them with kindness. Indeed, this is how the game functions; it takes full advantage of any weakness in one's defences. Before long, the shinobi's presence alone causes spirits to lift.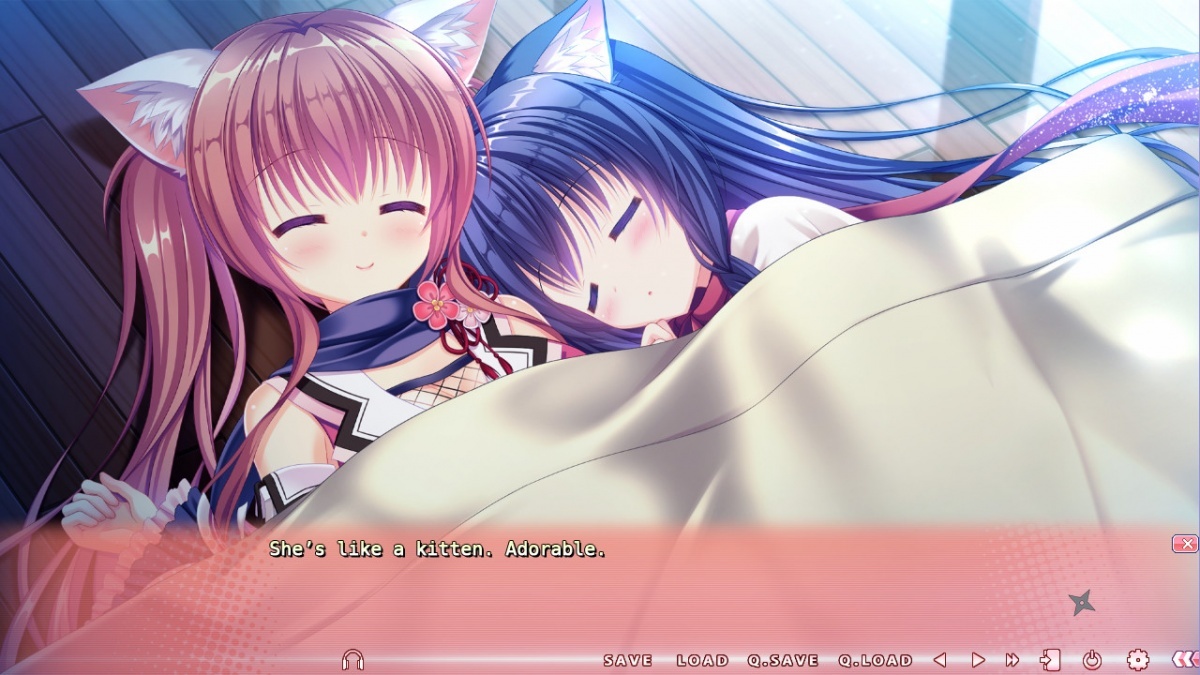 Considering the relatively short length of this visual novel, the production values are quite high. The voice actresses put on an admirable performance, injecting a lot of life into these quirky characters. There aren't many CG scenes, but they're all exceptionally well-drawn. Another appreciated aspect is the wealth of "auto" settings. Usually when "playing" these types of games, the auto-mode isn't personally used, since it runs far too slowly. With this game, however, it's possible to customise the speed. It's easy to find a setting that allows for an almost entirely hands-free experience.
It goes without saying, but this game has H-content. The adult scenes are available via a DLC add-on. If the viewer is that attached to the characters, then, sure, go for it. Personally, there are some lines that just can't be crossed. Seriously, Tama calls Haruki "Onii-chan," and always refers to herself in third-person. That's just way too weird! Then again, what isn't weird about heavy moaning, followed by a passionate meow?
Anyway, this is another one of those relationships that moves too quickly. From the get-go, the girls can't seem to keep their paws (and tongues) off of the protagonist. This is a twisted conclusion to draw, but at least the tale is rarely boring. It's amusing just how absurd Haruki's predicament is. Maybe he was better off never meeting the ninjas. At least his life would have been peaceful. Oh, well.