Sky Force Anniversary is a very typical vertical shooter - control a plane, slide from side to side, and blast away swarms of enemies. The controls are great, and the induced panic of having to drag oneself across the screen to snipe that one plane that's about to escape feels gratifying. Making it to the end of each level requires precision, patience, and a keen eye. It's the standard checklist of shmups, though Sky Force Anniversary isn't nearly as hard as the average title - at least, not in the levels.
Before delving into where the difficult arises, this is really pretty. For the purpose of this review, it was played on both the PS4 and the Vita, and it looks great on both. The environments do have a tendency to be extremely repetitive, though. The game seems to be set around an island, and because of that, the environments follow suit to this, yet to a fault. Seeing the same little island scamper by is not helped by the addition of rain, just as seeing another forest isn't made different because it's right after a bridge... again.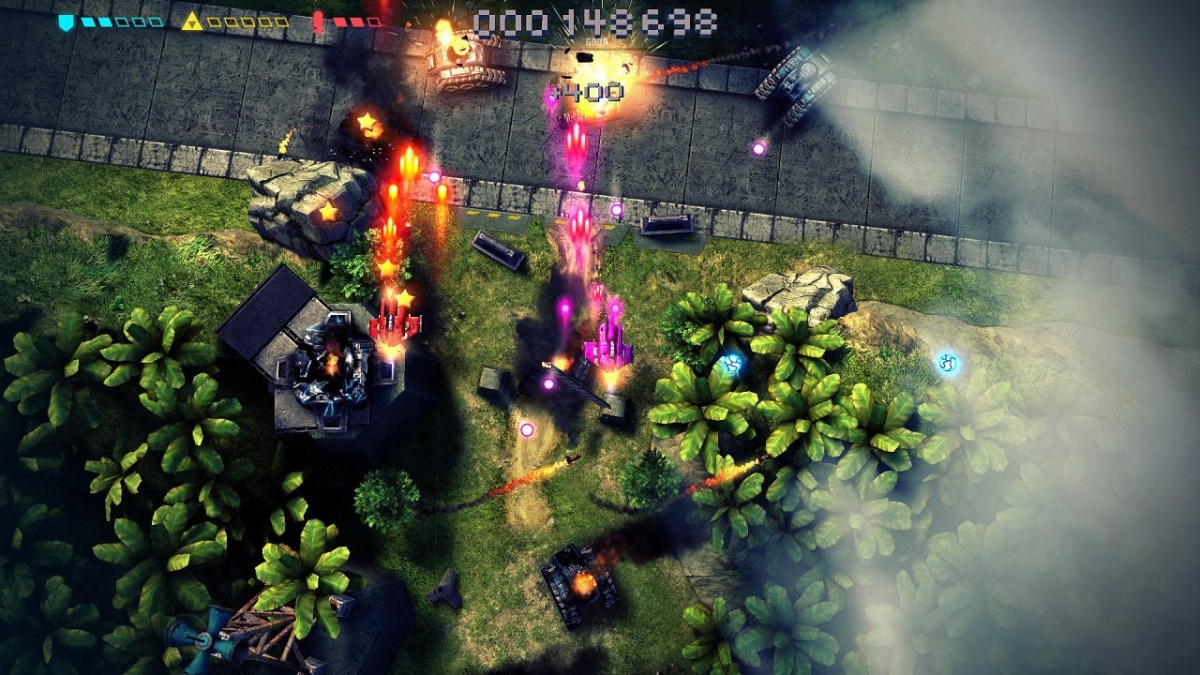 In addition to shooting bullets, there is an in-game currency in the form of stars that allows buying upgrades and new weapons. The first few hours will be spent mostly collecting health and increasing your fire power. The intensity of the shots is purchased in the 'Hangar,' but there are pickups in the actual levels that increase the speed of firing. Also in the Hangar you can purchase add-ons like shields, missiles, and lasers, just to name a couple of them.
Missiles aren't great, although they can come in handy in a pinch, despite them being fired at random intervals. Other weapons, like the laser, have to have their ammo purchased at the beginning of the level, though the first time is free. There are also pickups available that refill some of the ammo, but it's easier (and more frustrating) to spend the stars on them at the beginning of each stage. It does make you weigh your options, but when it's coupled with the available progression system, it's very irritating.
Each level has medals, and these are awarded for completing objectives, like killing 70% of the enemies or never taking damage. Not only do you need to beat each level to move onto the next, but you also need a specific number of medals as well, and as each level only has 4 medals, it can seem like it's impossible to unlock the next level. Except that after collecting all level's medals, the stage gets new, harder difficulty, and the medals can be collected again on that brand new difficulty.
Now, don't get too excited. The only difference is that enemies take and deal more damage. They remain the same, and their patterns remain the same as well. This means that, not only will you spend time replaying the same level over and over again to get new medals, but those levels don't do anything to feel different. Because the medals have such strict goals, this leads to a lethal combination that will see a lot of players setting it down and walking away.
One medal type, "Kill 100% of Enemies", can be messed up as one enemy sneaks off the screen, while "Take No Damage" can be thrown to the wind because a bullet went unnoticed (Vita players, be especially concerned about this). Sure, it's challenging, but in a very artificial way. The levels themselves, don't pose as much of a challenge as their inexplicable goals, and while the additional levels of difficulty have potential, they just make the case that everything in Sky Force Anniversary is just one big grind.
Now, queue the drum roll, and... you should still play this! Yes, it's a repetitive grind fest that can grow tedious after just a few hours, but the gameplay is so good that it's worth overlooking that for a while. After nine whole hours with it, Sky Force Anniversary was still hard to put down. It is fun to play, but outside of the tight controls and slick action, it feels like something that demands spending too much time repeating the same actions over and over, and hoping for a different result. Sometimes it feels like practice, and sometimes, it feels like insanity.