Like Riven before it, Myst III is impressively photorealistic. Furthermore, it's now possible to look in full 360 degrees. Note, however, that this is still a glorified slideshow, thus moving from area to area requires clicking on some sections of the "slides" in order to do so. Unfortunately, in practice it will be easy to get disorientated when moving around, similar to the original Myst. Plus, while gorgeous visually, this has also lost part of its unreal charm.
Stylistically, the worlds this begins in is a lot like the Age of Riven, but without its otherworldly feel - it's a "dry" Riven. Even worse, the rest of the Ages (the different worlds that will be visited here) look less like real places and more like theme parks; treeland, machineland, and so on. Finally, when it comes to the overall structure of this micro-verse, this is sadly a lot more linear than before, which reinforces the feel of something that's more like a video game, rather than a "real" world.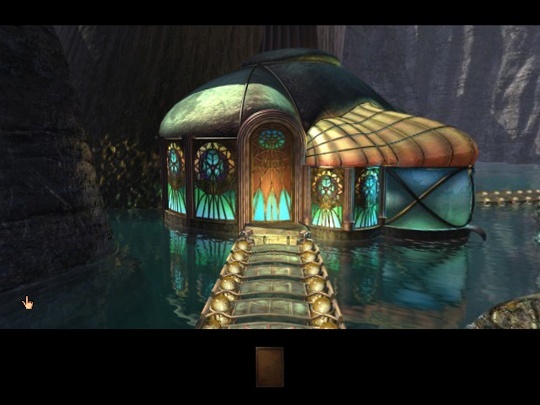 Real, shmear, though, as this fortunately remains a very fun adventure. For starters, while the plot is not very original for something that takes place in the fantasy land of Myst, it has a very strong tie to the lore of the franchise, as well as a strong focus on the actual characters, and especially the bad guy. The story once again follows the "Stranger," who is… you, as he or she tries to keep an Age safe from harm; an Age stolen by a savage man named as Saavedro.
Marvellously portrayed by Brad Dourif, this tragic villain is actually a man that's easy to sympathise with, although he is as dangerous as he is desperate. The only problem with that great fellow is that he doesn't have as much screen time as he should, although many times he actually manages to shine through his absence. Of course, make no mistake, the "meat" of it all is, once again, the puzzles.
Are they challenging? Yes, and in the right way. Are they good? They are great. Is that enough? Not by a long shot. Why? Mainly due to the fact that, like with the world itself, they are bit too… video game-y, where the ones in previous titles felt like they "belonged" there. Other than that, the main problem with the puzzles, and with Myst III as a whole, this doesn't really try anything new. It's the same game all over again… but also slightly inferior.