The darker and implied themes of Headlander, which encapsulate everything from humanity's drive for exploration, fear of death and the unknown, to what interaction really means in the AI age, all sits purposefully in the background of its world. The disconnect, between these ideas and its cartoonish nature, may seem like quite a stretch to unify on paper, but through its playful gameplay quirks, not to mention its cynically-driven and cheesy humour (players will be bombarded by a boatload of sarcastic robot quips from start to finish) - the unsettling underbelly of thought behind the project is communicated quite expertly. This alone elevates Headlander above other titles with similar intentions, since the dystopian principle isn't left on the surface to spoil over time.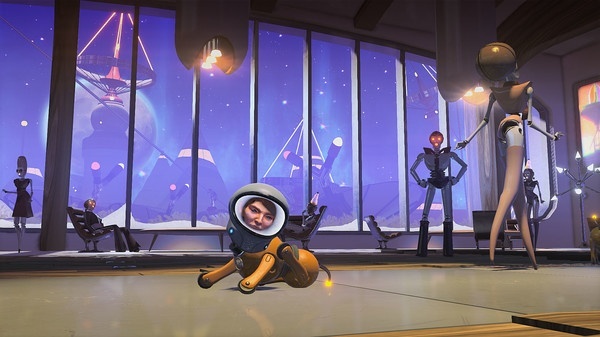 Although this experience shares many core similarities with other modern Metroidvania titles such as Axiom Verge, especially a well-pronounced sense of progression and an upgrade system (of sorts), which opens the map gradually and keeps exploration high on the agenda throughout - much of Headlander's success is owed to how it detaches from traditions of the sub-genre. Speaking in aesthetic terms, it's a sensory overload. Firstly, this 2.5D side-scroller looks gorgeous, awash with neon and vistas, complete with ricocheting lasers and explosions everywhere.
However, and more importantly, it's a heavily populated robot world, brought to life two-fold through its abundance of dialogue and level themes. If it's not Earl, a dissatisfied soul who helps the protagonist escape his enclosure on the Starcopagus and, from then on, speaks up when applicable, it's an automated turret, or even a door, laughing at your lack of status. Pretty much every character type around has some sort of one liner to throw out, relative to the setting, and while they can get a little annoying when stuck in a certain section, this emphasis on animation and dialogue helps the universe feel organic, rather than built with a strictly mechanical pretence.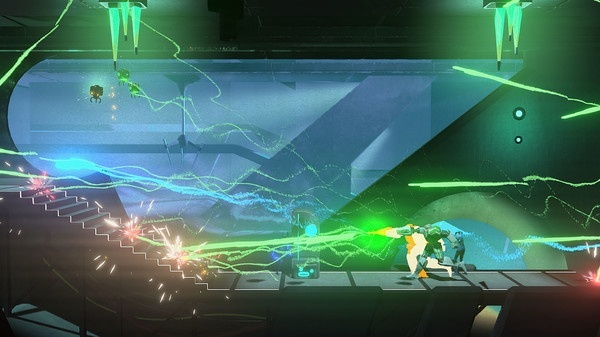 Maybe it's best to talk about mechanics… As the name suggests, players take control of a floating head. The ability to suck robot heads away so that you can plant your own dome on their body to gain control quickly becomes a central component; for example, security robots, known as Shepherds, patrol the different parts of the ship. Their rank of security is represented by colour, and so for the player's floating head to gain entry to certain areas, he needs to have a robot body of that rank or above. This is a nice way to open up each area gradually. In addition, many other sections or tasks require the floating head alone, which adds a good amount of variation. As the player progresses, useful shortcuts can be taken when limbless, ensuring that backtracking isn't such a chore, either. There's also a series of upgrades for the floating heads, ranging from tractor beams to a boost, and a deflecting shield, which also incentivises returning to earlier areas since some of these can be used to reach new areas and discover small secrets.
Headlander is a challenging game. There are a lot of puzzle-based challenges, which get progressively more elaborate (and interesting) as the player works through each area. Some of these revolve around the Shepherds' lasers, which withstand more and more bounces before disintegrating, based on the security rank. Others are just very clever and contrastable ideas, carried consistently through that segment - culminating in equally well-designed boss battles.
On the other side of things, combat is very tactical, even though duels with multiple foes happen very rapidly. Those who intend to blast their way around, with no regard to position, will likely adjust their approach until upgrades make them more equipped to run-and-gun. In truth, it's never the best choice, especially since the controls, in combat situations, can prove to be a little twitchy.
Robot bodies taken over are entirely disposable, so there's a variety of ways players can take advantage of that. It will soak up the damage whilst the player inflicts some upon foes, and when it's totalled, simply detach and try to grab another. Others might even try an entirely body-less approach, vacuuming heads off left, right, and centre, which is achievable in the early stages, but not so viable later when facing greater numbers and more powerful security. Of course, when detached, players are much more vulnerable and, therefore, more likely to explode via ricocheting laser beams. You can regenerate health in this state, but it's difficult to get away for long enough. This can lead to frustrating deaths, especially considering that the checkpoint system isn't always so helpful.