Fortunately enough, the puzzles in Samsara have a lasting appeal. They are simple challenges with minimal input. Upon each new challenge, a limited number of blocks are offered on the right-hand side of the screen. These blocks can be rotated to create a safe walking passage for Zee to reach the portal-like doorway. The puzzles get really intricate when below Zee's normal-looking plane there is the mirror-world that seems inspired by the "Upside Down" from Stranger Things.
Placing a block in this dark shadow plane creates a mirrored version of the block on the normal plane, meaning that one block could have two uses for Zee, and her shadowy self. This is where the true brain-mashing challenges come into play, as trying to appease both planes at the same time with only two or three blocks becomes quite a challenging feat, at times. However, the challenges do not feel unfair, and sometimes even have quite simple solutions. It is just a matter of playing around with the blocks and seeing what works.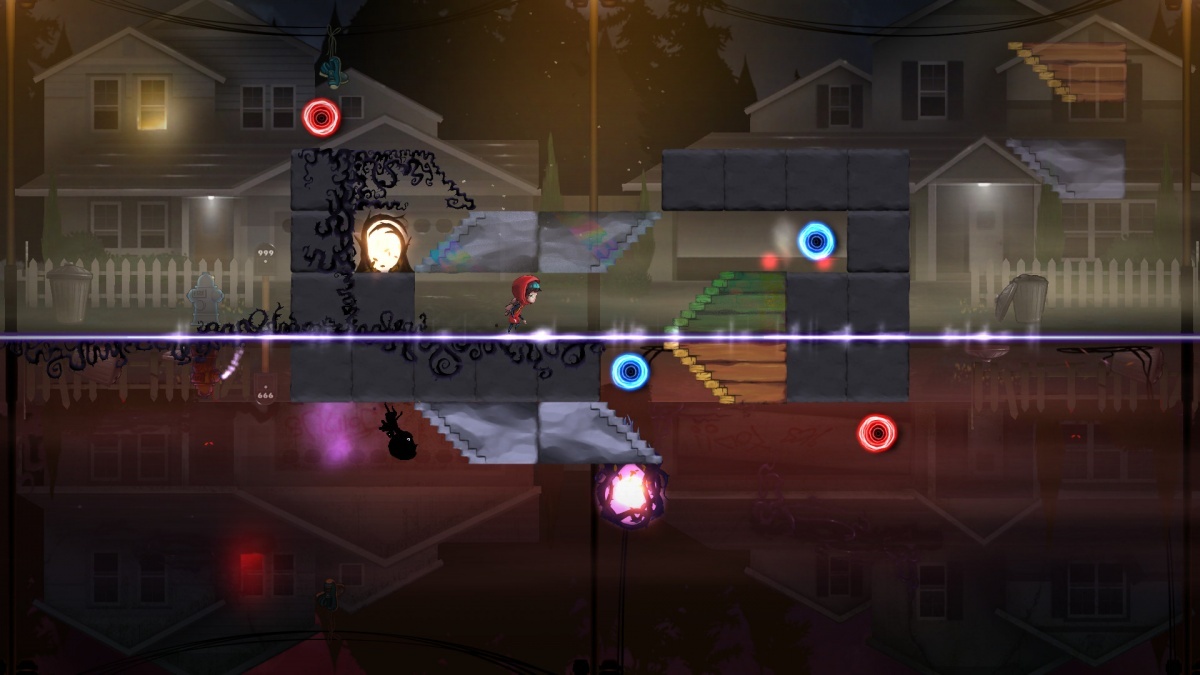 As there are no lives, it means that Zee and her shadow self can initiate their movements towards the door, and failure just resets the stage. This allows for plenty of trial and error to see what works, and what doesn't. This way of playing allows for many mistakes to be made, while fresh solutions may open because of it. The lack of a button-mapped reset button, though, means having to navigate the menu screen to do a clean refresh. Some may find this argument quite petty, but with this kind of simple puzzler, a simple reset button would aid with its quick-paced nature.
The blocks themselves can sometimes prove to be a little janky, as well. The art of rotating them works well, but not placing them properly on the stage or even the slightest tumble that knocks a block off-balanced resets it… or, in the latter stages where there are five or six blocks to play with, having to manually pull each block back out isn't exactly easy to do, and is one such example where a quick reset would be handy to have. However, these are only minor pushbacks.
While there are no new mechanics, Samsara gets progressively harder with the advent of new blocks, as well as plane-switching portals. Growing and receding thorns also change the playing field a little bit, and the challenges become more intense as they can disrupt the blocks once everything is in motion. Planning for these changes, while coming up with new ways to integrate the blocks, is an interesting puzzle. While there are some frustrating stages, for the most part this is not an overly difficult experience. Trial and error perseveres often and having that visual play out of Zee attempting the placed blocks always helps in discovering new things.