By Adam Riley

16.04.2018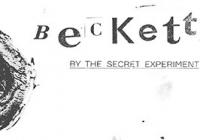 Remember The 39 Steps? Well, many will know it for the book, movie, and maybe even the stage version of the 1915 classic, but perhaps not the low key PC release from several years ago. Cubed3 remembers it fondly, though, as one of the more unique ways of transferring prose into a format traditionally used by videogame players. It proved to be a highly innovative and successful venture, and now the main man behind it, Simon Meek, is back with an original title by the name of Beckett. This is more point-and-click adventure than pure story, but includes an engrossing tale of investigation, mystery, and deceit told in a fresh way, avoiding the usual item collection element associated with the genre. How well does it work? Cubed3 finds out…
The team behind this, The Secret Experiment - headed up by Simon Meek, the same guy that made The 39 Steps such a special experience - takes a standard detective affair and the trappings of a point-and-click adventure theme, and then moulds them into something quite extraordinary. Rather than the usual side-on, or even third-person, perspective being used, everything in Beckett is seen from a top-down viewpoint. Also, despite Beckett himself being represented by a black-and-white portrait, everyone else has quirky imagery used to represent them instead, and also come with unusual sound effects instead of actual voice acting. The entire experience is rather abstract, in fact, yet it works perfectly to create a very unique journey that will stay with the player long after the conclusion is reached. From the oddball characters met along the way, to clever use of video clips, multiple paths to take, and the inventive text delivery techniques, Beckett impresses at every turn.
There are no specific alternate endings (apart from one very final decision), but the way events play out is slightly adjusted based upon decisions made throughout, so it is indeed possible to get some more content out of the story when playing through again. It may take some folk around three hours to complete in one sitting, whilst it may take others several more hours as each facet of the tale is carefully analysed and the atmosphere fully soaked up. The beauty is that the entire journey does not need to be started afresh, either, so there is no painful going over old ground, since from the menu screen it is possible to select different chapters as starting points - vital for quickly acquiring all of the achievements on Steam, should that be a personal aim.

Beckett is not so much about achievements, though, and more about how the story plays out, as well as how the developer has attempted to grab the concentration of the user in today's world where attention spans are shorter than ever. This is not about grabbing as many items as possible, and then solving puzzles using every permutation under the sun. This is the tale of a detective at the end of his tether, tired of life, suffering from personal loss, and being railroaded into a missing person investigation that involves traipsing through the decrepit world around him. All of it is delivered in the most unique of ways to engage in every way, and in the most accessible manner so even non-gamers can easily jump on it and appreciate the prose in interactive form.
Cubed3 Rating
8/10

Beckett is a surreal experience, and a wonderfully unique take on the point-and-click style adventure that makes the delivery of the gripping story far more digestible for a wider audience. Anyone that enjoys an engaging tale but may be put off by the idea of playing in game form should reconsider this as it is perfect to jump straight in without any trouble, and the dynamic way the story changes dependent on certain choices makes it all the more enjoyable.
Developer
The Secret Experiment
Publisher
C3 Score

8/10
Reader Score

0 (0 Votes)
Out now

Out now

Out now

Out now