The first thing worth noting is that A Way Out has strictly no single-player mode, as the story must be enjoyed as a co-op experience. Every single challenge requires both characters in the story to work together in quite complex and sophisticated ways, so much so that having an AI-controlled character just wouldn't work due to the unique challenges that are in the way. In addition to the offline couch co-op type of play, for those without an offline partner, the online portion helps solve that. Making finding a partner even easier is the fact that only the initiator of the session requires the game, while the partner only needs to download the demo version. Then, if the game-owner has begun the session and remains in it, the partner can also enjoy the story.
The story revolves around two characters in a prison, with inmate Leo Caruso who befriends the newest fish in the pond, Vincent Moretti. Where Leo has already served six months of his lengthy seven-year term, Vincent begins his story by getting admitted into prison after a recent conviction. The basic premise of the story is like the iconic Shawshank Redemption, where both inmates decide to work together to break out of jail without getting caught. Their stories begin separately, and both "games" play out simultaneously on a split-screen. Soon enough, both characters meet each other, and their stories converge.
It is best to approach A Way Out as an interactive movie of sorts, as the story plays out through a multitude of Hollywood movie-type scenes. Certain scenes require Quick-Time Event (QTE) button presses, although they are few and far between, and when they do come into play, they generally have epic sequences tied to them. In-between scenes are large, but confined play areas, where Leo and Vincent can walk around and interact with a variety of different things. The attention to detail with what is on offer in each area is excellent, as it seems like every environmental object has an interaction that leads to sometimes funny results.
The attention to detail translates to Leo and Vince's personalities, as they both interact with the same objects in two different ways. It's fascinating just seeing how every nook and cranny is interacted with. Even non-playable characters (NPCs) can have two very different conversations due to the tone or language that Vince or Leo have approached them with. This is extremely useful to learn new things from AI inmates, as they might be more willing to part with information to Vincent over Leo, and vice versa.
As far as solving challenges are concerned, Vince and Leo will get good at causing distractions to allow their partner to get into previously guarded areas, or even to steal useful tools that will assist with their escape. The exquisite details with each of these interactions and seeing how the AI characters react feels too real at times; it's frightening to think just how realistic these characters and the rest of the environment play out. The prison guards heighten the tension every single time, as it feels like one wrong move could mean the end to Vince and Leo's ploy.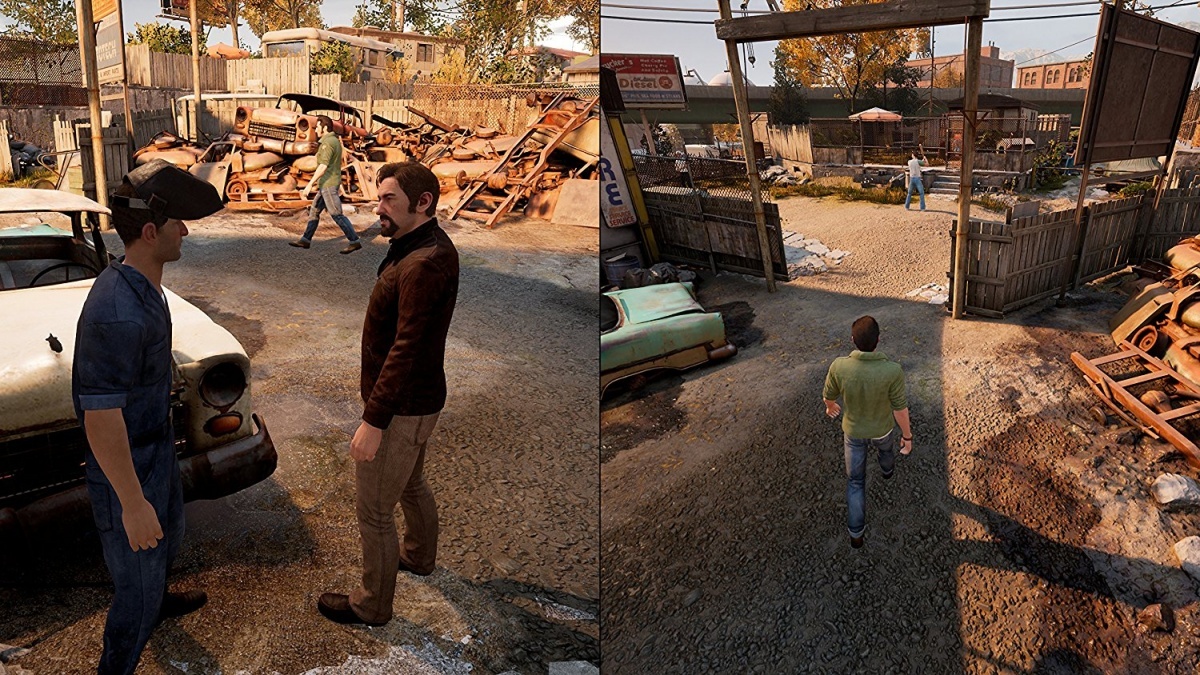 At specific points in the story, both Leo and Vince will come up with their own way to try to solve a challenge or an obstacle. As the two characters cannot decide what pathway to take, instead the choice falls to the two who are in control of them. Making this decision-making process even easier is the fact that both partners must agree on the same choice to proceed. Making these choices even more difficult is the contrast in options between the two. Leo is the hot-headed criminal who wants to make the most noise to create the most chaos, while Vincent is the diplomatic one who prefers to sneak and accomplish tasks quietly. Having these different options changes the course of the story somewhat and it's worth playing through A Way Out a second time to experience all that the game has to offer.
Honestly, this is as close to a Hollywood action flick as possible, as game director Josef Fares brings his directing duties to the forefront. With A-grade production, and beautifully shot sequences, this is like watching an epic film on the big screen. Thanks to a talented voice crew, the performances by Leo and Vince really drive the story along and makes the entire story that much more realistic and gritty. The story is riveting and intriguing, and the choreography of the fight sequences are some of the more splendid pieces of QTEs ever seen in a videogame.
The only real drawback is that Leo or Vince sometimes get stuck on a piece of wall or other environmental barriers that really shouldn't be an issue for them. Like how The Sims would cry when a teddy bear blocks their path into a room, Vince or Leo can graphically stick to a wall, causing issues, although luckily these moments are extremely rare and oftentimes happen in the slower-paced puzzle rooms.