The core concept of Octahedron is that the player can create temporary platforms for themselves to either run across or jump from, and it is a simple yet very effective one. It takes little time for the mechanics to embed themselves in the player's mind, so some initial fumbling about is inevitable. However, much to its credit, in old-school platformer fashion, the teaching happens through progressive challenge rather than direct tutorial. Impressively, the title remains in this sweet spot even as the difficulty and level-craft amplifies itself with upgrades, new platforming mechanics, and enemies. Each world has a different theme of sorts, often initially feeling like a challenge too far, but gradually becoming something that the player gets to grips with. It's the sign of a game that's received a lot of meticulous care and attention that this can be maintained so well throughout.
This is also partly owing to the quite innovative level design, which is constantly surprising and keeps players on their toes. Some 2D indie platformers, even the ones with equally inventive core mechanics, seem to run out of truly variant ideas midway through. Octahedron, on the other hand, is not afraid to rejumble even the newly introduced obstacles and concepts. The vertical scrolling certainly helps it feel different from the start but, within that, there are some extremely clever design choices. These show themselves and come together particularly well from the third world onwards - when some of the more interesting abilities appear, such as a spring-board platform, and another that shoots a beam downwards that takes out enemies. Be under no illusions, however, due to the persistent learning curve and concept refreshing, there will be frustrating deaths and ill-timed demises as gamers test and experiment.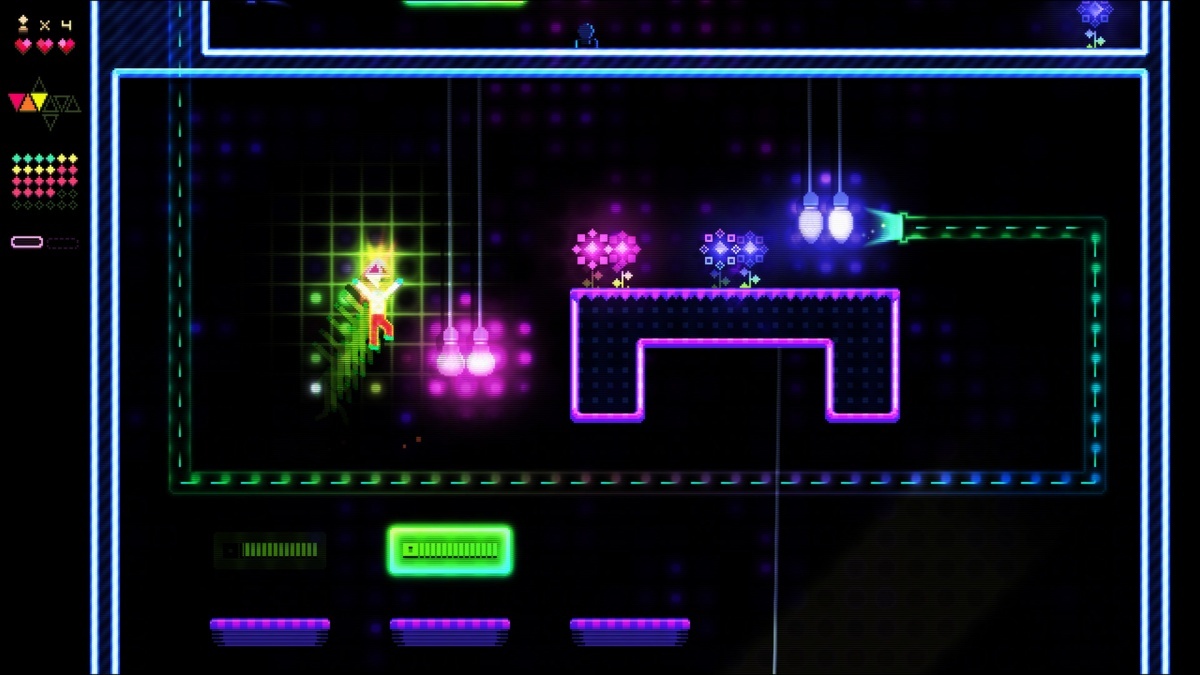 The design choices are also enhanced by how the collectables work. Players must collect enough flowers to progress, which can be found all over the place by smashing lightbulbs and defeating enemies. Players generally learn to be quite meticulous with this, so are unlikely to find themselves having to backtrack unless they have cut corners. There are also heart pieces, which are quite important to collect, unless you want to make timing that final death-defying move even tenser! Finally, there are the tetrahedrons, which can be used to enhance certain player attributes, like the number of hearts, or their energy meter used for creating platforms.
It's nice to have some level of choice in terms of upgrading as it makes it easier to revisit older levels for collection purposes, as well making it enticing for players to explore the caveats of levels old and new. There are also medals that can be earned for each level, for things such as not taking any damage or using only a certain number of platforms.
In terms of atmosphere, the extremely colourful neon aesthetic suits the experience perfectly. The only time this psychedelic visual sheen can be a little overwhelming is at times towards the end, when there's an abundance of pulsating platforms and enemies on-screen. By that point, however, the player will likely be anticipating a sensory over-load on all fronts. As previously mentioned, the electronic score is also a great strength, with great basslines, beats, and lots of lovely synths peppered in all over the place. Each level has its own BPM, which players get a feel for and sync up with, since platforms and other level aspects move to the rhythm of the score. This is a very nice touch, although, given this title is heavily-influenced by electronic music, perhaps the music could have affected the gameplay directly even more.