Heavily reminiscent of Valve's Left 4 Dead franchise, Space Hulk: Deathwing is a co-operative, team-based, first-person shooter set in the Warhammer universe. Conceptually, it's an idea that can't fail. Warhammer's lore is so varied and dense that just about any piece of information could make for a solid game. Along with the co-operative play, and Valve's silence on continuing Left 4 Dead, it's a chance to take advantage of a quiet market in a creative way. Even the mere concept of a Space Hulk is one ripe with gameplay potential. An amalgamation of debris and lost ships in outer space, a Space Hulk can wind up just about anywhere thanks to the creative leeway at play.

Unfortunately, as was the case with its original release, Space Hulk: Deathwing does very little with its concept creatively. That's not to say it isn't visually impressive or stumbles in regards to the actual appearance of the Space Hulk. Its aesthetic is fairly strong and plays well with the foreboding atmosphere. It's the level design that ends up dropping the ball in regards to the concept.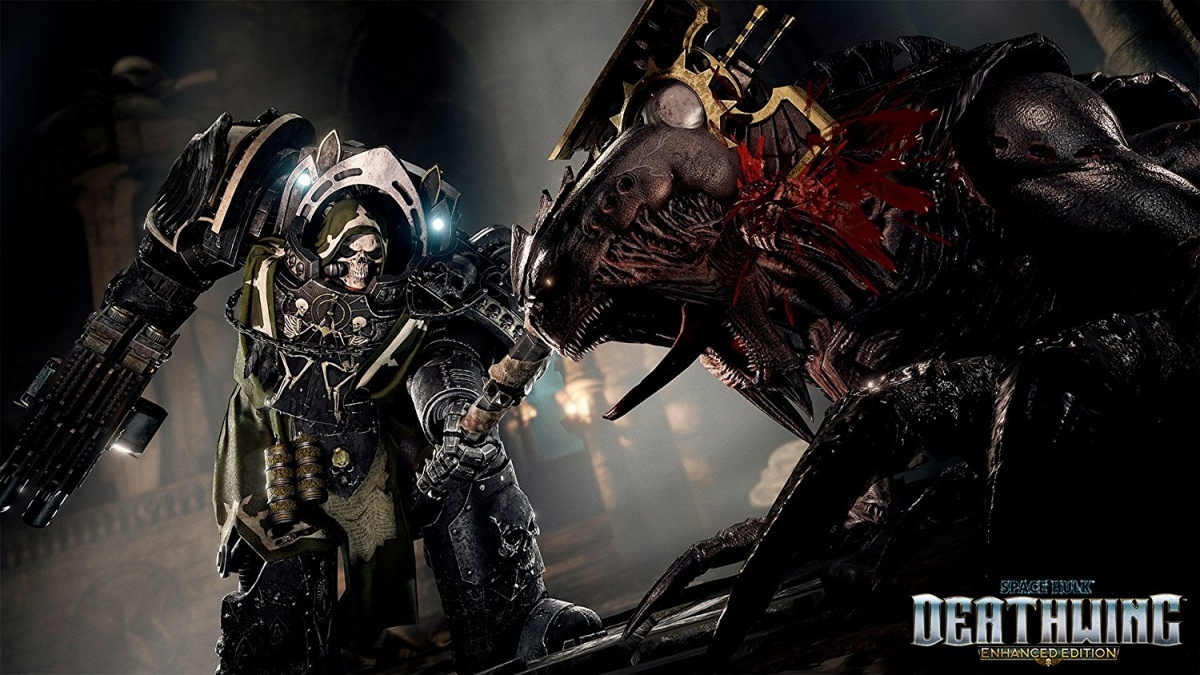 The campaign, which serves as the base for both the single-player and multiplayer, á la Left 4 Dead, is far too under-designed for its own good. At its most complex, there are branching paths that ultimately either lead to dead ends or findable relics. At its simplest, and it often is simple, this Space Hulk is mainly made up of corridors upon corridors of enemies hiding in dimly lit places. There are the occasional open areas that, along with just generally looking fantastic, offer a needed jolt of variety, but they all simply boil down to mowing down Genestealers.

Were the gameplay loop engaging, this wouldn't be an issue, but Deathwing's controls are far too stiff and unresponsive for the sheer level of chaos combat devolves into. Although a deliberate design decision, the slow movement is not complemented by the enemy or level design. Take the original Castlevania, for instance: while Simon controls slowly, each stage is designed with that in mind and the enemies follow suit. There's nothing Simon can't counter with quick reflexes and the slow pace is taken into account in just about every aspect of design. Space Hulk: Deathwing seems to just toss its characters into environments that their controls aren't necessarily equipped for.
That's not to say difficulty is an issue, but rather that there's a serious lack of foresight in how a fast-paced FPS should play. There's no in-game justification behind the clunky movement, because the clunky movement adds nothing to the experience. If anything, it detracts from what could have been an enjoyable, if a bit flawed and run of the mill, FPS. Instead, the campaign just feels slow and uninspired in both controls and design. There's very little engaging about slowly walking down a hallway towards an objective with the occasional enemy rush.

It's that repetition that ultimately kills the campaign, especially when played in single-player. Each chapter feels far too long, not because of its content, but because of how needlessly slow-paced everything moves. Enemies come and go, but rarely feel challenging, all while bringing with them far too much screen stutter and too many frame-rate drops. The performance issues aren't as bad as they were in the original release, but the Enhanced Edition is still far from perfect, at least on a non-Pro PlayStation 4.
The campaign does come off better during the multiplayer… when the connection is stable. In a smooth game alongside other players, Deathwing's level of customisation and player roles do make for some enjoyable gameplay. The core mechanics are still flawed, but the co-operative experience removes much of the tedium as different players can take on different roles to reduce the general blandness of combat. Unfortunately, connection is seldom stable, with constant freezes plaguing the experience. While it's certainly possible to play a good chunk of a chapter without freezing, it's quite rare that it won't happen at least once per game.

Space Hulk: Deathwing, for all its flaws, isn't inherently bad. With friends, it can make for a nice way to kill an hour or two. At the same, it's so repetitive in its design that it's hard to justify coming back for repeat playthroughs. The campaign is bland and the control scheme seems designed for a different game entirely. This is one for Warhammer fans alone.