The previous work developer Blowfish Studios has been involved in has clearly rubbed off here as it is easy to trace the tower defence comparisons almost immediately. To say this is a traditional RTS would be wrong; rather it uses a unique method of base-building involving catapulting new structures onto the map and constructing a web-like fortress of walls. The outpost that the player begins with can expand new buildings, artillery, barracks, and other defensive structures. It does this by generating a targeting reticule and then a direction, and by twisting and turning the touch controller, which aims where the wall will expand and the building will be placed. This becomes the kind of front-line of the action with trebuchets then.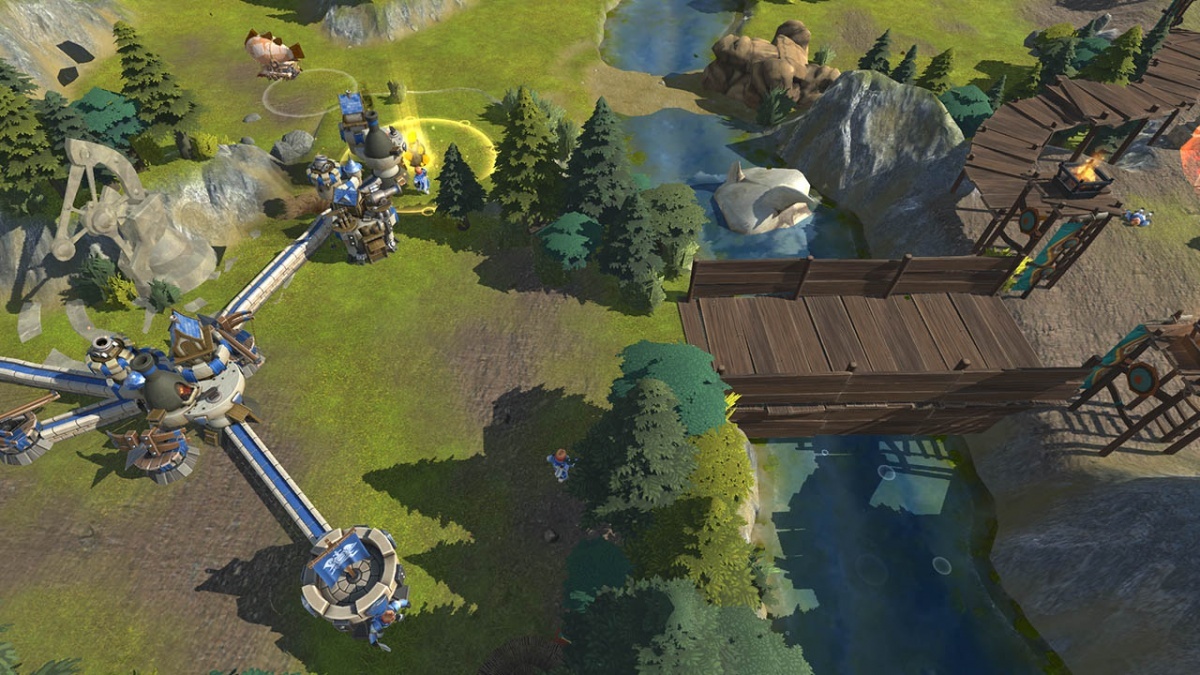 Meanwhile, there are resource points cleverly dotted around the landscape to encourage strategic planning and natural choke-points. These resource points expand the tech-tree and building production is on a cool-down system. It all sounds rather complicated, but when the tutorial actually explains things, and after a little bit of practice, it tends to be easy to get used to. More importantly, from the VR perspective, it lends itself to a physical mechanic that demonstrates the point of the choice of controls. Flinging an exploding barrel or rock at an enemy fortification is pretty fun and is certainly a good way to blow off some steam.
This is also where some of the problems lie, however. The annoyance of not being able to determine the exact locations of buildings means that there is always an element of irritation when the aiming is even slightly off and time and resources are wasted by aiming at a mountain or the sea and losing the building. This is always possible due to the rather fragile and sensitive nature of the touch controls.
When the action starts to ramp up, it also more often than not starts to become too chaotic and trying to keep track of things while leaning and swinging over the map starts to become a tad exhausting. This exhaustion is then complicated further by how much of a slog some of the matches can be. There isn't really any dynamic tactical play that can be made and because each individual unit can't actually be controlled and they do their own thing, the action tends to slow to a crawl during the mid-to-late stage of fights.
That said, the ability to scale the map from right to the ground level, to an eye in the sky view, is impressive how it looks and gives the immersive feeling of being a commander looking over a war map. The little touches, such as the UI all being linked to a kind of spell book, is neat and it's great when developers avoid just taking the lazy option by having an obtuse menu system in a VR compatible game. With all this going on, sometimes performance can have a hitch or two. However, there were never any major issues during the review process, and the comfort level is perfect, except in the rare cases of having to spin the map around or move in an out of areas particularly quickly.
Graphically, the art-style is reminiscent of a kind of DreamWorks Animation fantasy world. There are dwarves, dragons, lizards, and knights, and they have a blocky, cutesy feel to them. Nothing seems very threatening. It's all very clean and keeps the action visible. The disappointing thing is that the map variety is severely lacking. The environments are basically cut-and-paste jobs of the last with some minor placement of hazards, like lakes, mountains, rocks, and so on, being changed. This lack of environmental variation does little to encourage a long session.
Not that a long session is needed, though. There are two campaigns in single-player, and they can be completed in around 7-8 hours. There are knights vs. the lizardmen, neither of which have what can be described as engaging reasons for fighting. The lack of variety in mission structure also means that it feels like a series of connected skirmishes with a dollop of narrative background in-between. At least the narrators are quite fun and tend to inject a good dose of light-hearted humour to keep the spirits up. Aside from that, the multiplayer is largely dead of other users and so the incentive to keep playing is quite limited.