By Drew Hurley

12.07.2018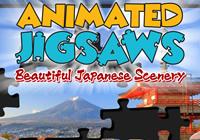 BottleCube has produced three of its Animated Jigsaw games already on Steam. This one - Animated Jigsaws: Beautiful Japanese Scenery - another based on Japanese women, and one based on wild animals. Each of them has identical systems, but different jigsaws to complete. Now, Rainy Frog is bringing the team's most popular title to Nintendo Switch. With Switch quickly becoming the go-to system to replace Vita for indie hits, it already has quite the diverse catalogue, so will this fit in nicely? Cubed3 finds out!
Animated Jigsaws: Beautiful Japanese Scenery gives 10 scenes to play through, each with a fairly iconic snapshot of Japan; from the Shibuya crossing, to a skyline with fireworks over Tokyo Tower, Mt. Fuji, and Himeji Castle. They are some beautiful shots and the perfect subjects for a jigsaw - looking great in both handheld mode and on the big screen. However, while on portable the pieces look a little too small on the larger jigsaw sizes. Each of the 10 scenes can be played in either 60, 120, or 240 pieces. However, in 240 the pieces look too small in portable mode, making them much less enjoyable, having to struggle to even see the details on some pieces.
The animated aspects are equally as problematic. Some of the scenes work well, especially the Tokyo skyline, which helps to track down each piece as the scene turns to night and the roads light up in Akira Orange. Others, though, like the waterfall, are painful to keep staring at; the repeated loop of a few seconds of water confusing the eye.
Rounding out the issues, the controls are absolutely horrendous, too. Regardless of using the touch-screen or the analogue and face buttons, while holding onto a piece to drag it, the selection will randomly not actually grab the piece, or will just randomly let go. For a game that is meant to be relaxing and zen, it loses it completely every time a piece drops.
Cubed3 Rating
2/10

The asking price of £8 for Animated Jigsaws: Beautiful Japanese Scenery is simply far too high for this. The fundamentals are heavily flawed; the puzzles are far too limited; the animated features are completely underwhelming; basically, there are far too few positive aspects here. The scenery is nice, at least, but not worth buying this game for. It feels like a free phone title.
C3 Score

2/10
Reader Score

0 (0 Votes)
Out now

Out now

Out now

Out now
Comments are currently disabled